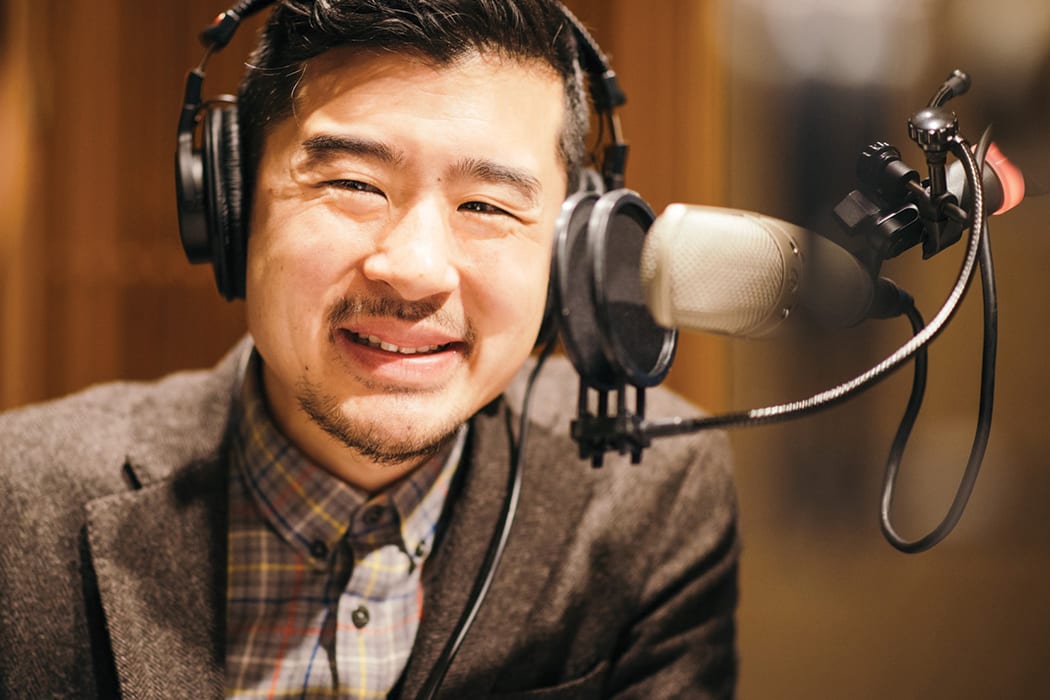 The constraints of time don't seem to apply to Francis Lam. In between penning stories for The New York Times Magazine, Lucky Peach, Food & Wine and Bon Appetít, the James Beard Award–winning author served as a regular judge on Bravo's Top Chef Masters, is the editor-at-large for Clarkson Potter, and this past year took over as the new host of American Public Media's "The Splendid Table" following Lynne Rossetto Kasper's retirement. Recently, Lam found time to chat about growing up without water glasses, his borrowed tips for at-home entertaining, and why his coffee prep remains in the Stone Age.
Imbibe: You've spent the past year transitioning into your new role as host of "The Splendid Table." How have your past experiences informed how you approach the show?
Francis Lam: Regardless of the medium that I'm working in, I'm first and foremost a storyteller and a listener of stories. When I was writing my column for the Times Magazine, my beat was to write about immigrant cooking around New York City. Every month I would spend time with a different family from a different community around the city and I would cook with them. The most important thing I could do would be to take that story and help them put it out in the world in as clear, and as true, of a way as I could. Doing radio is sort of like that in a more literal way. It doesn't filter through my language or my writing, but it's about asking people to tell us about what's in their brains, what excites them, what inspires them or, in some cases, just tell us a story, and hopefully we can put it out in the world.
"The Splendid Table" has always been an amazing resource for home cooking and entertaining—how do drinks play into that conversation?
I don't drink alcohol personally, but I feel like I have a vantage on the importance of drinks in how people gather, almost specifically because it's not innate to me. I think it runs the gamut, from people who want to enjoy it from the sensory perspective—the flavor, the mouthfeel—to people who feel like having a glass in hand is the physical connection to the idea that 'I'm at this party.' There's something lovely about the fact that having a glass in hand is the signifier, a physical attachment to the fact that we're here to talk with one another, we're here to share this time and space.
You've talked about how your Chinese heritage influenced what you ate growing up and what you cook today. Has that heritage influenced what you drink?
When I was growing up, tea was that thing that was always there—it was how you sated your thirst. We didn't have water glasses in my house growing up, and I didn't realize this until visiting my parents as an adult and opening the cupboard and realizing they only have mugs. And I remembered, 'Oh my god, when we were kids we drank water out of mugs!' because tea was what you drank all the time. I do love tea, I just happen to know more about coffee. It speaks to this larger dynamic in my life of growing up Chinese American—feeling in touch with the culture that my parents came from but also knowing that because I didn't grow up there, so much of the learning I've done about food and drink has been through English. I went to culinary school, talked to chefs and bought cookbooks, and it's all been through English. I'm proud of my heritage and I'm inspired by it, but I also know that there are huge gaps in my knowledge.
What's your go-to coffee brewing method at home?
At home I do pour-over. One day I'll get one of those little V60 beehive guys where you pour the water in this beautiful stream and make perfect spiraling circles into the center of the filter, but for now I just boil my water in an electric kettle and pour it in like a Neanderthal.
When you're entertaining at home, what drinks do you typically have on hand for guests?
I like to keep water, club soda, a couple of mixer-y things, a good sherry and great bourbon on hand. I'll offer to make coffee, and my wife will laugh that it takes 15 minutes. Everything else is up for grabs.
What role do drinks play during a meal?
I think it's different for so many people. Obviously there's flavor—how they interact with a dish—and at the most basic level, drinks are another source of aroma and texture. But I think for so many people it goes so far beyond that: It's emotional. There are people who have a beautiful wine with every meal, but for a lot of people that act signifies something special. You have to eat, but you don't have to drink, so the idea of having something at the table that is there, almost purely for pleasure, is meaningful. I think for a lot of people that signifies that we're here to actually enjoy, rather than just feed.
What's your best piece of home-entertaining advice?
It's actually not original to me, it's from [cookbook author] Alison Roman: Don't sweat that it's a huge dinner party, and don't sweat that you have to impress people … you're not having a dinner party; you're having people over. Everything you want to do that's special, go for it, but what's important is that people feel like they're there because you want them there, and you're there with them. I've thrown parties where I've served 12-course menus and spent the entire time in the kitchen—I barely talked to a person the entire time because I was so busy cooking food and washing dishes. As I've gotten older, that appeals less to me. I'd rather be able to sit down and look my guests in the eye, ask them how they're doing, and really wait for an answer.
---
Like what you see? Get more of the best of liquid culture when you sign up for our bi-monthly magazine. Subscribe now and save up to 59%—it's just $21.95 for one year or $32.95 for two years. Click here for details.