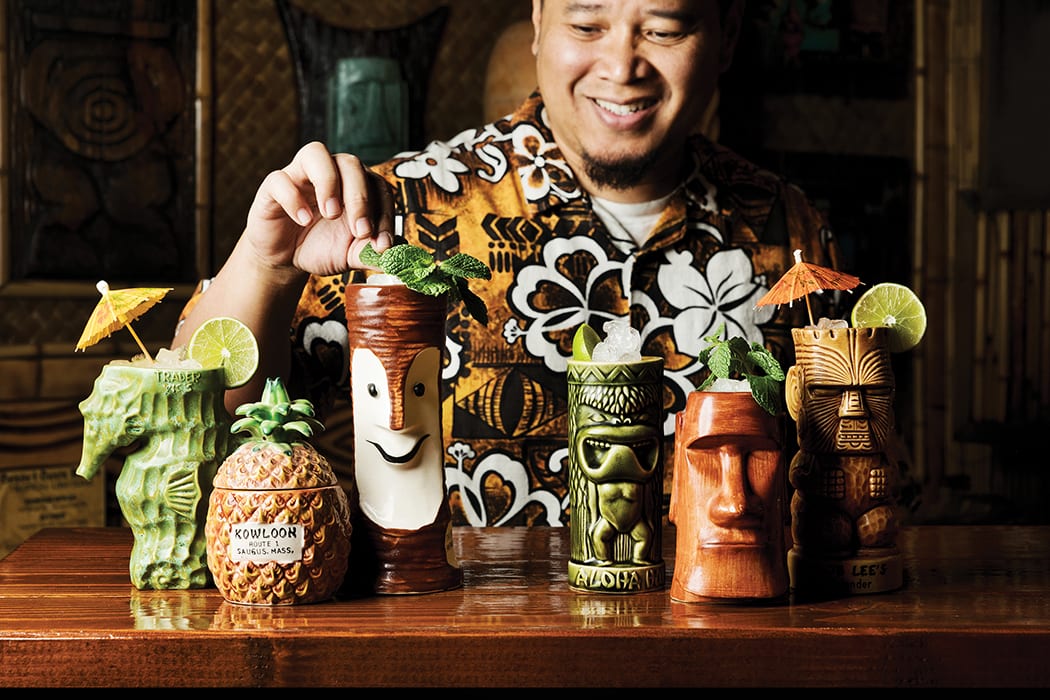 In 2010, when Adrian Eustaquio first tackled the task of converting an extra room in his home into a tiki bar and lounge he dubbed the Desert Oasis Room, he started a chimera-like project that never ends. "The build is done, but the collection's always growing," says Eustaquio, who taps his own enthusiasm for travel to help decorate the bar in his home in Southern California's Inland Empire. "Whenever I travel to the South Pacific, I bring back something and add it to the décor. There are Hawaiian tikis, and the wall décor is from Papua New Guinea, the Cook Islands and Hawaii. I'm always making adjustments in that regard."
Eustaquio opened his home to Imbibe for our March/April 2018 Home Issue, and here he shares some extra ideas for giving your own space a tropical touch.
Know Your Resources
Eustaquio—who produces and hosts the "Inside the Desert Oasis Room" podcast—says before tackling your own home tiki project, go to the experts for ideas and resources. He recommends The Book of Tiki by Sven Kirsten for aesthetic inspiration, as well as Smuggler's Cove, from Martin and Rebecca Cate. "There's a section in there about building a home tiki space," he says. Eustaquio is also an administrator for the Facebook page Tiki Bar Builds, where users post experiences and photos from building their own home tiki bars, and answer questions from those just embarking on their own tiki adventures.
And for materials, skip the cheap tropical kitsch and instead start shopping where the pros go. "Oceanic Arts is probably the most popular place—they're in Whittier, California, but they ship worldwide," Eustaquio says. "They're kind of known as the godfathers of building these Polynesian-themed places, because they've been doing it for more than 50 years. They built a lot of the restaurants that these home bars are trying to emulate, so they're a go-to source."
The goal, he says, is to aim for an authentic island feel, with just enough make-believe to turn the room into your own private paradise. "This whole Polynesian pop movement that tiki is based on is a nod to the South Pacific aesthetic," he says. "So [when making design choices], ask yourself, 'Is this something you'd find in Polynesia?' You won't find flamingos in Polynesia, or pirates—that's the Caribbean."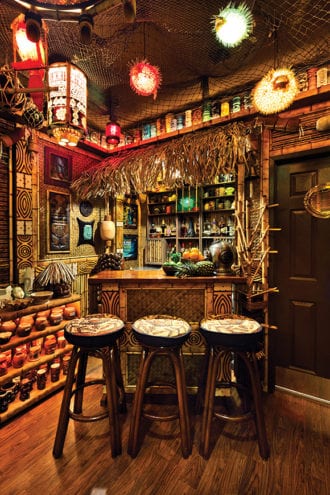 Have a Plan
Rather than simply throwing some tropical masks on the walls and calling it an island paradise, Eustaquio suggests starting with the room's bare essentials. "Number one thing, when you build your space, you want to build the infrastructure before you install the decorative and finished materials," he says. "You wouldn't buy a house where they put the electrical and plumbing in after the drywall and everything—I'd also advise you put your flooring in last, because you're going to make a mess while you're building the room. Start at the ceiling, and work your way down to the floor. And buy the best materials that your budget will allow—everybody wants to save money, but people know cheap, and if you try to pinch pennies, it'll show."
Eustaquio says he spent around $5,000 on building the Desert Oasis Room, but that budgets can dip below $1,000 or soar into the hundreds of thousands, depending on your space and goals.
Keep in mind your design and lighting needs for the room, and plan accordingly. "When I built the room, I ran electricity to the ceiling on an electrical grid," he says. "Typically in a tiki space, there's a lot of low-light lamps around the room—so with this grid, one switch can turn off the whole room, and I'm not on a stepstool plugging and unplugging a number of lamps. The bar closet has its own switch, and the room itself has its own switch."
And before you start hanging lamps and adding furniture, it helps if you make the room into a blank slate of sorts. Many tiki bars use black paint on the walls and ceiling as a foundation, to offset the décor and lend a sense of remove to the room; Eustaquio used dark brown paint instead, to match the furnishings. "Try to cover as many spaces as possible, even if it's with a coat of paint. Anything that's bright, like a white wall, is going to stand out and remove from the environment that you're trying to create," he says. "It's all about taking you away from the outside world and bringing you into this one. It's perpetually dusk here, away from any outside distractions."
Make It User-Friendly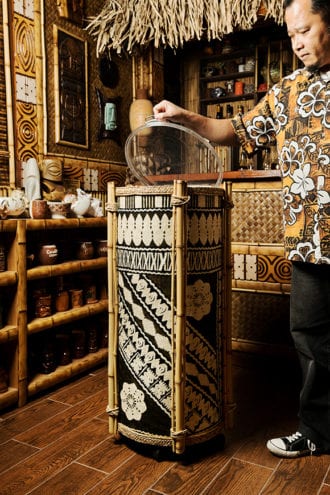 A home bar's appeal is limited if you don't plan for different ways to use it; incorporate those plans into your approach.
For the Desert Oasis Room, this meant making the bar movable via furniture sliders, rather than a fixed instillation, which makes it more versatile. "I was originally going to add the bar as a built-in structure, but I built it as a standalone unit instead so I can push it around the room if I need to," Eustaquio says. "Sometimes I'll push it forward if I want to store more bottles, or turn it sideways if I'm having a party, so that when bartenders rotate in and out behind the bar, it's more functional. I can have it face the doorway so that if people line up for drinks, the line can go down the hallway. Or if I have people over and I don't feel like playing host where I'm mixing drinks all night, I can push the bar against the wall and turn it into a self-serve bar, where people can approach it from the front and do it themselves. It adds more flexibility."
For small groups, Eustaquio fills a diving helmet–shaped ice bucket from the '60s, but for a larger crowd, he wheels out an upright drinks cooler that he adapted to his own purposes. "It's basically a Red Bull cooler that I decorated in such a way that it matches the lamps," he says. "It holds 50 pounds of ice, and I can wheel it around, so If I need to fill it up again I can just wheel it into the kitchen. There's no sink in the bar, so at the end of the night, I can wheel it outside and empty the water there."
Make It Your Own
Your bar is an extension of your home—personalize it, and add touches of your own life and interests. Eustaquio is a frequent traveler, and his bar is filled with items picked up over the years. "The majority of the wall décor is from Papua New Guinea, the Cook Islands and Hawaii," he says. "I like to go the Cook Islands—I'll be back there this summer—and I bring something back every time I visit. I also bring things home from other parts of the world. For example, if I go to Central America or somewhere in the Caribbean, and I see something in a shop or market that has a tropical feel that fits the room, I'll bring it home. But 95 percent of what I have is from the Pacific."
And while the artwork, masks and mugs are all pieces from Eustaquio's collection, the molding and details in the room are all his own work. "I carved these in a Polynesian style, using a tribal pattern," he says. "I know I'll be hosting people, and they'll be taking photos and videos, so I wanted the room to be instantly recognizable, and that design is the fingerprint of the room." It's a similar approach to those used at tiki destinations including the Mai Kai, Tiki-Ti, Smuggler's Cove and Latitude 29, he says. "You see a photo of the room, and you instantly know where it is," he says. "I wanted that same kind of fingerprint for the room, so that when people take photos, it's not just a dark space—it has an identity."
---
Like what you see? Get more of the best of liquid culture when you sign up for our bi-monthly magazine. Subscribe now and save up to 59%—it's just $21.95 for one year or $32.95 for two years. Click here for details.