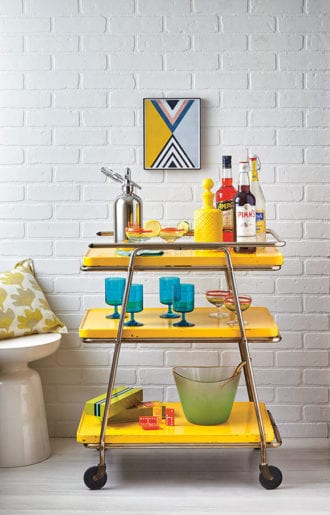 Once a staple of mid-century entertaining, bar carts have once again found a space in the homes of those eager to entertain in style. In our March/April 2018 Home Issue, we feature a range of bar carts made to accent any space and style. To get those carts rolling, we chatted with Ashley Rose Conway, creator of Craft + Cocktails and co-author of The Art of the Bar Cart, to get tips for stocking a bar cart, staying organized, and getting creative with set-up and styling. "Not everyone has a back bar or large bar top to work with," she says. "A bar cart serves as a mini bar of sorts that can be easily swapped out with different bottles and decor, changing with the season or tastes. They've gone beyond just function and are becoming statement pieces in the home."
Stock the Basics
"The concept of a bar cart is essentially a 'satellite' bar allowing you to make a drink or two in another room without having to walk back and forth to the bar," says Conway. "Whatever you reach for most, or you are eager to serve guests when they come over, should be front and center on display." One way to start stocking is by thinking about the spirits and mixers needed to make one or two cocktails. If your go-to is a Manhattan or Old Fashioned, stock a rye whiskey, a bourbon and a sweet vermouth, plus some bitters, a jar of cocktail cherries and a bowl of oranges. Or allow guests to mix their preferred Martini with a gin, a vodka and a dry vermouth, with olives and lemon twists on the side with cocktail picks. For basic tools, you'll need a jigger, shaker, hawthorne stainer, mixing glass, barspoon, julep strainer and citrus peeler. "I store these propped up in a pretty glass or cup on the cart," says Conway.
Keep It Organized
"It's tempting to shove every single bottle, shaker and glass onto the cart, but it will just come across as cluttered and haphazard," Conway says. "The bar cart should be reserved for displaying your crème de la crème of spirits and vintage glassware." This means most of your home bar collection can live in cupboards, the pantry, or, in the case of mixers or opened bottles like vermouth, the fridge. For items that do go on the cart, whether long-term decoration or just-for-the-night ingredients, one of Conway's preferred methods of organization is a simple serving tray. "Trays are key for corralling your bar items on the cart to make them appear purposefully placed," she says. Trays are easy to move, they're affordable and they come in a variety of styles, making a bar cart even more versatile.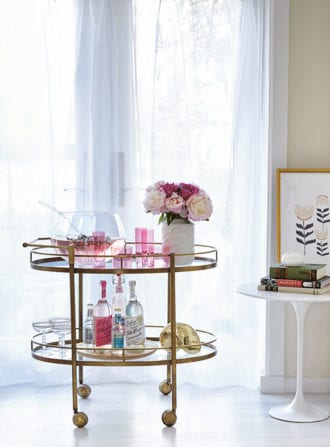 Give It Style
A bar cart is as much an element of style as it is functional furniture, and decorative touches can be both practical and aesthetic. "Functional but beautiful bar tools like ice buckets, barspoons and cocktail picks can be used to adorn the cart," says Conway. And while avoiding clutter is key, an appealing bar cart should also display a variety of sizes and shapes. "Stacking cocktail books and then adding glassware or bar tools on top gives height and dimension," she says. "Choosing bottles that are varying heights will add interest and keeps the eye moving visually." And just like a custom cocktail reflects a drinker's personal taste, so too can a bar cart. "To add special touches, think outside the bar," says Conway. "Decorate with unique pieces to make it your own whether from your travels, family heirlooms or even small, framed artwork. I currently have a disco ball on my bar cart!"
---
Like what you see? Get more of the best of liquid culture when you sign up for our bi-monthly magazine. Subscribe now and save up to 59%—it's just $21.95 for one year or $32.95 for two years. Click here for details.