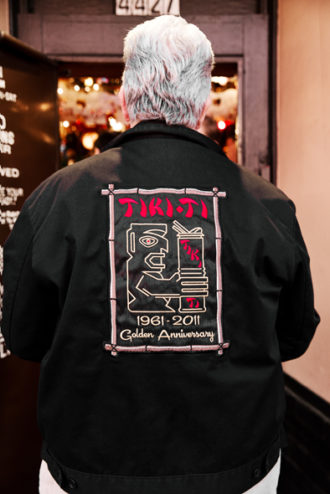 Tiki is more than just a class of drinks. It's an exotic culture built on an elaborate fantasy. It makes sense, then, that Los Angeles is where the idea was born and raised. From the dearly departed original Don the Beachcomber to the still-thriving Tiki-Ti, we chatted with the professor of tiki himself, Jeff Beachbum Berry, and fellow tiki aficionado (and owner of the iconic Smuggler's Cove in San Francisco) Martin Cate about the LA bars that created and defined tiki as we know it today, and about the city's relationship to the now-global tiki craze.
Don The Beachcomber
As Jeff "Beachbum" Berry calls it, this is ground zero for tiki. As far as he's concerned "Don the Beachcomber is single handedly responsible for giving birth to what we call the tiki drink." After spending much of prohibition bootlegging, Donn Beach settled in LA in 1934 because, essentially, he had run out of money. He opened a tiny, 24-seat bar, decorated it in a vaguely South Pacific island theme, created a cocktail menu around rum—which was, at the time, the least expensive spirit—and the rest is history. With its central location in Hollywood, the bar was quickly a darling of the movie business and acquired a glamorous caché despite its rustic, island theme. As Berry says, "You had a direct convergence between Hollywood the movie town and Hollywood the tiki birthplace … tiki may never have gotten big if Donn had opened his bar anywhere else."
Seven Seas
Opened in the 1937, the Seven Seas was an elaboration on the Don the Beachcomber concept. Whereas Don the Beachcomber was more of a stand-alone bar, Seven Seas served up live Hawai'ian music and Tahitian dance shows on a nightly basis, as well as a particularly transporting experience that included tropical thunder and lighting sounds that played at regular intervals.
Luau Beverly Hills
Ask a tiki buff to name a now-defunct tiki bar that they wish they could have visited before it was lost to time (and to the disco era), and you'll inevitably hear about the Luau Beverly Hills. Every tiki bar is larger than life in its way, but the Luau was over the top in a way that left all others behind. Martin Cate has a particular soft spot for the bar and its legendary owner, Stephen Crane. As he describes, "What Crane built was just crazy. We refer to design like the Luau as 'high tiki,' basically an extreme experience. Inside, there are rivers, creeks running under your feet, you walk over bridges, there are macaws in cages, there are waterfalls built out of volcanic rock. It's a completely immersive, themed experience in a way that the other tiki temples at the time never quite were."
Tiki-Ti
It's safe to say that Tiki-Ti might just be Jeff Berry's favorite bar or, at the very least, where he first fell for tiki. Ray Buhen—one of the original Don the Beachcomber bartenders and a tiki-bartending legend—opened the Tiki-Ti in 1961 and worked behind the bar well into his 80s. Now, you'll find his son, Mike, and grandson Mike Jr., behind the bar serving Ray's iconic drinks menu, which was built around the recipes that Ray learned during his tenure at legendary bars like Don The Beachcomber and the Luau. The number one, must-order? That might have to be Ray's Mistake, a drink that continues to entice and elude the bars loyal patrons, Berry among them. "When I'm at the Tiki-Ti I always start with a Ray's Mistake. I've been trying to figure out what's in that drink for over 20 years, and I still can't figure it out. It almost doesn't matter—it's just a delicious drink."
Tonga Hut
Mai Tais have been flowing at this historic North Hollywood tiki den since 1958, making it LA's oldest tiki bar still in operation. Thanks to a recent revamp, the bar is once again shining with its original mid-century tropical charm, and the drinks are fresh and bright to boot.