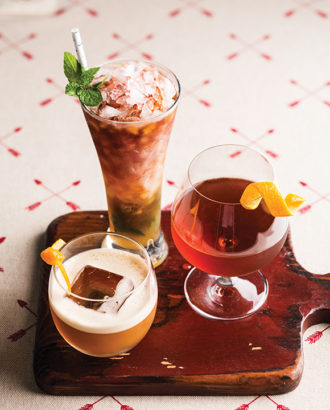 While it's among the most popular liqueurs in the world, Jägermeister is also one of the most polarizing. Prepared with 56 botanicals, including orange peel, ginger, cardamom, star anise and cinnamon, Germany's famous liqueur has a flavor that's at once sweet, spicy and herbaceously medicinal. It's been around for 80 years, but sales took off in earnest starting in the 1980s, and more than 2 million cases of Jäger were sold in the U.S. last year. And while it's usually encountered with little more accompaniment than a shot glass, many bartenders are considering it more as a cocktail ingredient.
"If Jäger launched today, I think people would reach for it as an herbal liqueur" much like Chartreuse, says Jim McCourt, bartender at Prohibition in Charleston, South Carolina. He says the bitter and anise notes lend a great aroma to a drink, especially when used in a cocktail with crushed ice, such as his 56 Swizzle, with mint, orgeat, bitters and lime juice.
In Los Angeles, Harry Chin at Faith & Flower reaches for Jäger when making his Stag and Cross Sour, mixing it with Smith & Cross Jamaican rum (hence the drink's name), lemon juice, simple syrup and an egg white. "It's essentially a German digestif, and when mixed with Jamaican rum, you get a lot of colorful characteristics and wonderful aromatics," Chin says.
Former Whitehall bartender Andrew Halden is gearing up to manage a new cocktail bar in Brooklyn's Bushwick neighborhood, and his La Caza adds Jäger to rye whiskey, orange bitters, simple syrup and another herbal liqueur, Drambuie. Even in such full-flavored company, Jägermeister shines through, its botanicals pronounced yet elusive.
After decades in the shot glass, Jägermeister is finally earning some respect among American bartenders and cocktail drinkers, but as McCourt points out, it's still an ingredient about which pretty much everyone has an opinion. "People either love it or hate it," he says. "But you absolutely have to stock it if you have a bar."
This article originally appeared in the November/December 2015 print edition.