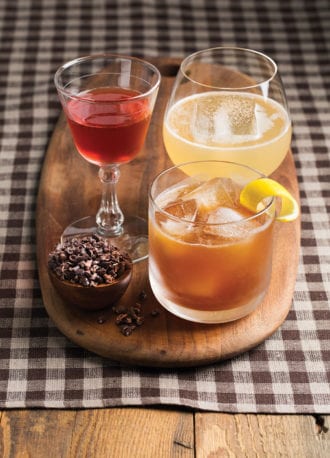 It's said that upon first discovering chocolate, the Mayans declared it a gift from the gods. But for much of chocolate's history in cocktails, via the liqueur crème de cacao, the ingredient's influence has been something short of heavenly.
Until recently, most bartenders only reached for crème de cacao when making the stray Brandy Alexander or Grasshopper. But changes in the caliber of cacao—thanks largely to craft distillers and savvy importers—have brightened the liqueur's future.
Crème de cacao has a venerable history in Europe and has long been available in both white (clear) and dark versions (the difference between the two largely a matter of process and aesthetics). But for years the versions that typically made it to American shelves were cloyingly sweet and suspiciously flavored and colored, leading many to believe that the liqueur was inherently shoddy, and unfit for quality cocktails.
But like their bartender counterparts, many small distillers are distancing themselves from synthetic flavoring agents and instead embracing the natural flavors found in pure cacao, the base from which chocolate is created. Sound Spirits in Seattle credits the rich flavor of their Depth chocolate liqueur to the addition of raw cacao nibs from Theo Chocolate to the mixture during distillation; the result is a dry cacao that allies itself more closely with the richness of dark chocolate than with the tameness of a child's candy bar.
Aiming for a more traditional cacao, Tempus Fugit Spirits offers a liqueur based on a 19th-century formula. To achieve a robust chocolate foundation, they distill the spirit using Venezuelan cacao and then add Mexican vanilla beans and another dose of raw cacao to the distillate before mixing in cane sugar for sweetness.
With this welcome influx of quality crème de cacao, the cordial is finding its way into cocktails across the country. And while many may still believe chocolate only belongs in dessert cocktails, bartenders are discovering that everything from robust, spirit-forward drinks to bright tropical concoctions are experiencing an unexpected craving for chocolate. "One of my all-time favorite things is to eat dark, bitter chocolate—and what's even better? Boozy dark, bitter chocolate," says Natasha David, co-owner of Nitecap in New York City. For her All In cocktail, David mixes crème de cacao with rye whiskey, vermouth and Campari. "My goal was to create a dry chocolate cocktail that wasn't limited to a dessert drink—a cocktail that could be enjoyed any time of the day."
All In
Campari and cacao blend beautifully, especially when rye whiskey is added to the mix.
1½ oz. rye whiskey (100-proof or higher preferred)
¾ oz. Campari
¾ oz. dry vermouth
¼ oz. crème de cacao
Lemon peel
Tools: barspoon, strainer
Glass: cocktail
Stir the liquid ingredients with ice to chill, then strain into a chilled glass. Twist a lemon peel over the drink and discard.
Natasha David, Nitecap, New York City
Pack My Suitcase
Chocolate works wonderfully with the tropical flavor of pineapple and the spice of cinnamon.
1½ oz. vodka
¾ oz. fresh lemon juice
½ oz. pineapple juice
½ oz. Lillet Rouge
½ oz. white crème de cacao
3/8 oz. cinnamon syrup
Tools: shaker, strainer
Glass: snifter
Garnish: grated nutmeg
Shake ingredients with ice to chill, then strain into a glass with a single ice cube. Garnish.
Yael Vengroff, Spare Room, Hollywood
Click here for a recipe for DIY crème de cacao.
---
Like what you see? Get more of the best of liquid culture when you sign up for our bi-monthly magazine. Subscribe now and save up to 59%—it's just $21.95 for one year or $32.95 for two years. Click here for details.