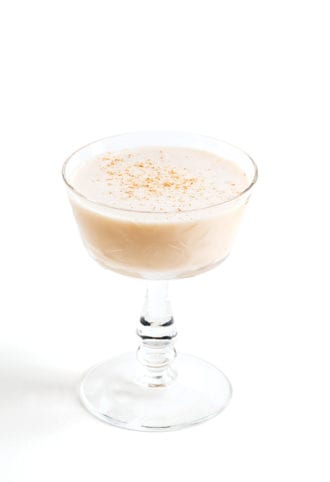 A sweet, creamy sip of cocktail history, the Brandy Alexander was originally mixed with gin and simply called the Alexander. Etymologist Barry Popik credits the creation to Rector's bartender Troy Alexander, who crafted the snow-white cocktail to celebrate the launch of an ad campaign for clean-burning coal on the Delaware, Lackawanna and Western Railroad and featuring the fictitious Phoebe Snow dressed head-to-toe in white. Brandy was soon swapped in for gin, resulting in a variation that today is better-known than the original. At Bryant's Cocktail Lounge in Milwaukee, Wisconsin, classic cocktails are the specialty of the house, and owner John Dye mixes both a traditional and a decidedly decadent version. "Being from Wisconsin, we almost always use ice cream instead of cream," says Dye. "Then we top it with our homemade whipped cream, fresh-ground nutmeg, and one of those deliciously gross maraschino cherries that are perfectly appropriate for an ice-cream drink."
1¼ oz. brandy
1 oz. crème de cacao
¾ oz. heavy cream
Tools: shaker, strainer
Glass: cocktail or coupe
Garnish: grated nutmeg
Shake all the ingredients with ice until well-chilled and frothy. Strain into a chilled glass and garnish.
Tip: To make it a milkshake, Bryant's combines 2 oz. of brandy and 2 oz. of crème de cacao with 2 scoops of ice cream, then blends until smooth. Garnish with whipped cream, nutmeg and a cherry.
John Dye, Bryant's Cocktail Lounge, Milwaukee, Wisconsin
---
Did you enjoy this recipe? Sign up for our newsletter and get our favorite drink recipes of the moment in your inbox every month.