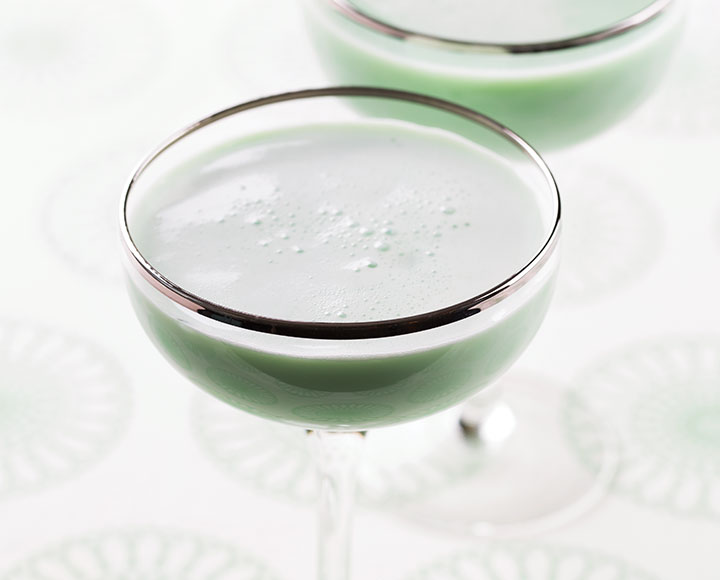 This story originally appeared in the May/June 2015 issue.
"Drinks like the Grasshopper don't disappear," Paul Gustings says over the phone one recent afternoon. "But they do kind of stay in the background until someone says, 'Oh, you know what? My parents drank those!' or, 'I had one I-don't-know-how-long ago. I'll have one now!' "
These are almost exactly the words I'd used one monsoon-soaked Sunday afternoon in New Orleans last July, while sitting at the long marble bar at Broussard's, where Gustings tends his trade.
With one meal left to nab before heading to the airport at the tail end of Tales of the Cocktail, my husband Dan and I hit up the recently renovated 1920s French-Creole spot. There, while a trio plucked out tunes on stand-up bass, muted trumpet and banjo, I saw it on the menu, in loopy, elegant script: Improved Grasshopper.
It was, as I would later explain to Mr. Gustings, a drink my parents would make at Easter—its pale-green glow inextricably linked in my memory to the pastel of Paas-dyed eggs, and to the Oreo-crusted frozen Grasshopper pie my mom would make so my sisters and I wouldn't feel left out—and one I hadn't tasted for a solid 25 years.
Apparently, I was running behind; the drink has lately been dusted off and riffed upon by some of cocktail culture's best talents. At Portland, Oregon's Pépé le Moko, Jeffrey Morgenthaler serves a frosty, Fernet-spiked version; each of Eben Freeman's delicate-hued offerings at New York's The Butterfly is 12 hours in the making; and at Seattle's Canon, Jamie Boudreau adds a dollop of Chartreuse ice cream to the Cocktail Called Irving, and taps a corny joke for the variation's name. ("A grasshopper walks into a bar and the bartender says, 'We serve a cocktail here that's named after you,' and the grasshopper says, 'You serve a cocktail called Irving?' ")
The unearthing of once-popular cocktails often follows a similar trajectory. It usually begins with a bartender's curiosity, and results in something—often something deserving—being pulled from the shadows to be burnished and restored.
But while these modern celebrations of the Grasshopper all sound thoroughly delicious, the stubbornness of nostalgia can be as strong as barrel-strength spirit. To me, the Grasshopper is steeped in tones of green-splashed sepia, perhaps a little faded in fashion but still showing its well-worn charm. I wanted the original, the real deal as it circulated in the 1970s (an era that dearly loved the Grasshopper). I wanted the drink my dad would make with a trio of ingredients—green crème de menthe, white crème de cacao, and half-and-half—shaken and strained into a coupe, my mom's coral-pink lipstick imprinted on the edge. Eyeing the elegant marble bar and Gustings behind it, I wagered that his Grasshopper's menu-promised improvement would be rooted more in sincerity than modern-mixology sorcery.
Gustings is a near 35-year veteran of the New Orleans cocktail scene who spent 15 of those years mixing drinks at Tujague's, the 160-plus-year-old restaurant and bar from whence the Grasshopper—to anyone's best traceable recollection—originates. "Philibert Guichet Jr. invented the cocktail for a cocktail competition, possibly as early as 1919 or into the 1920s. That's who owned Tujague's, and that's the story," says New Orleans–based cocktail historian Elizabeth Pearce, drinks curator at the Southern Food & Beverage Museum and co-author of the French Quarter Drinking Companion. "There's something really lovely and fun about it; it's a drink that doesn't take itself so seriously. It's a drink that isn't pretentious—it is, after all, hard to be pretentious when you're sipping something green."
After oysters Rockefeller and eggs Sardou, Dan and I stopped at the white-leather bar stools and asked for one last cocktail: a Grasshopper. Gustings nodded. He strode back and forth behind the bar, collecting more than just the expected trio of ingredients. White crème de cacao and dark; green crème de menthe and white; a flash of brandy, a velveteen pour of half-and-half. As he worked, we saw sheets of rain begin to lash the pavement outside, the water rapidly collecting in ever-deepening puddles. "We've got to get to the airport—I'm going to try to get us a cab before it's too late," my husband said, telling me to meet him out front when I was done.
Gustings pushed in front of me a Nick and Nora glass, curved and pretty, full of the frothy, pale-green concoction, ungarnished and simple. I picked it up and sipped, letting the rain outside wash away everything except the taste of the cool, creamy, minty past.