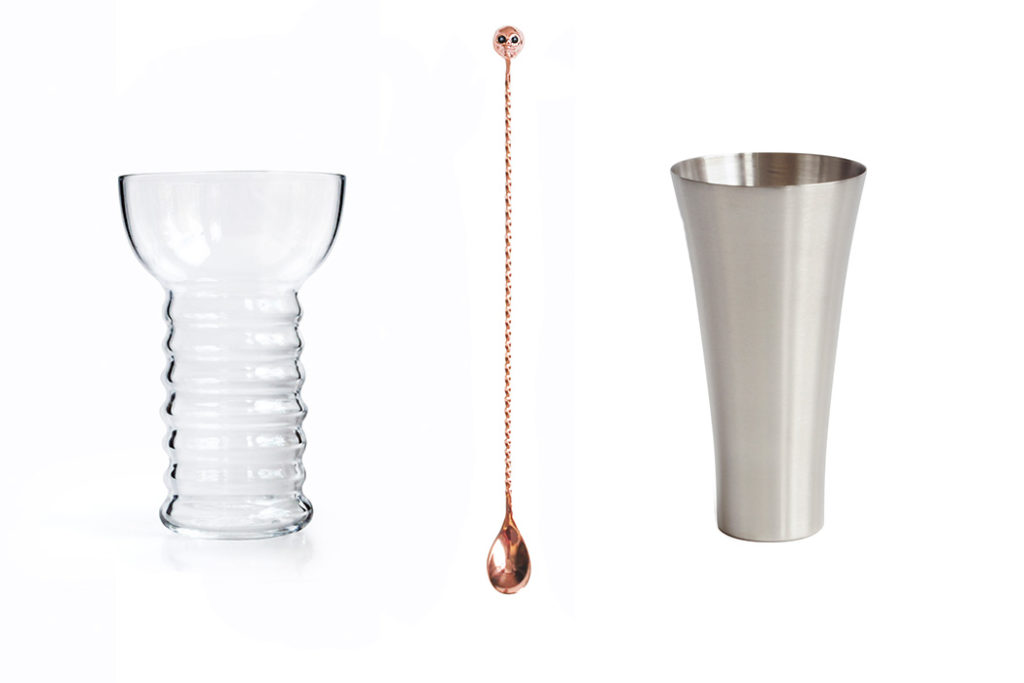 Great news for tiki fans: Cocktail Kingdom has announced a new set of bar tools and glassware developed in conjunction with tiki expert and author Jeff "Beachbum" Berry.
While the online bar supplies outlet already offered a few tiki items (including natural swizzle sticks and a Navy Grog cone for shaping ice mounds), the new line is especially notable because it revives old styles of essential glassware that were previously almost impossible to find. Owner Greg Boehm says for this reason, teaming up with Beachbum was a natural match.
Working with Jeff on product development was part treasure hunt and part nostalgic brainstorming. Beachbum definitely knew what old tiki glasses and barware deserved to be brought back.
The new offerings include the rare ribbed Pearl Diver glass (packs of 4 or 24), a model well-suited for serving any tall tiki drink, but known primarily as the classic vessel for Planter's Punch, Sumatra Sam and Deep Sea Diver cocktails.
The new skull bar spoon is Boehm's favorite item, as it evokes the adventuresome side of tiki and has "the added feature of a creepy stare," while keeping the well-balanced weight and functionality of other Cocktail Kingdom spoons.
The third new item, the Swizzle Cup, is based off the first metal version originally created in the '40s and '50s. The style was expensive to make and therefore eventually replaced by the more utilitarian collins glass in the 1980s. "We could not even find an original Swizzle Cup since these were not mass produced even if the heyday of tiki," Boehm says. The new version has been updated with lighter-weight stainless steel and tweaked to look a touch more sleek and stylish.
The new glassware and tools are available on the Cocktail Kingdom site starting today, just in time for summer tiki season.