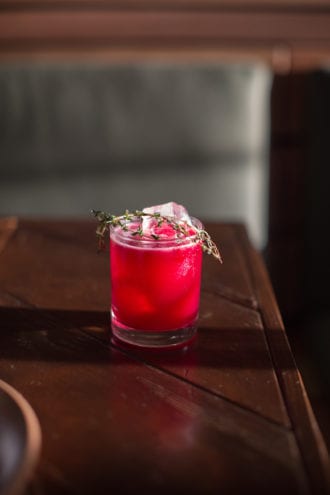 Wood-fired fare is a specialty of the bar and kitchen at Campfire in Carlsbad, California, and in this beet cocktail, head bartender Leigh Lacap gives roasted beets a quick char prior to infusing them in gin.
2 oz. roasted beet-infused gin
½ oz. honey syrup (3:1 honey to water)
¼ oz. ginger syrup (3:2 fine sugar to juiced ginger root)
¾ oz. fresh lemon juice
Tools: shaker, strainer
Glass: rocks
Garnish: thyme sprig
Add all the ingredients to a shaker and shake with ice to chill. Strain into a rocks glass over fresh ice. Garnish.
Roasted Beet-Infused Gin: Peel at least 1 lb. of red beets and place them on a large sheet pan lined with foil. Bake the beets in an oven heated to 400 degrees F for about 1 hour, then allow them to cool and halve them. Heat a wood-fired or charcoal grill to medium-high heat and toss the cooked beets in canola or grapeseed oil with a touch of salt. Place the beets directly over the grill grate and roast until a sight char develops. Remove them from the grill and allow them to cool slightly, then slice them into ¼-inch-thick pieces. Weigh out ¾ lb. of beets and place them in a plastic vacuum bag with a liter of gin. Seal the bag and sous vide at 140 degrees for 4 hours. Once the infusion is done, remove the bag from a hot bath and shock in ice water until infusion is cool. Fine strain the gin into a bottle. Alternatively, infuse 1 lb. of the beets with 1 liter of gin in an airtight jar for 2-3 days before fine straining.
Leigh Lacap, Campfire, Carlsbad, California
---
Did you enjoy this recipe? Sign up for our newsletter and get our favorite drink recipes of the moment in your inbox every month.