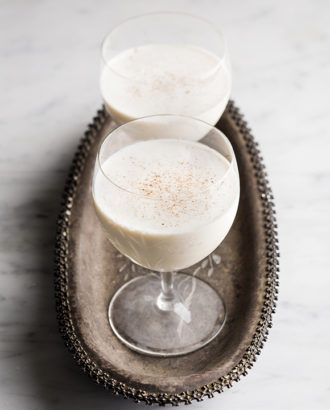 Around Christmastime in south Louisiana, a familiar scene would play itself out at family parties throughout Cajun country.
Kid (aged 5): "Mama, what's that? It looks like a milkshake."
Mother: (stirred from reverie) "This? It's a Brandy Milk Punch, baby."
Kid: "It looks good. Can I smell it?" (sniffs) "Can I have a taste?"
Mother: "No, sweetie. It's for Mama. Now go and have some more cookies."
Kid: (plunges mouth-first into the dessert table like a Tasmanian devil.)
The Brandy Milk Punch was a cold-season classic in Acadiana Christmastime. A close cousin of Aunt Rose's Egg Nog or the Lebowski's White Russian, a milk punch was a standard-issue Special Occasion Cocktail that always seemed to appear at family gatherings and "dress up for grammaw"–style house parties in Louisiana. At any mid-December gathering, you'd see other people's mothers, school teachers and other female authority figures laughing in a circle, each clutching a frothy milk punch.
From a bartender's perspective, the drink follows a pretty simple formula—sweetened milk (half and half if you're feeling decadent, heavy cream if you're prone to lily-gilding) fortified with brown liquor (brandy with rum is traditional, but few argue if bourbon is swapped into the mix). Add a few drops of vanilla and a light dusting of nutmeg from the tiny, round-cornered McCormick's tin, and you've got a Christmastime classic that even mother could love.
From a kid's-eye view, it was a tiny, frothy, forbidden tipple that smelled like all the joys of winter. The drink made the ladies of the Somebody's Mama Club seem a little bit more like their kids for a little while—just slightly naughty and indulgent. "Well…" they'd say, "I really shouldn't. But it's Christmas, after all…"
The Milk Punch was one of those little holiday mysteries that faded as we eventually grew and discovered the wide world of adult vices. As the kids (now taller) learned our way around the college bars and home liquor cabinets, that memory of your mother having a little holiday cheer just got filed away as a near- disposable childhood memory.
Filed away, that is, until your first real exposure to the Big City—and for Louisiana folks, that means New Orleans. Sometime during your first grown-up visit to the Crescent City—college binges on Bourbon Street don't count—you make it to one of the Old Line joints for a morning meal, and come across a menu section devoted to the reality of the morning cocktail.
The "Eye Opener" menu category was first popularized by the Brennan family—first at the eponymous pink restaurant on Royal Street in the 1940s, then at the countless sibling restaurants that have cropped up since. The Brennans—under the auspices of Owen Brennan, then under his daughter Ella, then too many family members to count—decided early on to emphasize fancy egg dishes and civilized day-drinking under the breakfast/brunch umbrella.
Though unfailingly genteel and on the fancy-dress side of things, the Brennans have always made a "drink and a wink" part of their hosting style, always just a bit naughty and a godsend on days when the hair of the dog was a welcome morning treat. Other restaurants soon followed their lead, and the Milk Punch is now an iconic New Orleans concoction.
A first sip of Milk Punch in the Boozy Brunch context—sweet and smooth, just foamy enough, the brandy or bourbon applying a subtle liquid kick—somehow transforms a mundane morning-after into a full-blown Special Occasion. The fragrance of freshly-grated nutmeg triggers memories of sparkling pine trees, shiny wrapped presents and dessert tables groaning with sweets.
And you start to understand the wistful, far-away looks of the Somebody's Mama Club—each remembering their own young, decadent weekends in New Orleans—savoring a brandy- flavored break from adult responsibilities, sneaking a silky- smooth sweet sip before the inevitable tug at the hem of their party dresses.
"No, sweetie. It's for Mama. Go and have some more cookies." After all, it's Christmas. Everybody wins.
This article originally appeared in the November/December 2015 print edition.