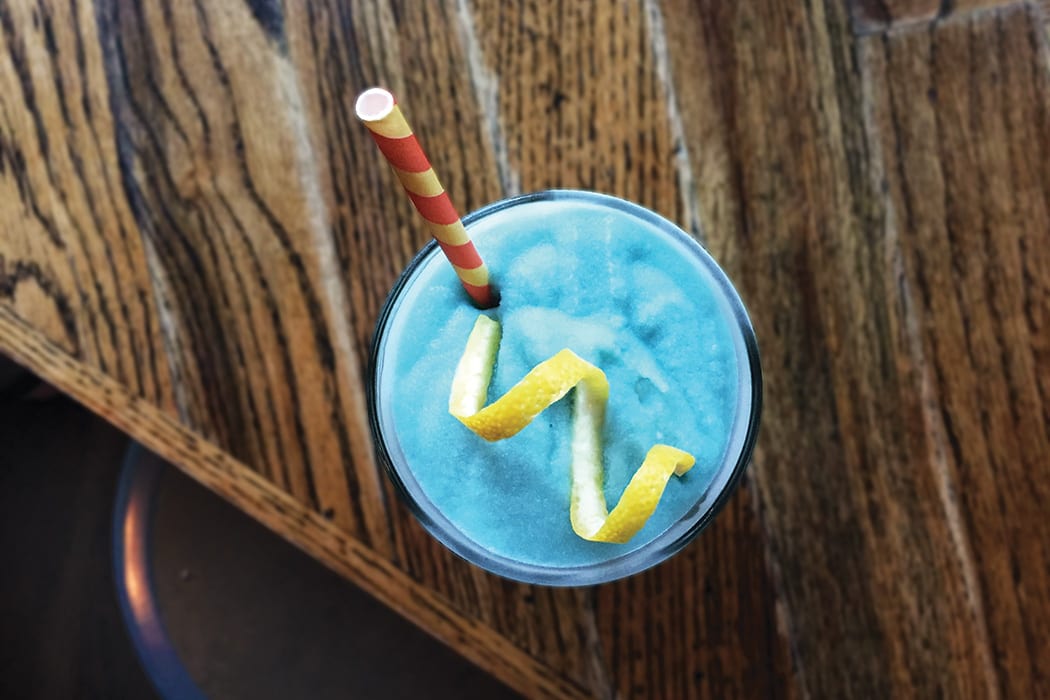 At a certain point in a Sun Belt summertime, temperature strips time of its meaning. The hardwired excitement for summer vacation wears off in early July, and we're left with a seemingly endless march of record highs and heat waves continuing for the forecastable future. We grow accustomed to routine triple-digit realities, and the autumnal breezes that used to commence around Labor Day somehow don't arrive until dangerously close to Halloween.
Our eyes glaze over as we check the calendar, knowing that even the tallest and fizziest of highballs will fail to slake our unending existential thirst. It's a dismal time of year when those of us in the Quite Southern Climes seek solace in our regional secret weapon: the restorative slushy drink. Anyone from cooler regions—specifically those who trot out the phrase, "I like having four seasons … "—may be late to discovering the joys of a hyper-cooling blast of smooth, boozy deliciousness, but rest assured, your time is nigh.
Living in New Orleans, I've watched with considerable interest as the Cult of the Slush developed from a Bourbon Street cautionary tale to a legitimate cocktail form. On our oppressively hot weekend afternoons, tall, cooling cups of icy sweet libation make any manner of outdoor activity possible (summer music festivals, baseball games, the transit between dark barrooms). Sunbelt Slush Culture developed alongside the shot-and-beer bars of countless beach towns, where college kids and other assorted summerfolk will try anything once. Hypnotized by seductively swirling cylinders and a riot of neon signage, the target audience has a short list of very simple needs—something super-cooling, preferably powerful, and vaguely recognizable.
The South Louisiana template for this genre started in rum culture, hence the universal name for any frozen drink is a "Daiquiri." (Whether you're slurping a slushy White Russian or a schnappsy "Bellini" situation, it's a "Daiquiri" in the same way that any Southern soft drink is a "Coke.") One state to the west, the ür-frozen cocktail emerged from the Mexican border context, and the frozen Margarita, understandably, reigns supreme.
Many parts of Louisiana Slushy Culture reflect the high-season beach-town abandon in presentation, and morning-after consequences. They're generally hyper-sugary and neon-hued, and often weapons-grade enthanol delivery devices. Jungle Juice variations that brag on their high-proof bonafides—190 Octane, Orange 190, Peach 190 (you get the idea)—draw sweaty bros and "WOO!" girls like moths to a flame. In this particular venue, octane beats nuance, hands down. The contest was never even close.
For preferred nomenclature, slushy culture relies heavily on P.T. Barnum levels of showmanship. Some of the names would be recognizable to a fan of cocktail history—Daiquiri, Hurricane, Whiskey Sour—but the real action (and danger) comes with the combinations whose names speak to the target demographic. Hence, the Wild West menu convention that includes (but isn't limited to) the Hypnotic, Incredible Hulk (green/strong), Jolly Rancher, Pink/Purple Panties, Sex in a Jeep, Papa Smurf, Shell Shock and (in a rare bit of understatement) Explicit Content.
In New Orleans, telltale styrofoam Daiquiri cups show up at any outdoor event without a sense of summer shame—the perfect "when in Rome" situation. Noted bartenders at the city's best cocktail bars hit the streets on second-line parade Sundays tippling a favorite icy analogue to the post-shift "beer and a shot."
And while this might seem downright barbaric to more sophisticated drinkers, I've seen signs of slushy inroads in tony cocktail bars outside the Crescent City. During a recent day-drinking Sunday in San Francisco's Mission District, I spied a bartender at Bon Voyage pumping out a steady stream of frozen Bay Wolfs (made with gin, Lillet, lime and prosecco) in between tiki-influenced slings, sours and highballs—a slushy embraced in a clime not known for crushing heat.
As summers get hotter, longer and more relentless, most traditionalists will eventually grow to appreciate this brash, but ultimately useful, interloper. And as we wait for fall's first cold front, we shall all seek relief in Slushy World.
---
Did you enjoy this article? Get more of the best of liquid culture when you sign up for a print or digital subscription to Imbibe Magazine. Click here for special savings!