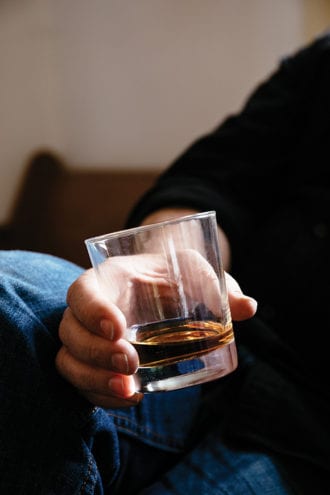 There comes a point on every red-beans night when it's time to make The Call. It usually comes a couple of hours into the regular Monday gathering, when a dozen guests have had a bowl or two of beans, a few slabs of cornbread and a couple of beers to wash it all down.
The tablescape is a glorious, semichaotic mess—bowls scraped clean, yellow crumbs scattered about, crumpled paper towel napkins dotted with melted butter and hot sauce. Black iron skillets, butter plates and wine bottles cover most of the wood-grain formica tabletop, and the crowd shifts its attention from spoonwork to storytelling. And during a specific lull in conversation—organic or manufactured—The Call rings out loud and clear. "Okay. Hands for whiskey."
It's not a question, not exactly a command—but a weekly signal that we're shifting from dining mode to the Monday Night Sipping Session. Regulars know the drill, and hands shoot up. Newcomers look to their tablemates for context and guidance. Those who are whiskey-curious or prone to peer pressure show open palms after a few seconds. Diners dedicated to day-job responsibilities demur politely with a quick rundown of Tuesday morning's schedule.
About a minute later, there's a staccato thunk on the tabletop—a handful of straight-sided rocks glasses and a stopperless decanter filled with a nice, midgrade sipping bourbon. One more trip to the kitchen for ice, and we're off. (The entr'acte has echoes of saloon scenes in old cowboy movies—"Bring whiskey. Leave the bottle.") Next steps: grab a glass, pour your own, raise a quick toast and continue your story.
"Whiskey for Dessert" became a ritual within a ritual, and a welcome component of my "red-bean Monday" dinners in New Orleans. The gatherings started when I inherited my grandmother's kitchen table—a 10-foot maple behemoth that fed three generations of my mama's family—and decided to fill it with folks at least once a week. Red beans and rice, the city's historic Monday staple, seemed a natural menu choice. Simple to make, easily adaptable for meatless guests, and (thanks to modern pressure-cooker technology) a delicious dish that only seems like it's been cooking all day.
I started inviting friends over for impromptu Monday meals ("this is not a dinner party") and ran my table like my grandmother would (shooting for "gracious with a side of bossy"). Over time, a simple set of guidelines emerged: Roll in after work, bring beer or wine, and meet new folks. (In 16 years of Monday nights, we've never had the same group of guests round the table.) The early-week impromptu gaggle became a weekly ritual with evolving traditions (including a strict "no goddamn phones at the table" rule). Come and eat. Drink some wine. See what happens.
As a home-drinking dance move, Whiskey for Dessert developed as a spiritual addendum to the weekly suppers, mirroring the simplicity and low-maintenance aesthetic of the main menu. It's a single option that's more welcome than any hummingbird cake or deep-dish pie. For the guests, The Call marks a sort of "choose your own adventure" moment on a typical school night. Faced with an open bourbon bottle, will you pick indulgence or virtue? Steadfast responsibility or a "three-day weekend" mindset? The introduction of hard liquor often triggers a tablewide energetic shift. The assembled sort themselves into one of two camps: the refined, "well, isn't this a pleasant after-dinner tipple" glide to bedtime, or its more intense counterpart, the rowdier, "buckle up, here it comes" second wind.
At a table large enough to accommodate independent conversational zones, the tales in progress can become boisterous and theatrical on one end, and quietly intimate just a few seats down. Liquor-fueled political clashes can command the whole table, but it's just as common to have smaller groups debating the finer points of New Orleans culture—their favorite roast beef po'boys or the perfect Sazerac. Whether the evening tapers off or rages late, the whiskey course always serves a simple but much-needed goal—to end Monday evening (or early Tuesday morning) on an appropriately boozy high note.
---
Like what you see? Get more of the best of liquid culture when you sign up for our bi-monthly magazine. Subscribe now and save up to 59%—it's just $21.95 for one year or $32.95 for two years. Click here for details.