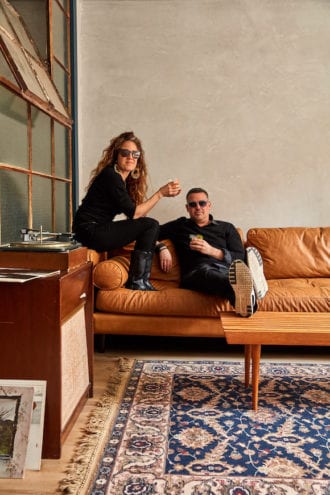 Any good host knows that well-chosen music is an essential element of a party. "Music and drinking just go together. It's this strangely parallel experience," says André Darlington, who, together with his sister Tenaya, released the book Booze and Vinyl.
The Wisconsin-raised siblings each followed a career in writing, and a mutual appreciation for cocktails led to their first book together, The New Cocktail Hour. With their newest release, the Darlingtons wanted to pair that cocktail knowledge with their shared passion for music and vinyl records. "We were both into listening to music on vinyl and that kind of analog experience, and we would always make drinks to go along," says André. "So we hatched this idea that would pair an A-side and B-side cocktail with some of the great vinyl albums."
The result is Booze and Vinyl, which combines 70 classic and contemporary records with two cocktail recipes and tips on creating a full gathering around the album. (Picture spinning the Talking Heads' Remain in Light for your next tiki party, while serving Mai Tais and Don the Beachcomber's classic Missionary's Downfall). Inspired by the concept, and with summer grilling season upon us, we asked the Darlingtons to craft a specially curated summer playlist based on their suggestion for a "chill-out grill-out." Starting with a track from Amy Winehouse's album Back to Black, and paired with a classic Calimocho or Absinthe Frappe, their playlist will help set the perfect mood for your next gathering. "These tracks are what we might call 'high-energy chill,'" says André.  "Songs that get the blood and drinks flowing while not stealing attention away from the gathering."
---
Like what you see? Get more of the best of liquid culture when you sign up for our bi-monthly magazine. Subscribe now and save up to 59%—it's just $21.95 for one year or $32.95 for two years. Click here for details.