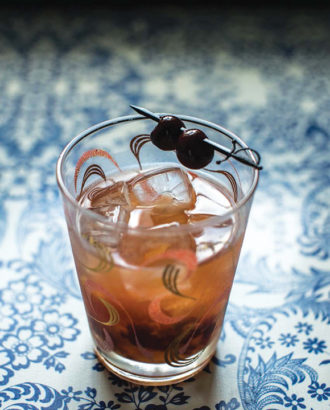 Few cocktails are as beloved (and as debated over) as the Old Fashioned. Beginning nobly as a combination of spirit, sugar, water and bitters, the drink devolved into a muddled mess of fruit, spirit and sweet soda before being reclaimed by bartenders and whiskey drinkers craving the real thing. As Robert Simonson wrote in his book The Old-Fashioned, "No cocktail has endured the same roller-coaster ride of reputation." With that in mind, we sought out three respectable variations on the classic—not to imply that the godfather of cocktails needs any improvement, of course.
Albino Old-Fashioned (pictured)
This aptly named riff by Tad Carducci from his time at Brooklyn's Bar Celona builds the drink on a base of unaged whiskey and highlights the characteristics  of the raw spirit. Muddle 2 brandied cherries with a wedge of white grapefruit in a heavy-bottomed Old Fashioned glass. Remove the grapefruit wedge for easier drinking. In the glass, add 2 oz. of white whiskey (Carducci uses Death's Door), ½ oz. of simple syrup, 2 dashes of Angostura bitters and a large chunk of ice and stir to chill. This recipe is featured in Robert Simonson's The Old-Fashioned, published by Ten Speed Press, an imprint of Random House LLC.
The Winona
Truest in form to the original, Bernard McNamee of New York City's Tanner Smith's modifies slightly by using maple syrup for the drink's sweetness. Start by stirring 2 oz. of bourbon with ½ oz. of room-temperature maple syrup in a mixing glass. Add 3 dashes of Angostura bitters and 2 dashes of Angostura orange bitters to an Old Fashioned glass with a large ice cube. Pour in the bourbon-maple mixture, stir to combine and garnish with an orange peel.
Flapjack Old Fashioned
Rated high on both their "spirituous" and "comforting" scales, the Flapjack Old Fashioned by Kayla Hasbrook at New York's Pouring Ribbons is like a pancake soaked in booze. The blend of base spirits gives this riff its complexity and its wallop. Combine 1 oz. of bourbon, ½ oz. of aged rum, ½ oz. of apple brandy, ¼ oz. of blackstrap rum and ¼ oz. of maple syrup with 1 dash each of orange bitters and cinnamon bitters (or substitute a cinnamon-rich aromatic bitters) and stir with ice. Strain into a rocks glass with one large chunk of ice.