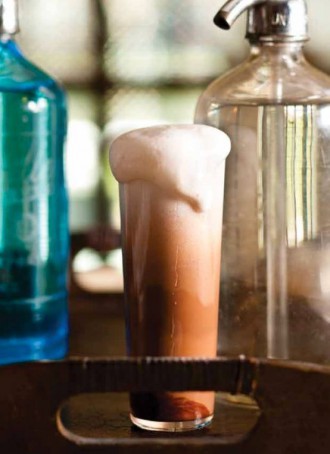 The Eleven Madison Park Egg Cream epitomizes the restaurant's high-low, NYC-centric ethos. Swapping in melted Madagascan chocolate for the traditional Fox's U-bet syrup elevates the New York classic even more.
3 Tbsp. whole milk
3 Tbsp. chocolate sauce
seltzer water
Pour 3 Tbsp. of chocolate syrup into a glass. Top with 3 Tbsp. of milk. Add enough club soda to reach the top of the glass. Stir vigorously and drink immediately.
Chocolate Sauce
1 cup granulated sugar
3 oz. chocolate, chopped
6 Tbsp. cocoa powder
2 Tbsp. cornstarch
In a small saucepan over medium heat, melt together the sugar and chocolate with 1/3 cup of water. In a mixing bowl, whisk together the cocoa powder and cornstarch with 1/3 cup of water. Add to the melted chocolate mixture and bring to a boil. Cook for 2 minutes to cook out the starch. Strain through a chinois and chill over an ice bath. Refrigerate until ready to use.
Note: Any leftover chocolate sauce can be stored in the refrigerator for up to 1 week and used to make hot chocolate or chocolate milk.
Reprinted with permission from I Love New York: Ingredients and Recipes by Will Guidara and Daniel Humm, Ten Speed Press