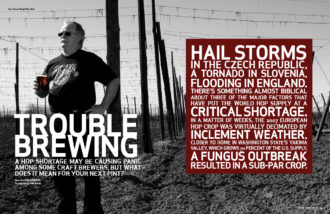 Hail storms in the Czech Republic, a tornado in Slovenia, flooding in England. There's something almost Biblical about three of the major factors that have put the world hop supply at a critical shortage. In a matter of weeks, the 2007 European hop crop was virtually decimated by inclement weather. Closer to home in Washington state's Yakima Valley, which grows 70 percent of the U.S. supply, a fungus outbreak resulted in a sub-par crop. A pious person might take all this as a sign that the Higher Power doesn't approve of our quaffing. Environmentalists may suggest that global warming is to blame. No one is arguing that these events have had a profound effect on the beer world that may be felt for years to come.
Had 2007's disastrous crop been the only setback in the global hops market, things may not have reached the point they are at today. But in 2006, a bad European crop and a fire at a Yakima warehouse also contributed. The world's supply of bittering hops, which North American and European macrobreweries use in huge amounts, and which had been in surplus since the mid-'90s, started to dwindle, putting an additional strain on demand.
So, in the fall of 2007 when it became clear that the European crop was going to come up short, the world's breweries turned their eyes toward the U.S. where, unfortunately, farmers have recently been growing fewer hops in order to grow more profitable crops.
What was available of the 2007 U.S. crop was quickly snatched up by European breweries. "The biggest factor that hit us more than anything was the amount of U.S. hops being sold [to breweries] outside of the U.S. at harvest time," says Ralph Woodall, sales director at Hop Union, a broker that buys hops from Northwest farmers and sells them to craft breweries and brewpubs across North America. "That's where the whole dynamic was changing real fast. It was hard to compete against the Euro."
It became very apparent very quickly that big trouble was brewing for the craft beer world. "Even though the craft beer business is a small percentage of [beer sold in the U.S.]," Woodall says, "it affects us a lot more when all of a sudden somebody is buying hops that we might have had access to. That put a cramp in our style real fast."
"A" IS FOR ALPHA ACIDS
Disastrous weather in Europe and the fungus problem in the Yakima Valley were the final straws in the fall of 2007. There was actually a confluence of occurrences—some put into play more than a decade ago—that came together in what many in the industry are referring to as a "perfect storm." More than anything, the weak 2007 crop brought to light the fact that demand is way outstripping supply worldwide—in particular hops high in alpha acids, which are used for bittering—and this looks likely to continue for some time.
To understand how this all came about requires a quick primer on the hop plant itself, humulus lupulus. Hop is a perennial native to the Northern Hemisphere and can grow up to 50 feet high. Only the plant's resin-rich, cone-like flowers are of use to brewers. There are two main categories: aroma hops, which lend flavor and bouquet to beer, and bittering hops. Varieties that are higher in alpha acids, such as Columbus, Tomahawk and Zeus, are generic flavor-wise, providing only bitterness to beer, which is necessary to balance the malt. The larger breweries of the world—Coors, Modelo, Heineken, SABMiller—who use massive quantities of bittering alphas, have less interest in the aromatic varieties, such as Cascade, Goldings, Fuggles, Centennial, Chinook, Saaz, Tettnang and Hallertau, which are the lifeblood of craft brewers and are generally lower in alpha acids.
As of 1992 there were nearly a quarter of a million acres of hops being grown worldwide, an all-time high. There was more than enough to go around, including aromatic varieties, no doubt a boon to the then-burgeoning craft brewing industry, which could get hops cheap. But with more supply than demand, prices dropped and farmers began tearing out hop fields and putting in more profitable, less fussy crops—some even planting wine grapes—or just selling land to developers. By 2006, world hop acreage had been reduced to half of what it was at its peak 14 years earlier.
THE GROWING PROBLEM
The obvious solution to any shortage is to increase supply, and that is, in fact, already happening. It is incredibly capital-intensive to start a hop-growing farm, requiring millions of dollars in equipment for cultivating and processing the crop, so the industry isn't seeing new growers. Instead, some existing hop farmers are buying more land and expanding their acreage. Unfortunately, this won't help in the short-term. "The market can't react very quickly," says Brett Porter, Deschutes Brewery's head brewer, "You can only expect 75 percent of the typical yield in the first year in the Yakima Valley, assuming you have good weather—less in other growing areas like Oregon. So, it's difficult for the hop industry to react quickly to the needs of the beer industry."
Adding insult to injury for craft brewers, most hop growers are focusing their efforts on the high-alpha varieties, rather than aroma varieties, such as Cascade. "The current economics of the situation encourages growers to grow high alpha hops used for bittering," says Paul Gatza, director of the Brewers Association. "Higher alpha has shown a tendency to grow better and provide more yield per acre: 2,000-plus pounds for high-alpha, versus 1,500 to 2,000 pounds per acre for aroma hops."
According to Doug Weathers, a third generation hop farmer in Oregon's Willamette Valley who sells his crop through Hop Union, the high yield per acre is not the only benefit to growing high-alpha hops. "The prices for those [hops] are two or three times what the [aroma hop] prices are," he says. "We're talking [a difference of] over $10,000 per acre. Plus, the turnaround time is one year, rather than two; they get a return the first year."
Another essential part of this complicated equation is the fact that consumption of beer continues to increase—as does the popularity of very hoppy beer. The amount of beer produced by microbreweries, brewpubs and regional craft brewers in the U.S. alone increased nearly 40 percent from 1998 to 2006. But American brewers aren't alone in their plight. In China, beer consumption has been going up in double-digit figures for the last several years, yet the country is growing fewer hops, according to Gatza. This growing demand for beer is taxing a world hop supply that will have a difficult time catching up and, some predict, keeping up in the future.
Hop Union's Woodall believes the alpha hop market will be in better shape in a couple of years, because that's obviously where the money is and that's where most hop growers are focusing their efforts right now. This will satisfy the high-alpha needs of macrobrewers, but for craft brewers it's not as rosy. "The craft market could actually take several more years," he says. "It will never [return] to where it was as far as the availability of all the different varieties in the U.S. and the world. Certain varieties are not going to be there in great supply."
Homebrewers will also continue to be affected. Though there are four major U.S. wholesalers that keep most brewing supply stores stocked, and that have plenty of buying clout compared to, say, a small brewpub, those wholesalers likely won't be carrying the same selection that they once did. Some stores are even limiting the amount that customers can buy to prevent hoarding.
NO MOUNTAIN OF CASCADE
Some craft brewers who saw the writing on the wall in 2006 planned ahead, negotiating contracts with hop dealers like Hop Union and agreeing to purchase a certain amount of the varieties they needed at a set price for the next few years. Deschutes Brewery was one of the fortunate ones. It was a calculated risk, though, because the market up to that point had been very much in favor of the buyer. Hops could be bought easily as brewers needed them. "It costs money to look into the future and contract," says Deschutes' Porter, "especially when there's a glut of alpha available. In 2004 and 2005 there were Cascade hops on the market for less than $2 a pound. Now they're probably $22 a pound if you can find them. It's changed wildly."
Cascade, an aromatic hop that imparts an assertive piney, citrusy note to craft beer favorites like Sierra Nevada Pale Ale, has long been an indispensable part of many a craft brewer's repertoire and has previously been available in abundance. Now, some brewpubs that have less buying clout with hop dealers are forced to alter their recipes for their flagship beers or even take them off their menus. "We've already seen brewpubs reducing some of the styles of the beer they offer just based on whatever hops they're able to get," says Hop Union's Woodall.
Elliott Bay Brewing Co., a Seattle brewpub that's been in business for 10 years, opted to alter the recipe of one of its longtime favorites due to its inability to get enough Cascade hops. But before Elliott Bay's co-owner Todd Carden released the modified version of his Alembic Pale Ale, he taste-tested it on regulars who were staunch fans of that particular brew. Though so far they have no complaints, Carden is nonetheless astounded it has come to this. "Here we are in the backyard of the greatest hop-growing region in the States and we can't even get hops," he says. "It's like living in Florida and not being able to get oranges. What's going on here?"
Weathers is trying to do his bit to help craft brewers like Carden by planting an additional 60 to 80 acres of mainly Crystal and Cascade hops. "We have room to expand," he says, "as long as the varieties that we're planting fit into harvest windows that we have available."
In years past, Carden had been able to hit up other Seattle brewpubs for a little extra hops if he were in a bind. He's not so sure that would be possible now. The online forum at the Brewers Association Web site, beertown.org, echoes his frustration and is buzzing with brewers trying to trade hops that they have for varieties they need so they can continue to make their beer the same way they always have. In February, Samuel Adams announced a hop-sharing program by which the beermaker would sell its surplus English- and German-grown hops at cost—$5.42 to $5.72 a pound—to other brewers. The response was instant and "overwhelming," says company spokesperson Michelle Sullivan. She says the hops are so scarce on the world market that brewers who need them often can't locate any or, if they do, they're paying $15 to $30 a pound. "We have hundreds of requests. We are going to do a lottery to allocate the 20,000 pounds, as there is way more need than we can supply."
Avery Brewing in Boulder, Colo., is making a different kind of change to one of its recipes, opting to boost the hops in its spring seasonal, New World Porter, in a move that could be controversial among other brewers like Carden who are scrambling simply to get the hops they need to maintain their regular offerings. A January newsletter announcing Avery's move stated: "Hops are the heart and soul of our beers and we refuse to compromise our recipes or our flavors." They have the luxury of doing this only because they had the foresight to contract in advance for all the hops they knew they'd need for the 2008 year.
"We're doing what we've always done: we're making the beers that we want to make," says Avery president and brewmaster Adam Avery of the brewery's decision to up the hops. "Our New World Porter [has] always been hoppy, especially for a porter—we call it a black IPA—but this year we decided we needed to use more hops. It wasn't really [us] snubbing the hop [shortage]. It was just a flavor thing."
However, as Avery is quick to point out, this hop increase will also mean a price increase for consumers. Avery expects his brewery's six-packs to go up by about a dollar. "We just pass the cost along. All beer is going to cost more this year. Hoppy beers will cost even more, because obviously there's an increased cost there."
PAY MORE AT THE PUMP
Of the four main ingredients in most craft beers—barley, hops, yeast and water—two have gone up in price dramatically in the last year. Though the hop shortage is getting the headlines, barley prices have also increased by 50 percent. It is a "double whammy," as Carden of Elliott Bay Brewing puts it, on craft brewers who burn through a lot of barley. For craft brewers who bottle their beer, consider it a triple whammy, as the price of glass has also gone up. Avery has seen its glass prices go about 8 percent each year for the past three years.
And loathe as they may be to increase prices, for fear of hurting sales, there's probably not a beermaker in the world—big or small—that won't be raising prices. Though the timing is bad for U.S. consumers already dealing with a shaky economy in which gas and food prices continue to rise, paying a little more for beer now may compensate for the years that the price of a six-pack or pint didn't go up at the same rate as inflation. "If you look at inflation versus the cost of beer," Porter says, "it doesn't really move with the consumer price index. It lags behind."
"This year," Avery says, "there's not a brewer in the country that's going to say, 'Oh yeah, we're going to suck up all these hop, barley and glass price increases and maintain our pricing.' There are going to be significant increases."
The Boston Beer Co., which makes the Samuel Adams brand, reported as part of its SEC filing that prices would go up by 5 percent to offset the company's projected 12 percent cost increases. Carden has already seen the prices of kegs of guest beers he sells in his brewpubs go up by $15, which breaks down to an extra 15 cents per pint that he's paying. As Carden says with a sigh, "The days of the $4 pint may be numbered."
The craft brewing industry has thrived and grown because of its creativity and ingenuity, attributes that will be put to the test during these difficult times. It will also need to rely on something else that has been a major factor in the industry's growth: consumer loyalty. Gatza puts it plain and simple, "The answer is that [beer drinkers] need to support their local breweries right now."