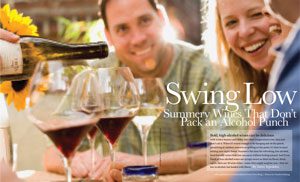 Summery Wines That Don't Pack an Alcohol Punch
Bold, high-alcohol wines can be delicious
with wintry braises and stews, but when temperatures rise, they just don't cut it. When it's warm enough to be hanging out on the porch, picnicking at outdoor concerts or grilling on the patio, it's time to start setting your sights lower. Summer's the time for refreshing, low-alcohol, food-friendly wines that you can savor without feeling soused. And if you think all low-alcohol wines are syrupy-sweet or short on flavor, think again. Here are 10 wine styles—some that might surprise you—that are low in alcohol, but loaded with flavor.
German Riesling
Whether you're in the mood for something bone dry and minerally or a little sweeter with more fruit, a German Riesling will scratch that itch. And it likely won't be over 12 percent ABV (most are made in the 10 percent range). These wines are also incredibly food-friendly, meshing with everything from seafood (dry) to spicy Asian cuisine (sweeter). Look for Louis Guntrum 2008 Riesling Royal Blue ($13; 11 percent ABV), an off-dry offering from the Rheinhessen region with a subtle blend of floral and stone fruit aromas, a quick burst of tangy sweetness up front and a crisp lemon-lime finish. Another winner: Schloss Vollrads Riesling QBA 2008, Rheingau ($17; 10.5 percent ABV), a balanced wine with lush, sweet tropical fruit and clean, mineral-crisp acidity.
Vinho Verde
The name of this Portuguese wine, made from local grape varieties in the northern Minho region, literally means "green wine," referring to its fresh, bright acidity. It could also just as easily apply to the crisp, green apple and citrus flavors most of them exhibit. Generally under 10 percent ABV and lightly effervescent, Vinho Verdes are perfect picnic partners, pairing well with citrus-dressed salads or light seafood dishes. Look for Broadbent Vinho Verde N.V. ($11; 9 percent ABV), with its nose of apricots and hints of fresh spring flowers. The palate offers tart green apples trailing into a lovely dry citrus finish. If you're looking for one with more heft, try Quinta da Aveleda 2007 ($9; 11.5 percent ABV). Its tanginess is balanced by floral creaminess, which helps it stand up to fattier fish like salmon or oily pestos. Another versatile choice is the light and bright Sogrape Vinhos Gazela 2009 ($6; 9 percent ABV), which has limey citrus aromas and flavors. The bright acidity has a kiss of sweetness for balance.
Moscato D'Asti
Summer fruit salads and slightly fizzy Moscato d'Asti made from fragrant muscat grapes is a match made in heaven. Italian Moscato d'Asti, with its higher residual sugar and super-low alcohol (5.5 percent ABV), is also a good fit for fruit-based desserts, or just on its own for a little sweet at the end of a meal. Don't miss Ceretto I Vignaioli Di S. Stefano Moscato d'Asti 2008, Italy ($19; 5.5 percent ABV). A veritable summer fruit bowl on the palate, this frizzante is so delicious and low in alcohol, you might be tempted not to share. Aromas of fresh apricot and grapes with a touch of acidity on the finish will keep you coming back for more. For the perfect outdoor brunch bubbly try Michele Chiarlo Nivole Moscato d'Asti 2008, Italy ($15; 5.5 percent ABV) with its orange blossom and ripe peach aromas and refreshing mandarin, peaches-and-cream and citrus notes.
Sparkling Wine
There's something about bubblies that makes everything feel more festive. They also have a knack for cutting through the richness of fatty foods, from French fries to foie gras. A great food-friendly sparkler is Wolfberger, Crémant d'Alsace, Brut Rosé N.V. ($22; 12 percent ABV). With a copper-tinged salmon color, lively bubbles and sweet strawberries on the nose, the wine is dry, crisp and almost steely. It pairs deliciously with melted cheeses and even vinaigrette-dressed salads.  Half a world away, the Gruet Brut NV ($14; 12 percent ABV) from Albuquerque, N.M., is another good bet with its vibrantly creamy mouthfeel and pronounced flavors of tart green apple and grapefruit.
Chardonnay
Cool-climate Chardonnay—think Old World-style, like white Burgundy and Chablis—may well be one of the more under-rated summertime whites. Made with the right balance of oak and alcohol, these are lovely with weightier summer seafood fare, especially anything with a cream sauce. Look for single-vineyard offerings from California, like Arnot-Roberts Green Island Vineyard Chardonnay 2009, Napa Valley, California ($30; 12.4% ABV), a Chard with remarkable finesse. It has a lovely soft texture, with crisp apple and peach flavors and a hint of butter. For an even crisper option, try Ponzi 2008 Willamette Valley Chardonnay ($20; 12.7% ABV). It's bright with citrus notes that sparkle on the palate, but with a touch of vanilla and a silky body to remind you this is still a Chardonnay.
Syrah
Most New World Syrah/Shiraz has been made in a big, high-alcohol, fruit-forward style, but when the grape is grown in more marginal areas, its complexity and beauty shine. California's Central Coast produces substantial lower-alcohol Syrahs that are a great match for grilled red meats. For your next barbecue, try Arnot-Roberts Clary Ranch Syrah 2008, Sonoma Coast, California ($38; 11.5% ABV), whose rich purple-red color belies its low alcohol level. The intriguing pepper aroma and smoke, spice and dark berry flavors on the palate make it a perfect fit for grilled game. For something more substantial try Bonny Doon Le Pousseur Syrah 2006, Central Coast, California ($18; 13.5% ABV), which tastes like a California version of a Northern Rhône. The nose has a white pepper funkiness, along with plenty of ripe dark berries. There's spice and more dark berries on the palate, with a nice grip of tannins on the finish.
Pinot Noir
When Pinot Noir is made at lower alcohol levels, à la Burgundy, its elegance and food compatibility shines. The Freja Cellars 2007 Willamette Valley Estate Pinot Noir ($15; 12.8% ABV) is a prime example. Like many 2007 Oregon Pinots, this unfiltered wine needed some extra time in the bottle to age into a graceful, well-balanced wine sporting medium acidity and tart cherry fruit tempered by sweet raspberries, violets on the nose and tobacco on the finish. Grilled salmon, pasta primavera or scallops would be delicious partners. Another New World option with cool-climate elegance is Oyster Bay Marlborough Pinot Noir 2008, New Zealand ($14; 13.5% ABV). The fragrant spice and floral aromas lead to savory black cherry notes with a lingering finish.
Albariño
A grape traditionally grown in Spain and Portugal (where it's called Alvarinho), this lovely white is also finding a place in California. Though there are similarities to Viognier, Albariño has a greater acidity that makes it much more food-friendly, especially with fresh-shucked oysters. Look for Ca' Del Solo Albariño 2008, Monterey County, California ($18; 12.8% ABV), a crisp biodynamic wine with floral, herbal and stone fruit aromas and fresh herbs, lime and crisp peach flavors. For an authentic version (and real bargain) look for Burgans Albariño 2008, Rias Biaxas DO, Spain ($12; 12.5% ABV). It's fragrant and flavorful with notes of mineral, lemon and fresh green apple with a clean, smooth finish.
Rosé
Because Rosé is made in so many different styles, it's not by definition a lower-alcohol style. But a well-balanced Rosé that demonstrates the richer fruit flavor of a red and the food-friendly acidity of a white is an unbelievably d
elicious summer wine—think cold cuts and goat cheese. Try Marques de Caceres Rioja Rosado 2009, Rioja Alta, Spain ($7; 12.5% ABV), which comes from the high slopes of Rioja Alta. The Tempranillo/Garnacha blend has wild strawberry and violets on the nose, with red berries sand peppery spice on the palate. Or how about a Spanish-inspired New World blend Trenza Rosado 2008, San Luis Obispo County, California ($17; 13.5% ABV)? It's a fragrant and alluring GSM (Grenache, Syrah, Mourvèdre) with raspberry and strawberry flavors, bright acidity and a lovely floral finish.
French Sauvignon Blanc
Though there are great examples of Sauvignon Blanc made in the New World, the bracing acidity, crisp green/grassy flavors and restrained alcohol of the French versions are made for summer fare, particularly citrus-dressed salads, light fish dishes and fresh veggies. Look for Chateau de Sancerre 2006, Sancerre, Loire ($37; 12.7% ABV), with apricot and lemon oil aromas, a rich, textured palate of orange blossom and white peach, and a refreshing, crisp finish. The flinty smokiness of Pouilly-Fume is on display in Michel Redde et Fils Pouilly-Fume La Moynerie 2007, Loire ($28; 13% ABV), along with intense citrus peel, apricot, savory herbs and an amazingly long finish.
Chenin Blanc
Like Riesling, Chenin Blanc is made in a range of styles, from sweet to bone dry (and even sparkling). The best examples offer floral, honey and apricot flavors perfect for summer days. France's Loire Valley, particularly Saviennères and Vourvray, is where the grape has done best, but South Africa and cooler North America climates have also had success with it. Clos de Nouys 2007, Vouvray demi-sec, Loire, France ($20; 12.5% ABV), is an off-dry version that will pair deliciously with spicy chicken dishes. For a dry option that's perfect with grilled chicken, try Vinum Africa Chenin Blanc 2008, Stellenbosch, South Africa ($11; 13.5% ABV). It has fresh lime and white pepper spice aromas along with baked apples and a delicate floral flavor.
Gamay
Burgundy's other red, Gamay, is best known as the primary grape of the Beaujolais region. An often overlooked variety when it comes to summery, food-friendly wines, the present acidity and bright berry flavors make it a refreshing red (especially when slightly chilled) for pairing with just about any picnic fare—salami, salad, rustic bread. Look for the King of Beaujolais Georges Duboeuf Morgon Jean Descombes 2008, Cru Beaujolais, France ($18; 13% ABV). Morgon is known as the most identifiable terroir of the Cru Beaujolais, with cherry, herbal earthiness and silky strawberry throughout this soft sipper. From another reliable Burgundian producer try Maison Louis Jadot Beaujolais Villages 2008, Beaujolais, France ($10; 13% ABV), which is alive with bright currants and candied strawberry, peppery spice and a fresh acid finish.