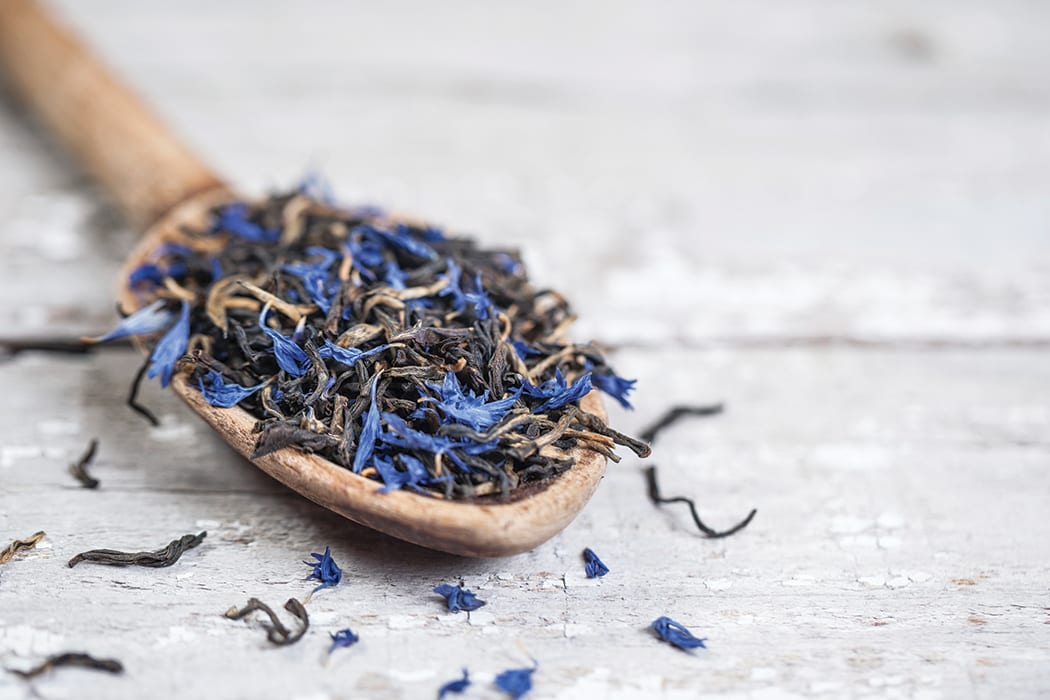 Earl Grey's distinctive flavor is owed primarily to bergamot, a type of citrus that's native to the warmer regions of Europe. The tea's trademark citrus-peel flavors are well-suited to cocktail mixing, whether it's to temper gin's piney personality or to enhance a simple vodka.
Bergamot Kiss
Beverage director Mary-Ellen Jones of Trentina in Cleveland offers a bright and floral option with the Bergamot Kiss. The recipe calls for lavender-infused simple syrup, which can be made by bringing 2 cups of water to a boil, then adding 3 Tbsp. dried lavender and 1 cup of sugar or honey; simmer for 5 minutes, stirring to dissolve the sugar, then cool and strain before bottling (keep in the refrigerator for up to 1 week). She then mixes 2 oz. of gin with 1½ oz. of strong, cold Earl Grey tea and ¾ oz. of fresh lemon juice. Add ½ oz. of the lavender syrup and ½ of a fresh egg white (pasteurized if you prefer). Shake with ice until frothy and strain into a chilled coupe, with a twist of lemon peel as a garnish.
San Francisco Fog
Inspired by the London Fog (basically a tea-based latte), David Shenaut at Portland, Oregon's Raven & Rose pairs Earl Grey tea with the warming effects of pisco and steamed milk. Start by making a cardamom syrup: Bring 1 cup of cane sugar, 1 cup of water, 5 or 6 cardamom pods (lightly crushed) and 1 split vanilla bean to a simmer, stirring to dissolve the sugar. Cool, strain and bottle the syrup with the vanilla pod. Preheat a mug by rinsing with hot water, then add 1 oz. of pisco, ½ oz. of the cardamom syrup and 1½ oz. of double-strength Earl Grey tea. Steam 2 oz. of milk in a frothing pitcher (or simmer the milk in a saucepan over gentle heat while whisking vigorously) and add to the tea mixture.
The Three Castles
Nutty nocino and tea-infused vodka lace this autumn-rich drink from Patrick Brennan, bartender at Spiaggia in Chicago; the restaurant's version has been modified for simpler at-home assembly. Steep 4 oz. of loose Earl Grey tea in a 750 ml. bottle of vodka for 5 minutes and strain. Mix 2 oz. of the infused vodka with ¾ oz. of nocino, ¾ oz. of fresh lemon juice, ¼ oz. of demerara syrup (1:1) and 1 fresh egg white (pasteurized if you prefer) in a cocktail shaker and shake without ice until frothy. Add ice to the shaker and shake again before straining into a Collins glass filled with fresh ice. Top with 1½ oz. of chilled soda water, stir and add a few drops of orange bitters.