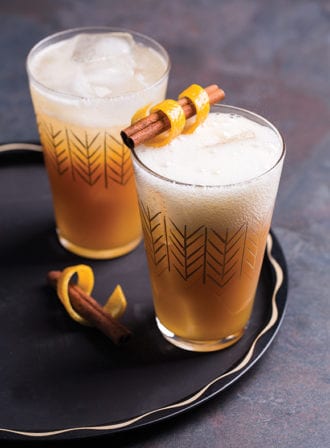 Celebrating the holidays can be a marathon—it's best to pace yourself. Here are three recipes that'll keep you toasting the season without the boozy edge.
Purifying Karma
Grapefruit's oversized counterpart makes its presence felt in this lively drink (pictured), in which the sweetness of cider and honey go toe-to-toe with pomelo's snap and ginger's spice. At The Living Room at Park Hyatt New York, Steven Gonzalez combines 2 oz. of apple cider with ¾ oz. of fresh pomelo juice, ½ oz. of ginger juice, ¾ oz. of honey syrup (2:1 ratio) and ice before straining the mixture into an ice-filled Collins glass. Top with chilled sparkling water and garnish with an orange peel and cinnamon stick.
Holiday Fizz
This drink from Norma Beekman at Lockbox in Lexington, Kentucky, matches sweet pumpkin with ginger and cider, yielding a drink that embodies the best of all your holiday pies. Shake 1½ oz. of pumpkin purée with 2 oz. of apple cider and a dash of vanilla extract and strain over ice. Top with 1½ oz. of ginger beer and garnish with an apple slice.
Muddled Pine
Fresh pine and citrus brighten this colorful ode to winter, from Carmen Polcyn of Bar Toma in Chicago. Add 15 to 20 fresh cranberries, 1 oz. of fresh lemon juice, ½ oz. of pine syrup and a few drops of Angostura bitters to a shaker, then crush the cranberries with a muddler. Add ice and shake until chilled, then strain into an ice-filled rocks glass. Top with ½ oz. of lemon-lime soda and a splash of soda water; garnish with 3 cranberries and a sprig of pine. Make the pine syrup by heating 1 cup of water and 1 cup of granulated sugar and bringing the mixture to a boil, stirring to dissolve the sugar. Reduce the heat to low and add a few handfuls of chopped pine needles (from spruce, white pine or Douglas fir) and stir to combine. Remove from the heat and let the syrup steep for at least 2 hours; strain into a bottle and keep refrigerated for up to 3 weeks.
---
Give the gift of Imbibe this holiday season. Gift subscriptions are only $19.95 each after your first $21.95 gift subscription purchase, plus you'll receive a free download of our Holiday Punch Guide, AND through 12/31, $1 of every online subscription order goes to the Red Cross! Click here for details.