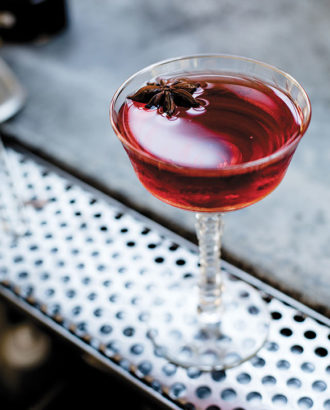 Bartender Phil Ward's inspiration for this cocktail? "I was mulling cider and putting in the star anise just as I took a sip of Campari," he says, "I was like, 'Wow, could those two tyrants actually coexist?' I tried it and they did." This one of many unique Negroni-inspired recipes featured in Gary Regan's book, The Negroni.
1½ oz. blanco tequila
1 oz. Carpano Antica sweet vermouth
1 oz. star anise-infused Campari
Tools: mixing glass, barspoon, strainer
Glass: cocktail
Combine all ingredients, stir with ice and strain into a chilled cocktail glass.
Infused Campari: Combine 20 star anise pods with one 750 mL bottle of Campari in a jar. Seal and shake gently. Let infuse for about 8 hours or overnight. Strain through a double layer of dampened cheesecloth.
Phil Ward, Mayahuel, New York City

Reprinted with permission from The Negroni by Gary Regan. Published by Ten Speed Press, an imprint of Penguin Random House LLC.