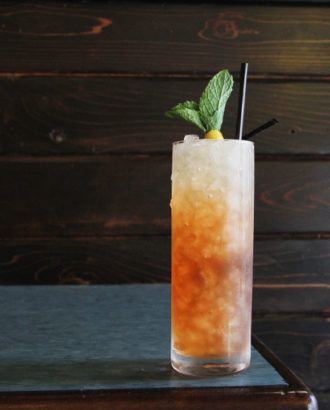 In the September/October 2015 issue, Wayne Curtis explores Canadian whisky's long-held stigma and how some distillers are working to change that image. Find out which brands are making the best impressions, and then try mixing one into this cocktail from Chicago bartender Chris Marty. Marty uses Alberta Rye Dark Batch because of the whisky's heavy oak and spicy rye notes, which anchor this refreshing highball.
2½ oz. Canadian whisky
½ oz. Luxardo maraschino liqueur
½ oz. white crème de cacao
¼ oz. fresh lemon juice
2 dashes Peychaud's bitters
1 dash Angostura bitters
1½ oz. brut Champagne
2 mint sprigs
Lemon peel
Tools: shaker, strainer
Glass: Collins
Garnish: bundle of mint wrapped in lemon peel
Place all of the ingredients except for the Champagne and one of the mint sprigs into a shaker. Add ice and shake vigorously. Fill a Collins glass with fresh ice and pour the Champagne over the ice. Fine-strain into the glass, removing and discarding the bruised mint. Snap the lemon peel over the top of the glass to release the oils and rub it around the rim. Create the garnish by removing the mint leaves from the second sprig and making a small bundle. Wrap the spent lemon peel around the base of the bundle and secure with a pick.
Chris Marty, Best Intentions, Chicago