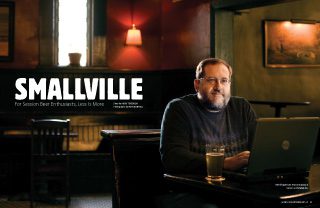 The craft beer movement in North America hasn't grown and thrived by producing beers that are subtle.
Just like anything that exists outside the mainstream, craft brewing has always attracted enthusiasts looking for an experience beyond the usual—something with more character and flavor than mass-produced pale lagers. So for the last 20-plus years, there's been a constant push toward bigger, bolder flavors and higher alcohol content. Meanwhile, the little guys—session beers, or low-alcohol brews that you can drink all afternoon without getting soused—have gotten lost in the shuffle.
But since early 2007, one beer blogger, Philadelphia-based drinks writer Lew Bryson, who authors Seen Through a Glass (lewbryson.blogspot.com), has been a cheerleader for little beers. And what's not to love about a beer that goes down easy, tastes great and won't leave you stupefied—or your palate ravaged by excessive hops—after two pints? Long enjoyed in England as Milds or Bitters, these brews with less than 5 percent alcohol by volume (ABV) have seen a groundswell of interest, thanks in large part to Bryson and a series of blog posts he deemed the Session Beer Project.
Bryson's goal with the Session Beer Project, as detailed in his first missive in January 2007, was to "post notes on session beers at least four times a week, [including] tasting notes, style notes, food pairings, critiques, rants, praise, despair, news, whatever." The SBP immediately caught the attention of New York Times writer Eric Asimov, a session beer fan himself, who wrote about Bryson's endeavor on his own blog (thepour.blogs.nytimes.com). Since then, Bryson has posted about session beers from all over the world ranging from Milds and Brown Ales to Stouts and Pilsners, bringing attention to the fact that there are many options for those looking for a lower-alcohol, craft-brewed beer that is interesting and flavorful. Last May, he even helped organize a three-day tasting called the Session Summer of Love, which by his reckoning, is the first event dedicated to promoting session beers.
Restrained Charms
A good session beer should offer subtle, well-balanced flavors and easy drinkability. (And though that may sound like the marketing speak so often used by mass-produced macro-brews, that style of pale American lager is not part of the equation.) Not surprisingly, these attributes may be a hard sell to craft beer drinkers accustomed to heartier fare. Session beers don't necessarily have the dramatic appeal of, say, Pyramid Brewing's hefty 7.5 percent ABV Imperial Hefeweizen or The Lost Abbey's seasonal Peter Cotton Tail strong wheat beer, which weighs in at 8 percent ABV and is infused with coriander, orange peel, rose hips and lavender. "We've had some people complain that [session] beers aren't really that special, and I disagree," Bryson says of some of the responses he's gotten from his Session Beer Project posts. "They're just not special in the way you're expecting. I think it's kind of the difference between seeing Edith Piaf perform in a Paris café, versus seeing Kiss on a giant stage. It's a whole different appreciation."
UK blogger Jeff Bell, another session beer proponent, may also write about bigger, more extreme beers on his blog, Stonch's Beer Blog (stonch.blogspot.com), but he loves the gentle quaffability of beer that's more reserved. "It's about being able to appreciate pint after pint after pint," he says. "That's what traditional English Milds and Bitters are very good for."
Lower-alcohol Pale Ales, Nut Brown Ales, Lagers and Dry Stouts—styles that often fit the loose definition of session beers—are, relatively speaking, more restrained, but it doesn't mean that in enjoying a pint or three of a session beer one has to necessarily forgo bold and interesting flavors. Scott Smith, brewmaster and owner of East End Brewing in Pittsburgh, offers a regular series of Session Ales that he says "are a great way for me to scratch my creative itches."
Though he started brewing his Session Ales simply because he wanted to have a beer on hand that he could drink with his lunch each day, it turns out he may have unwittingly tapped into the growing session beer zeitgeist—they are, in fact, his best sellers during "Growler Hour" where three days a week he briefly opens the brewery to the public to purchase growlers (a half-gallon jug) full of whatever he has on hand.
The series has included an English Bitter, Southern English Nut Brown Ale, Single Malt Ale, Kvass (a Russian bread beer), Scottish Mild and the particularly bold American Wheat Hop that Smith singles out as a session-worthy beer not short on flavor. "It was a real light wheat beer, with a light straw color, but it had a big Simcoe American hop flavor—almost grapefruity or pineappley," he says. "There are definitely ways to pump flavor into these styles of beer without having to pump up the [ABV]. "
Less Means More
The alcohol content of a beer is a direct result of the amount of malt used to make it, as it is the malts that contain the fermentable sugars that the yeast ultimately turns into alcohol. Brewers wanting to increase a specific malt flavor or profile will, as a result, also end up increasing the alcohol content. As Tomme Arthur, director of brewery operations at Port Brewing Co. and The Lost Abbey, explains it, "Beers that are bigger in flavor sometimes demand higher alcohol or higher starting gravity to support that."
The trend toward increasingly high ABVs is a relatively new one that has paralleled movements in the food world. As people have sought out bold new flavors and taste experiences, craft brewers have stepped up and offered a plethora of beers with increasingly complex and challenging profiles. While these beers deliver more overall bang, they aren't well-suited for a session.
And therein lies the rub. Beer, for the most part, has always been enjoyed in a standard serving size: the pint glass. As alcohol levels have risen (some into double digits), it has meant that that same pint of beer is packing more of a wallop, and thirsty beer lovers have to choose between stopping after a couple or risking over-indulgence and palate fatigue.
Session beers, by definition, are made for extended drinking sessions and are perfect for enjoying with friends at the local pub—perhaps their most appealing aspect.
"I'm an absolute beer lover and I adore extremely strong Imperial Stouts and Barley Wines and I do sometimes drink them," says Bell. "But I also do most of my drinking in my local pub. I would never drink very strong beers there, because I don't want to get drunk all the time and be hung over and not be able to go to work."
David Pollack is trying to import some of that same way of thinking to Brooklyn. The 32-year-old co-owns The Diamond Bar (also see page 79) with his wife, Alex, and has made a point of keeping an intriguing variety of session beers in stock—on draught and in bottles—and, more important, educating his customers who may not be familiar with the term. "Most people come in and have no idea what session beers are," he says. "So we explain the concept, and it's now at the point where we have a pretty good group of regulars that understand it. [I'm] trying to show people that craft beer doesn't necessarily have to be knocking you over the head."
Aim High, Brew Low
One need only look at the growing number of beers that are using "session" as part of their name to see that there is a growing interest in the trend. Boston's Harpoon Brewing introduced its Brown Session Ale in early 2007 (see sidebar) and others, such as Oregon's Full Sail with their Session Premium Lager, have followed suit. And brands that aren't actively marketed as session beers—Alaskan Amber, Widmer Hefeweizen, Shiner Bock—but that have all the characteristics of a good session beer rank among the top 15 craft brands in dollar sales in U.S. supermarkets, according to statistics provided by the Brewers Association in their IRI Mid-Year 2007 Beer Review.
Whether or not Lew Bryson's Session Beer Project was an impetus, the Great American Beer Festival, held annually in Denver, has also picked up on the growing interest in session beers. In 2007 they added a new judging category for "Other Low Strength Ale or Lager," which required all entries—of which there were 14—to be below 4.1 percent ABV. The gold medal winner was a Belgian Witbier called Half Wit brewed by California-based BJ's Restaurant & Brewhouse. "It's about time we got this," Bryson says of the addition of the new category. "I'd love to see people encouraged to brew low. I won't say it's a direct result of what I've been doing, but I was obviously picking up on something that was already going on. I was just one of the first people to really start pushing it and talking about it."