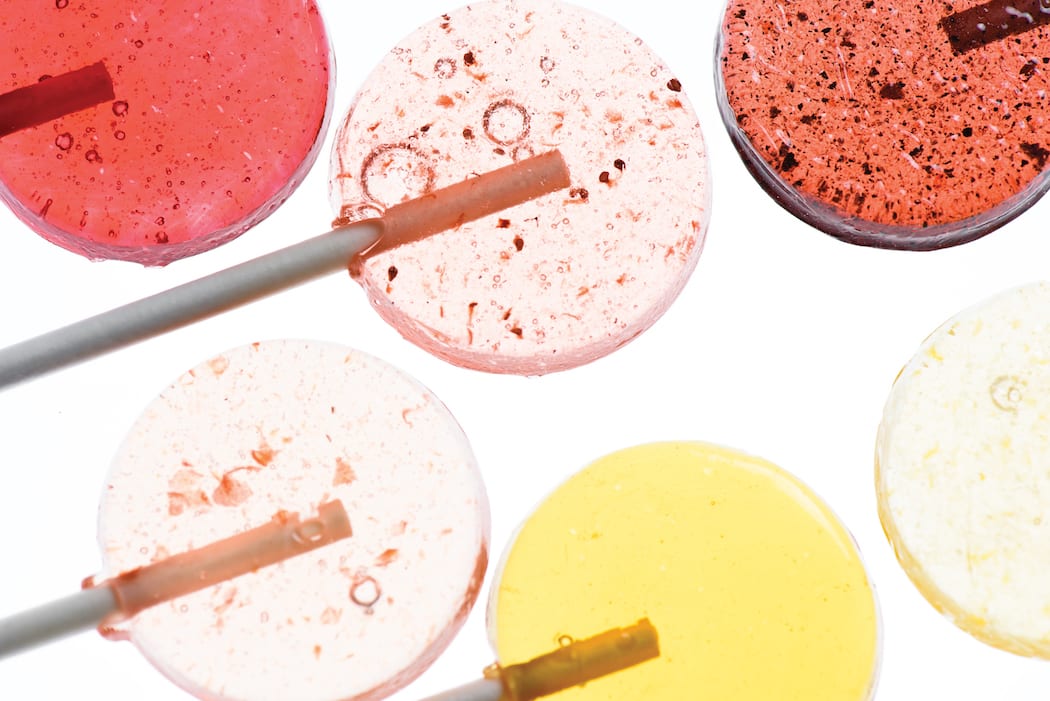 The creative genius behind Quin Candy, Jami Curl, collaborated with Portland-based Union Wine Co. to create a variety of wine-flavored confections, like these rosé lollipops. Read Curl's tips for best boozy candy practices here, then get started!
267 grams glucose syrup (Curl uses Pastry 1 brand, but traditional corn syrup—not high-fructose—is a fine substitute)
400 grams granulated sugar
100 grams rosé reduction
15 grams apple cider vinegar
4 grams instant yeast
3 grams natural strawberry flavoring (natural flavoring extracts are available at specialty shops, or online)
2 grams natural pineapple flavoring
1 gram citric acid
Weigh the glucose syrup, sugar and wine reduction directly into a heavy-bottomed pot, then set the pot over medium-high heat and bring the lollipop syrup to a boil. Once the syrup is boiling, swirl the pot often to make sure the sugar is cooking evenly. At first the syrup will bubble fast and light. Then it starts to slow down and the bubbles get a bit slower and thicker. This means the syrup is nearly ready.
Test the temperature of the syrup; as soon as it reaches 315° F, remove the pot from the heat. Give the candy syrup a good stir, then add the vinegar, yeast, both flavorings and citric acid. Whisk together the contents of the pot until the candy no longer looks foamy and any active bubbling has stopped.
Using great care, immediately pour the syrup into a candy funnel or spouted cup and pour the lollipops as directed on page 114. Let the lollipops sit for about 30 minutes, until completely cool and hard. They are now ready for wrapping.
Wine Reduction
Pour 1 (750-ml.) bottle of good-quality rosé wine into a nonreactive saucepan set over medium heat. Bring the wine to a simmer and allow it to bubble nicely (without boiling over) until it has reduced to a thickish syrup of about 1½ cups. In other words, reduce the wine by half. This should take 15 to 20 minutes. Remove the pan from the heat and let cool. The reduction is now ready to use, or transfer to an airtight container and refrigerate. It will keep almost indefinitely, but try to use it within 6 weeks. This recipe also works with red or white wine.
Reprinted with permission from Candy is Magic, copyright 2017 by Jami Curl. Published by Ten Speed Press, an imprint of Penguin Random House LLC.
---
Like what you see? Get more of the best of liquid culture when you sign up for our bi-monthly magazine. Subscribe now and save up to 59%—it's just $21.95 for one year or $32.95 for two years. Click here for details.