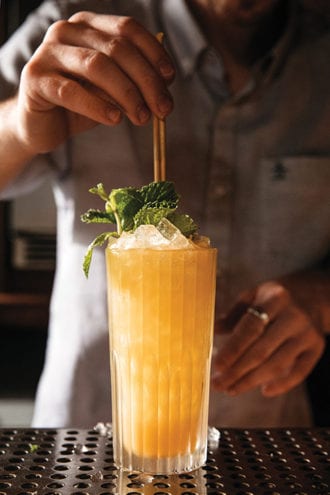 For his French-inflected cocktail bar Roquette, Erik Hakkinen spins the classic Mai Tai in a Gallic direction using Cognac to balance a high-ester Jamaican rum.
1 oz. Cognac (Hakkinen uses Cognac Bache-Gabrielsen Tres Kors)
1 oz. fresh lime juice
½ oz. overproof Jamaican rum (Hakkinen uses Hampden)
½ oz. pineapple syrup 
¼ oz. orgeat
¼ oz. triple sec
Tools: shaker, strainer
Glass: Collins
Garnish: mint bouquet
Briefly shake all of the ingredients with ice, then strain into a glass filled with pebble-size crushed ice, and garnish.
Erik Hakkinen, Roquette, Seattle
---
Did you enjoy this article? Get more of the best of liquid culture when you sign up for a print or digital subscription to Imbibe Magazine. Click here for special savings!