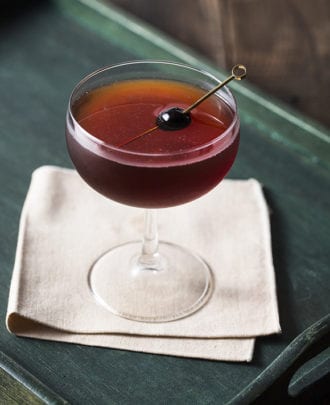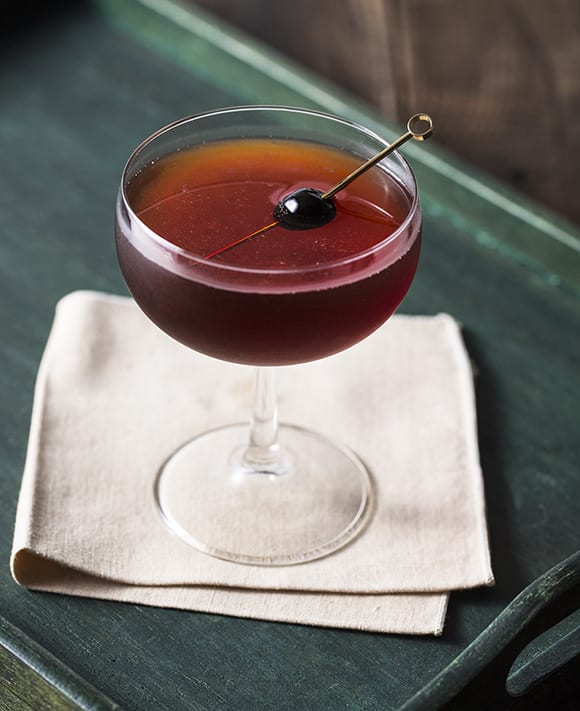 The classic Manhattan cocktail—effortless to make and perfectly delicious—is deservedly one of the world's most enduring drinks. It's impossible to improve on the classic recipe, but respectable variations do exist, and with cooler weather settling in, it's a good time to experiment. Here are a few easy ways to get started.
Specify Your Whisk(e)y
If a softer, sweeter Manhattan is up your alley, reach for a bottle of bourbon. Rye will lend a spicier edge to the drink, and Scotch transforms a Manhattan into the classic Rob Roy. You take it a step further and try Irish or Japanese whiskies in the mix.
Or Try A Different Base Altogether
Some might balk at the idea, but there's no harm in replacing the whiskey with rum, tequila or brandy while keeping the classic proportions the same. Many bars around the country do this and call the drink "Manhattan-inspired." Aged spirits like añejo tequila, rum and even apple brandy work beautifully.
Try Different Vermouths
With only four simple ingredients, the vermouth you choose will have a big impact on the drink's final flavor. For example, Carpano Antica will create a rich, velvety mouthfeel, while Dolin Rouge is a lighter, more subtle option. New vermouths to market, like Axta or Lacuesta from Spain, or the recent sherry-based one from Lustau will also impart unique flavors. You can even split the kinds of vermouth, such as mixing bittersweet Punt e Mes and Martini & Rossi, for added complexity. Or, consider adding a touch of secondary sweetness to the glass—in this Cherry Manhattan, a spoonful of jam and dose of ruby port add a burst of fruity goodness to the mix.
Up the Bitters
Angostura bitters are the go-to for Manhattans, but whiskey barrel-aged, walnut or chocolate bitters can add even more complexity. Or try an amaro. Todd Smith adds Averna to the classic recipe in the Black Manhattan, and on a recent Violet Hour menu, the Woolworth Manhattan includes Cynar and root beer bitters for even more intrigue.
Invert The Measurements
With more vermouth than whiskey, the Reverse Manhattan is a revelation for people looking for all the whiskey and vermouth goodness but a little less booze. There are even riffs on that formula, like the Inside Out from Natasha David at Nitecap, which brings a little absinthe and Branca Menta to the mix.
Get to Know Distant Relatives
If you like a Manhattan, chances are you'll also like the drinks that branched farther out from the classic formula. Try a Red Hook, with rye whiskey, a splash of Punt e Mes and maraschino liqueur. And because inspiration can come in many forms, Jim Meehan and Peter took the framework even further with the apple-brandy based Newark, and Cynthia Tran from Tratto in San Francisco swapped in dry vermouth instead of sweet and warmed up the mix with sunny limoncello in this recipe.
---
Like what you see? Get more of the best of liquid culture when you sign up for our bi-monthly magazine. Subscribe now and save up to 59%—it's just $21.95 for one year or $32.95 for two years. Click here for details.