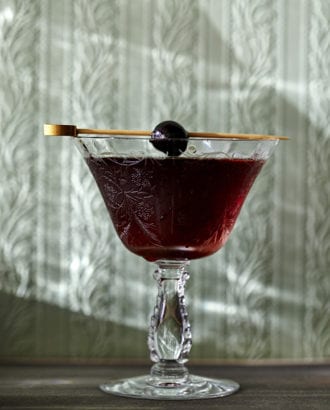 Created by bartender Todd Smith when he worked at San Francisco's Bourbon & Branch (he's now at ABV, our 2015 Cocktail Bar of the Year), the Black Manhattan recipe uses Averna in place of sweet vermouth. It's like a brooding counterpart to the classic Manhattan.
2 oz. rye whiskey
1 oz. Averna
1 dash Angostura bitters
1 dash Regans' Orange Bitters No. 6
Tools: mixing glass, barspoon, strainer
Glass: coupe
Garnish: cherry
Stir well with ice, strain into a chilled cocktail glass, and garnish with a cocktail cherry.
Reprinted with permission from The Manhattan © 2016 by Philip Greene, Sterling Epicure, an imprint of Sterling Publishing Co., Inc. Photography by Max Kelly