---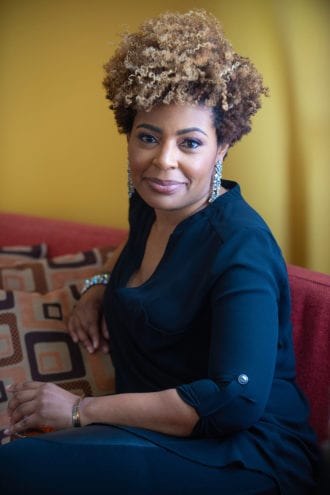 In our May/June 2020 issue, Wayne Curtis explores the ongoing boom in the world of bourbon—how it happened, what it means for bourbon drinkers today, and what bourbon's soaring fortunes suggest for its future. To explore this topic further, we're having a series of Q&A conversations with people who are deeply entrenched in the bourbon world. Our latest conversation is with Samara Rivers, founder of Black Bourbon Society. Rivers was featured as one of our 2020 Imbibe 75 People to Watch, and we caught up with her recently to talk about her perspective on the bourbon world in these days of COVID-19, and a national reckoning on racism and police violence. This interview has been edited for space and clarity.
Imbibe: We featured you in the magazine earlier this year as part of our Imbibe 75, and we like to catch up with people over the course of the year to see what they've been up to. But also, we've been talking a lot about bourbon recently, and I know that you quite enjoy talking about bourbon. Can we talk about what inspired you to found the Black Bourbon Society?
Samara Rivers: I created Black Bourbon Society back in 2016. I was doing some third-party event planning for one of the brands in San Francisco, and putting on these elaborate direct-to-consumer marketing events for this company. As I was going through the process, I asked the woman I was working with—she was with one of the agencies that works with the brand, she wasn't directly brand-related—I said, "Who am I planning this event for? As an event planner who wants to make sure I meet certain benchmarks, how can I make this more elaborate or intimate or special for the audience?" She'd just moved to town and didn't have her stuff all organized and didn't have time to talk to me, so instead of answering my question, she gave me her marketing deck, which had all the intellectual property of one of the brands and their marketing strategy to different demographics. And in that document, I didn't see anyone who looked like me. I didn't find myself in that document. That became the beginning of Black Bourbon Society, and of me challenging the industry and the brands to recognize consumers who are diverse, who are older, and who have a high level of interest and enthusiasm for the spirit.
The bourbon world overall has seen such a tremendous shift in recent decades, and bourbon's popularity has taken off around the world. What's been your message to the bourbon community—to the brands and distillers and marketers—about this part of the market that they've overlooked for so long?
We have to remember that Kentucky, especially where most of the bourbon is made, can be extremely isolating. I think sometimes these companies are so used to cranking out whiskey that they don't know who they're cranking it out for. It was really making sure the brands understood that we existed, and that they appreciated our consumership—that they knew how much we were spending, that they knew how much we studied whiskey, the process of making whiskey, that we collected it and tasted it and had events all around it. We wanted to make sure they were aware of our strong consumership, and our enthusiasm for the spirit.
We're talking about consumers, largely, and how the American whiskey industry needs to recognize and engage with this part of the market. But when we're talking about history, when we go back into the foundations of bourbon and American whiskey, and the people who've been a part of the process from the very beginning, how essential have African Americans and people of color been to that story? And how does that continue today?
The brands don't necessarily want to acknowledge that, but some have been forced to acknowledge that through recent studies and research. African Americans have been around the whiskey industry from the very beginning. It's safe to say that when they were making whiskey in the mid-1800s, they were doing it with the help of slave labor. They had enslaved workers that were out there picking the corn, grinding the corn, building the barrels—that wasn't something the family just did by itself. Especially when you look at the large acreage, and the process whiskey was made back then. We know that African Americans have been around since the very beginning, that African Americans stayed in the whiskey industry through emancipation, into the early 1900s, and still play a role in the brands today. We don't have master distillers or high-end executive titles, but African Americans are still working with these brands, whether it's on the bottling line or building the barrels or rolling the barrels, storing, warehousing, trucking—there are so many different positions in these companies at this time, that African Americans are still involved to this day.
What sorts of initiatives has Black Bourbon Society been undertaking since its launch?
Oh, man, it's been quite fun. We plan direct-to-consumer marketing events all across the country. We've done several campaigns with brands that have traveled us all across this country to do whiskey tastings, food and whiskey pairings, we've had civic conversations all while tasting whiskey. We've done a number of different things with brands in cities like Los Angeles, Chicago, New York, New Orleans—and of course we take groups to Louisville twice a year, and we take our members to have exclusive experiences with the brands, and get a chance to be up close and personal with brand owners and master distillers. We have our national meetup, which we call Bourbon Boule, that's in New Orleans, and we've engaged brands in New Orleans and just had an amazing time. One of the biggest successes out of all that engagement that we've done over the course of the four years we've been in existence is that we also did a barrel pick through the Maker's Mark Private Select barrel program. That's been so wildly popular—every time we release a barrel, they sell out. It's been a great partnership with them—our very first barrel was submitted to the San Francisco World Spirits Competition, and it got double gold. Since then, we re-created that barrel in six or seven different markets and have distributed those releases over and over again. That' a highlight of one of the biggest partnerships we've had as an organization.
Right after Memorial Day, as Black Lives Matter protests were happening across the country and around the world, you posted an open letter to the bourbon and American whiskey industry on your website and social media, noting an overall lack of visible support and participation. What was the necessity behind that letter that prompted you to take that action, and what kind of concrete action would you like to see from the bourbon industry?
That came in after a very emotionally exhausting couple of weeks. We'd seen earlier in that week, Tuesday was Blackout Tuesday, and only two brands that I can recall had actually placed a black tile or acknowledged Blackout Tuesday and stood in solidarity for what was going on during that time. I had been reaching out, having individual conversations with some people, asking, "Where are you? How come you haven't said anything?" A few brands were still on the fence on if they should say something or not—they didn't want to seem insensitive, or they didn't think they needed to say anything, they didn't want to get involved.
But really the catalyst for me was that Friday after Blackout Tuesday was Breonna Taylor's birthday. Breonna Taylor lived in Louisville, the police did a no-knock invasion in her home, and ended up shooting her in her bed eight times. And came to find out they'd actually invaded the wrong house, they were at the wrong address, but she was shot and killed and murdered by several Louisville police officers who had invaded her home.
That Friday was Breonna Taylor's birthday, and I got an email from the Kentucky Distiller's Association, asking me to immediately promote some sort of auction they were doing to raise funds for Covid-19. And I just lost it. I thought, "How insensitive, how tone deaf, how unaware that you would ask me to drop everything that I'm doing on a day that our culture is mourning this beautiful young lady's life on her birthday, half the world is protesting and marching for Black Lives Matter, and an end to police brutality and an end to racial injustice—how dare you send me an email asking me to promote an auction for Covid-19, and to do it right away." They wanted me to send an email to all 17,000 of our members in like an hour. No, it was unacceptable.
So after seeing that and standing up to them in an email, I said, "This needs to be said—these brands need to know how important this moment is, and how important it is to stand up." Even if you don't understand it, to be there in solidarity—because if you're not in solidarity, your silence is complicit. That's when we decided to write that letter and say, "Look—we have invested way too much money in your brands. I promote your brands way too much, and I support this industry using my influence way too much—I need you to stand up with me in this moment." And that's why we wrote that letter.
Earlier this year, you founded Diversity Distilled, a non-profit consulting firm. And you held off on making a bigger announcement or moving ahead with it in a lot of ways because of the Covid-19 crisis. But shortly after you posted that letter, you went public about the creation of the organization and the need for it now. Can you tell us more about that?
Diversity Distilled was something that we actually started in January, and it was coming out of a series of conversations that we had over the prior year. Especially as we were traveling and doing a lot of campaigns with the brands, we were starting to say, "Okay, inclusion and diversity when it comes to marketing to consumers isn't enough—it's time to start looking inward, and looking at how these corporate structures are laid, and what opportunities there are to be more inclusive and diverse within the corporate structures of the brands."
We developed Diversity Distilled because the spirits industry knows they have a diversity issue, they know they have an inclusion issue. So we wanted to not only raise the red flag that this issue was around, but we also wanted to be a part of the solution in fixing that problem. We created Diversity Distilled, we planned to have a summit this summer, and right as we were really getting off the ground and getting our ducks in a row with sponsorships and pricing, COVID hit. So we had to pause that and literally just focus on how do we save Black Bourbon Society, as the markets are crumbling, as brands are closing down shop, not doing events, not doing sponsorships, bars and restaurants are closing down—we needed to know how we survive in this virtual space we were all forced into back in March.
But in this landscape of what's going on in our world right now, it was like with writing the letter—I had to call out everyone and what they were doing, and also insist they make some necessary changes. But I can't just insist you make these changes without letting you know that we're also ready to be a part of the solution. So we did the mention and made our corporate statement and announcement that we started Diversity Distilled, and that we are ready to dig into the trenches together so we can solve these issues.
It's been several weeks since you posted that note about Diversity Distilled, and your open letter to the bourbon industry. What kinds of reactions have you received so far, and what do you expect to see in the days to come?
I'm glad that most of the brands did make statements. The immediate thing was the following week after we made that open letter and the announcement with Diversity Distilled, the brands did start to take the time to craft a message. That is very valuable; I really appreciate them doing that. Some brands included donations towards Black bars and restaurants, and other African American organizations that fight for social justice and social justice reform. So I'm really proud to see this industry take that Bat Signal and get to work. We didn't receive any negative feedback that I'm aware of, and I really appreciate companies like Jim Beam Distillery and Smooth Ambler who admitted in their statements, "We have a lot to learn, we have a lot to catch up and get up to speed with the subject, we admit we don't know what to do but we're willing to learn, we're willing to figure it out, and we're willing to be a part of the solution."
With that, I believe now is the time for us to focus on accountability. It's great to say the statements—it's a great first step. It's a great second step to donate towards great causes, but now is really the time for all of us to roll up our sleeves and get to work, and really look at this internally with each of the company policies and helping each of the brands to figure out ways to be more diverse, more inclusive, and how to rid themselves of unconscious bias—of all the things that may prevent us from being bourbon companies that embrace all consumers, and also have diverse talent within their organizations.
The COVID crisis is disrupting many lives and many plans these days, but as businesses start reopening and bars, restaurants,  producers and marketers start hiring again, and we try to get life back to some semblance of normalcy, how do you see bourbon's future unfolding? What does bourbon, and the whiskey industry, look like to you when we're looking 5, 10 years down the road?
After going through COVID, I don't think our normal will be what it was before. We'll be using the next 6 months to a year to 5 years to redefine what normalcy will look like for us. That's not just within the brands—that's individually, and as a nation, and as families, I think we've got to redefine what normal actually means. One thing I think the brands will also embrace is the use of technology, and really being able to host more virtual events. They'll still probably rely on and support bars and restaurants to push their products, but also working with organizations like Black Bourbon Society and other membership organizations to reach large amounts of people all at once.
This is an exciting time. We are excited to craft Diversity Distilled right along with key members of the spirits industry. It's not an organization that was created to attack or nitpick, but it really is to bring everyone to the table, to look at diversity and inclusion within this industry, and for us all to sit down and create some industry trends. When you look at the spirits industry, it brings in a ton of money—however, it doesn't necessarily follow along the same lines of organization and corporate structures as most other industries do. So we have a lot of work to do in the spirits industry to level up and to professionalize ourselves and make sure we're meeting policies that are typically run by other industries.
The work is there, but I look forward, and I'm excited about doing this collectively with all the brands seated at the table, and invested in this cause.
---
Did you enjoy this article? Get more of the best of liquid culture when you sign up for a print or digital subscription to Imbibe Magazine. Click here for special savings!