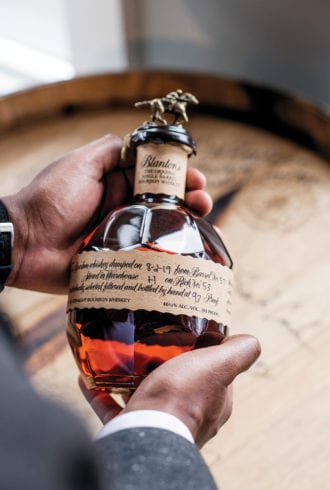 In our May/June 2020 issue, Wayne Curtis explores the ongoing boom in the world of bourbon—how it happened, what it means for whiskey drinkers today, and what the spirit's soaring fortunes suggest for its future. In the coming weeks, we'll explore this topic further, via a series of conversations with people who are deeply entrenched in the bourbon world. For our first conversation, executive editor Paul Clarke chats with Kris Comstock, who since 2003 has worked as the bourbon marketing director for the Buffalo Trace Distillery in Frankfort, Kentucky. In addition to its eponymous bourbon, Buffalo Trace produces bourbons including Eagle Rare, Weller, Blanton's, E.H. Taylor, and the coveted Pappy Van Winkle. This conversation has been edited for brevity and clarity.
Imbibe: The bourbon category has had its ups and downs over the decades. From your perspective, when did the current boom start taking off, and what helped drive this surge?
KC: It was about five or six years ago when we were getting orders for Buffalo Trace and Eagle Rare and Blanton's, and we were filling orders as always, but we only made so much years in advance. So five years ago, customers were showing up to pick up orders, and we filled them and thanked them—and halfway through the month, we were out. Some states weren't getting a steady supply, and finally some customers raised their hand and said, 'Hey, every time we come to pick up our order, the cupboards are empty.' We realized what was happening was we didn't have enough to fill orders, because years before, we filled so many barrels up but we didn't have enough coming of age to fill the demand. It was a big eye-opener for us.
We've been working through an allocation process ever since. To be fair about it, every month we create an allocation for our brands, so every state gets some, every month. Not everybody gets as much as they'd like, but we want to guarantee everybody gets some every month, and if it sells out before the end of the month, there's another shipment coming. For example, 10 years ago we filled X number of barrels of Eagle Rare, and today those barrels are coming of age. There's a lot more demand for Eagle Rare than we accounted for a decade ago—10 years ago we had 20 percent as much as we're selling today. A decade ago, we said, figuratively speaking, 'We've got 20 barrels of this stuff—how much should we make for 2020?' And some bright spot like me said, 'I think we should make 100 barrels instead of 20'—which seems kind of ludicrous. If your current sales are 20 barrels, and you make 100, expecting the business to be five times as big down the road? And we did it, but now we wish we'd made even more than that. But 10 years is a long time to wait.
We're forecasting what our Buffalo Trace sales will be in 2028—because we're filling barrels today for eight years from now, and filling a lot more than we're selling today, but who knows if we're making enough. We're building a new 58,000 barrel warehouse every four months, and investing a billion dollars in cooking capacity, fermenting capacity, and aging warehouses. A billion dollars is a lot of money, but we've got a lot of demand for our bourbons at the same time. It's a bit of a gamble, but we don't want to get caught in the future not having enough. If people love Blanton's, Weller, Buffalo Trace—we want to help.
Imbibe: In addition to an overall surge in demand across the bourbon category, bourbon's premium end has seen some really dynamic activity in recent years. How are you seeing that, and what does that demand mean for the bourbons you make?
KC: We're blessed with a variety of recipes, and the capacity to age barrels longer than most. We can make more Blanton's and Weller and Buffalo Trace, but it's also part of who we are to experiment, and try new recipes and different wood [for barrels]. We've got 30,000 barrels of experimental whiskey in the works—we're a big craft distillery.
We can maintain and grow our existing brands, but try new things as well. You see us coming out with experimental barrels, new releases of E.H. Taylor, we have kosher whiskies, new types of Weller—all of these things are because people are asking for them. We're lucky that it's part of who we are, and we started on this journey years and years ago—because now those barrels are coming of age. The four-grain E.H. Taylor release that we did, those barrels were put away 13, 14 years ago. We just released those a while back, and they're a hit—we wouldn't have been able to do that if we hadn't been ahead of the game.
It's fortuitous now that all the things we've been doing, foreseeing consumer demand for variety, is playing out. Now you have these bars and whiskey clubs that are always looking for something new—so, us being able to fill that need, and come out with new whiskies on a very regular basis, helps feed that demand, and continues to keep whiskey consumers engaged with what's coming next from Buffalo Trace. They always want to know what's next—and luckily, we have answers for them, because we've got so many new whiskies and experiments in the hopper.
It never gets old. If we were all just drinking the same old thing our grandparents were drinking, it'd get boring. But we're in a category that also enjoys the richness of authenticity and history and provenance. Bourbon's flavor profile not only varies from one to the next, but it's versatile, too. People love to explore the nuances of these different whiskies, and not get bored. The bourbon category is an affordable category—you don't have to spend $100 on a bottle of single malt, you can explore a lot of great whiskies from $20 to $40 when you're talking about bourbon. And you don't have to drink it straight from a snifter—you can drink it in cocktails, or over the rocks. There's no right way to drink it. It's so versatile, you can enjoy it in different ways.
It all started coming together a few years ago. Bartenders started making better drinks with bourbon, and people started to learn more about it—it fueled their interest. And then distilleries like Buffalo Trace answered the call, and continued to make more and different things so it didn't get stale. And craft distilleries started making new whiskies, and it increased the fervor for variety.
Imbibe: Until the recent curtailment of travel and tours to protect against the spread of coronavirus, you did tours at the distillery. Also, Louisville has a number of different options for bourbon tourists, and there are a number of different bourbon-related events throughout the year (hopefully to resume at some point in the future). How has bourbon tourism helped drive that enthusiasm for bourbon?
KC: Bourbon has this authenticity and provenance to it—people want to know where and how it's made. When they visit the distillery, they can see the barrels in the warehouse, and smell the aromas in the warehouse, and taste the whiskey. It makes it so much more real, and compelling.
I remember the days when nobody showed up to visit—we were a distillery tucked in central Kentucky, making some bourbon but not a lot of fanfare. If someone showed up and knocked on the door and wanted to look around, we were surprised. Over time, we've fixed up the distillery—in the '60s and '70s, the American whiskey category was booming, people were drinking whiskey cocktails left and right, but in the '80s, the category declined, people started drinking more vodka, and tequila and Margaritas, and all kinds of things. So we went from having a distillery in 1973 with 1,000 employees to two decades later, when Harlan Wheatley our master distiller joined, we only had 50 people working here. It was a shell of what it was back then. Since 1995, we've invested a lot of time and energy in fixing the place up.
Last year, we had 300,000 visitors at the distillery, more than any other distillery in Kentucky. It's been amazing, and flattering—we can't believe so many people want to take the time to come see us, and learn about us and taste our whiskey, and meet us and talk to us. It's a great opportunity to share our story, and hopefully when they leave, they really love the time they spent at Buffalo Trace and they tell their friends. And they can't visit every day, but they can enjoy a piece of what we do with every sip. They go home, and they can pour themselves a glass of our bourbon, and relive that, and enjoy it, and then they have more perspective around it.
It's the same thing with these events—people want to get closer to the brands, taste the whiskey, meet the makers. So these bourbon clubs and whiskey events, it helps people understand the brands better. And there's the social piece about it—people get together and they're sharing a passion for the category. People bring different bottles to the events, they share it and talk about it. It snowballs from there, It brings people together.
Imbibe: With coronavirus forcing the closure of bars and restaurants and hotels, and disrupting tourism—when you're planning for the future, how is this factoring into your thinking?
KC: We're very long-term-oriented. We've been at this for 200 years, and hopefully we'll still be making bourbon here 200 years from now. We're planning how much Pappy we'll need for 2043 right now, and how much Buffalo Trace we need for 2028. The time we're in now, obviously it's different—the challenges we're facing are different than the norm, but it's not going to affect how much Buffalo Trace we make for a decade from now. So we're still making as much as we can, and expanding at the same rate we'd planned to—we haven't curtailed our whiskey making or our plans to expand. Ten years from now, this will be behind us, and we don't want to be saying, 'Oh, I wish we'd made more.'
That said, who knows how long this will last? Will it be three months, six months, two years? We'll keep making whiskey, but we need to be sensitive to the situation. We don't have tourism right now, that's not safe—which is tough, because people love to come visit.
As bars are closed, we'll bottle up Buffalo Trace [a little differently]—we typically bottle up liter-sized bottles for bars, but we'll bottle up more 750ml size, for retail. When bars open up, they can use 750s, but we'll ramp back up our liter production. So there's just as much whiskey as ever, it's just put in different sized bottles for stores versus bars.
And we're lucky from the marketing perspective—we never have been really overt about a lot of advertising and media, and spending tons of money to reach consumers, because word has spread on its own. And we stay close to our consumers on social media, and we do a lot of that direct with consumers—so we're not going to change marketing practices so much, because we don't do a lot of it as it is. And, fingers crossed, the demand for Buffalo Trace and our other brands continues to grow. This crisis isn't going to make us do a 180 degree shift on how we go about our business.
---
Did you enjoy this article? Get more of the best of liquid culture when you sign up for a print or digital subscription to Imbibe Magazine. Click here for special savings!