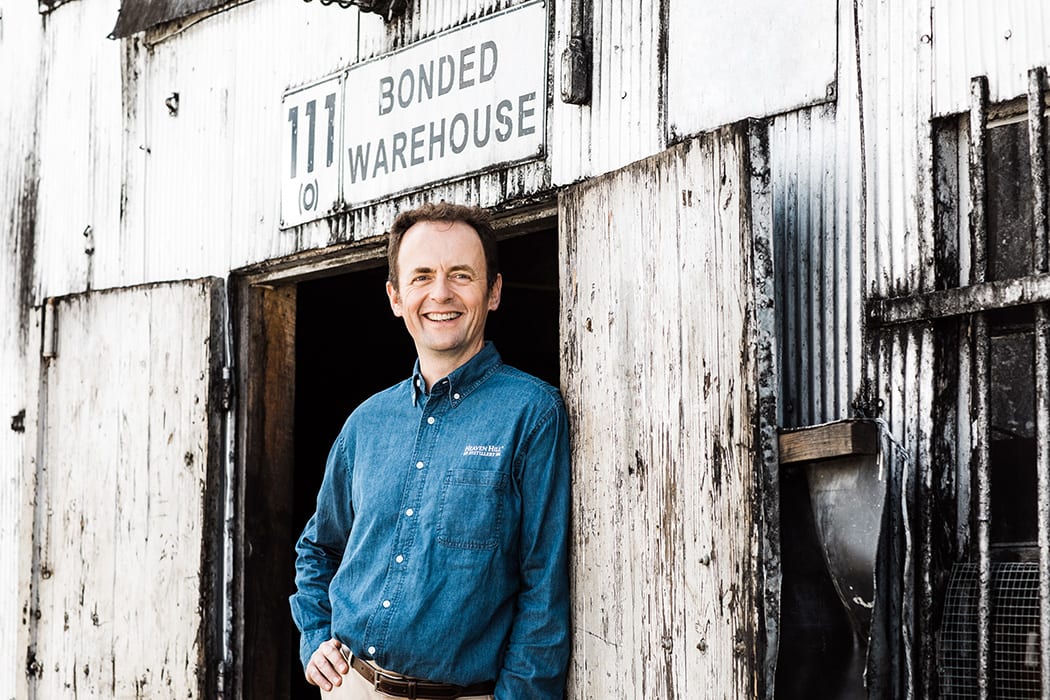 In our May/June 2020 issue, Wayne Curtis explores the ongoing boom in the world of bourbon—how it happened, what it means for bourbon drinkers today, and what bourbon's soaring fortunes suggest for its future. In an effort to explore this topic further, we're having a series of Q&A conversations with people who are deeply entrenched in the bourbon world. Our latest conversation is with Conor O'Driscoll, who in early 2019 became master distiller for Heaven Hill Distillery, based in Bardstown, Kentucky. With a career that included time at the Brown-Forman Distillery in Shively, the Woodford Reserve Distillery in Versailles, and the Angel's Envy Distillery in Louisville, the Dublin-born O'Driscoll now oversees production of bourbons including Evan Williams, Elijah Craig, and Larceny. This interview has been edited for space and clarity.
Imbibe: Bourbon has seen so many changes in the past 50 years, an up-and-down cycle leading up to our current boom. When did you start experiencing this?
Conor O'Driscoll: I started in the industry in 2004, with Brown-Forman. Obviously, it was very different then than it is now. The previous person hired into the role I was hired into was my boss, who'd been hired 26 years prior. We were plugging along five days a week, making a decent amount of whiskey. A few months later, we kicked it up a little bit to six days a week, and then seven days a week, just kind of keeping up with demand and some projections—but at that point, nobody had any inkling that a boom was coming. Cut to 2008 and 2009, the economy tanked, and any hint there might be a boom just completely evaporated. Of course, after 2009, things came roaring back. Up until probably the last two or three years maybe, it was kind of like, "Don't look a gift horse in the mouth—how long can this continue? Is this a boom? Is this sustainable?" But clearly it is a boom, and it continues to be, and things have stabilized at a very high level. But looking back, as early as 2004 or 2005 we saw the first hint that this was happening, but 2009 was when it really started, when the economy started coming back from the recession.
Why do you think people came back to bourbon, and start rediscovering it?
The short answer is that consumers were really looking for authenticity. The things they'd been drinking prior to that, clear spirits and spritzers and so on, were "make it today, sell it tomorrow" kinds of things, with no real craftsmanship or connection to a place of origin, or any of those deep- seated emotional ties—and bourbon, of course, has tons of those. If you look at the history of Kentucky, the history of the U.S., bourbon and American whiskey are so tied in with that, so we have that legacy feeling, that authenticity. And it's not just made—it really is crafted. It doesn't matter if it was 100 years ago or what we're doing today, bourbon is made by craftsmen and craftswomen who are focused on doing it right. If you don't pay attention to details, if you don't craft it, then you don't get a very good whiskey.
Brands across the spectrum are benefiting from the boom, but the premium end of bourbon—the single-barrel selections, the small batches, the special releases—those create a lot of excitement among bourbon drinkers and collectors. What's that meant for what you're doing?
It's really exciting. The consumer throughout this boom has become more discerning and more educated, and really wants the good stuff, as it were. Heaven Hill's legacy, 85 years of making consistently high quality whiskey, just aligns perfectly with that. As consumers become more educated about what they like, that kind of helps drive the cocktail culture—which is another chicken-and-egg thing, which came first—but they've definitely supported each other. The educated consumer wants to drink "the good stuff," and they're now learning what "the good stuff" is, and our portfolio really supports that. Other than making more, we're not really doing anything different from what we've done for 85 years. But it's great that it's getting such a great reception—people love the whiskey, and we're happy to help them out.
Before COVID-19 put travel and tourism on hold, Kentucky was also experiencing a bourbon-related boom in visitors coming to see distilleries, or attend bourbon-related events. How has this experience with visitors corresponded with bourbon's current level of popularity?
It's been hugely important. I was at Woodford in late 2008 and early 2009, and they have a really nice visitors center—we were seeing a pretty steady growth in visitor numbers. Then the Kentucky Bourbon Trail came along, and that just accelerated it. At Heaven Hill, we have our Bourbon Heritage Center [in Bardstown], we have our Evan Williams Bourbon Experience [in Louisville], we're expanding the Heritage Center, and we get hundreds of thousands of visitors. As people get more educated, they really want to do that deep dive. The questions we get on tours aren't so much, "What is bourbon?" but they want to know, "What yeast strain are you using?" and what type of still we're using, or how is one still versus another, or one warehouse versus another. The questions they're asking are much more complex, a much deeper dive into it. We're happy to enhance that education for them. They come to the distillery and see how it's made, and meet the people who make it, and it just drives that connection.
Some of the fans we see at the visitors center, to call them rabid is such an understatement, but it's great to interact with them. It's really invigorating for me to know that the stuff I do every day is so well received. To have that incredibly loyal fan base—they're not just latching onto a trend, they love Elijah Craig, they love Larceny, they want to know more about Old Fitz. That's really gratifying.
The effects of coronavirus-related closures and restrictions on bars, restaurants, and tourism are going to be huge, and we also have to contend with the larger disruption of the overall economy. When you look at your planning for the near term, how is this factoring into your thinking?
Of course, all this stuff is a huge concern. From a production planning point of view, the whiskey we're making today will be in a barrel for at least four years, some of it for 18 or 20 years. So the spikes and troughs of the day-to-day don't necessarily impact us. Now, go down to bottling and processing, where we're dumping the aged barrels, and filling and shipping bottles—they've never been busier than these last six weeks. We've been setting daily, weekly, and even monthly shipping records. We don't see that continuing week after week, but as on-premise business went to zero, consumers started drinking at home, and going to the liquor store and buying stuff, so we're setting these records.
How is that going to carry out in the near term? It's probably going to slow down, let's be honest. The bars and restaurants will at some point come back, and it'll probably come back slowly. But our business is well diversified across both on- and off-premise, and our portfolio diversified across price points. We feel we're in a pretty strong position. We've survived recessions, fires, wars—I think this is the first pandemic we've had to work through. We've almost had all four horsemen covered right now, but while it's definitely a concern, we feel we're pretty well situated to survive, and survive it strong.
How do you see this bourbon boom continue to play out in the coming years? And how do you keep up with the kinds of things bourbon drinkers are looking for?
For bourbon overall, everyone is betting on the long term, investing in the long term. We're investing tens of millions of dollars a year into added production capacity at the distillery, added warehouse capacity, better bottling facilities, visitors centers—across the board, soup to nuts, we're investing in the long term.
We've been around for 85 years, survived all kinds of ups and downs, and we've done that by sticking with what we're good at. We're going to continue supporting our core brands—Elijah Craig, Evan Williams, Larceny, and all of those—and we're expanding our portfolio. We just brought out Larceny Barrel Proof and Elijah Craig Rye. As people look for, "Hey, what's new?" we don't want to just react and be another flash in the pan—we continue to build strategically. And we bring out our Parker's Heritage Collection every year, that gives us an opportunity to flex our innovation muscles, and see what resonates, and what doesn't.
We have 1.7 million barrels aging right now, of five major styles of American whiskey, so we have tons of flexibility to pivot. We've been in the rye whiskey business long before it was cool—we've got Rittenhouse, Pikesville, and now Elijah Craig Rye. It's not too big of an exaggeration to say we were one of the founding fathers, if you will, of the rye resurgence.
The innovation space is always fun to play in. It's good to look over the horizon to see what's next, so you're not only prepared, but you can also be a leader in that.
---
Did you enjoy this article? Get more of the best of liquid culture when you sign up for a print or digital subscription to Imbibe Magazine. Click here for special savings!