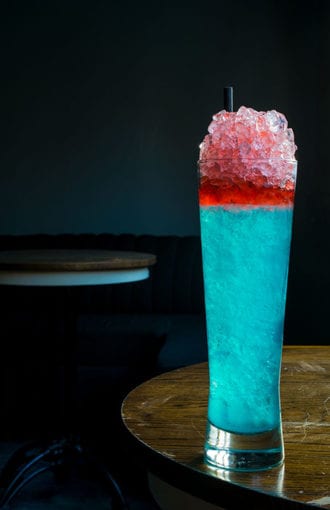 A careful balance of ingredients makes this drink from Pouring Ribbons pop with flavor.
1½ oz. London dry gin
¾ oz. white crème de cacao
¾ oz. fresh lemon juice
½ oz. Cocchi Americano
½ oz. blue curaçao (Pouring Ribbons uses Giffard)
¼ oz. cinnamon syrup
Tools: shaker, strainer
Glass: pilsner
Garnish: Peychaud's bitters
Shake all the ingredients with ice and strain into a glass filled with crushed ice. Add several dashes of Peychaud's bitters to the top of the drink as a garnish.
Cinnamon Syrup: Combine 1 cup of granulated sugar with 1 cup of water in a saucepan over medium heat, and stir until the sugar dissolves. Remove from the heat and add several cinnamon sticks; let steep until the syrup has cooled, then strain before use. Keeps refrigerated for up to 1 month.
Brian Tasch, Pouring Ribbons, New York City
---
Did you enjoy this recipe? Sign up for our newsletter and get our favorite drink recipes of the moment in your inbox every month.