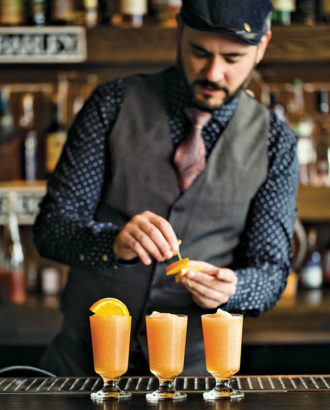 Who doesn't love a boozy slushy, especially one that's inspired by the Negroni?
2 oz. gin
2 oz. sweet vermouth
2 oz. Luxardo Bitter
2 ½ oz. fresh grapefruit juice
2 ½ oz. fresh orange juice
1 ½ cups crushed ice
Tools: blender, wooden spoon
Garnish: frozen orange half wheels
Blend all ingredients at high speed, stopping occasionally to stir everything together. Continue blending at high speed, adding more crushed ice to achieve desired consistency. Serve garnished with the frozen orange half wheels. Serves 2-3.
Charlie Schott, Parson's Chicken and Fish, Chicago

Reprinted with permission from The Negroni by Gary Regan. Published by Ten Speed Press, an imprint of Penguin Random House LLC.