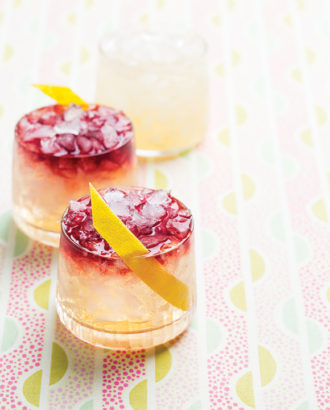 The cocktail menu at Martha in Brooklyn specializes in lower-ABV refreshers. This spin on the Old Fashioned combines saké with an Italian aperitivo and dry red wine.
2 oz. junmai saké
1 oz. Cocchi Aperitivo Americano
1 oz. dry red wine
3 dashes grapefruit bitters
1 pea-size lump of palm sugar or demerara sugar
Tools: muddler, barspoon
Glass: rocks
Garnish: lemon twist
Place a sugar lump in a glass and add the bitters and Cocchi Americano; muddle to dissolve the sugar. Add the saké and fill glass with crushed ice, then stir to combine. Pour the wine over a spoon to "float" atop the drink, creating two layers. Garnish.
Liz Wolferman, Martha, Brooklyn