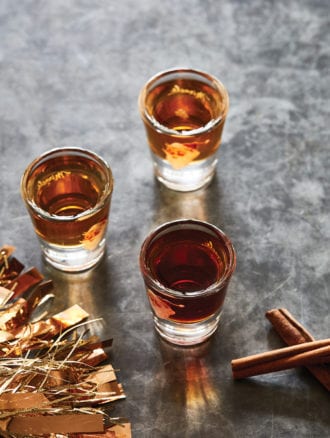 For this year's November/December Holiday Issue, we turned an eye toward the festive recipes made by the global Miracle pop-up bars. "Miracle is about bringing people into the silliness and merriment of the holidays," Miracle manager Joann Spiegel says of these simple preparations that can be stored in the fridge or freezer, then brought out for a quick taste of holiday cheer.
Naughty Shot
1 750 ml. bottle of bourbon
8 cinnamon sticks
3 oz. simple syrup (1:1)
Combine all the ingredients in a large, lidded jar and let soak for a minimum of 48 hours, shaking the container daily. Strain off the solids and bottle the infusion for use.
Nice Shot
1 750 ml. bottle dark rum (Miracle uses Plantation Original Dark Rum)
9 oz. crème de cacao
30 grams peppermint tea
Combine all the ingredients in a large container and stir to combine. Let steep for 15 minutes, then strain off the solids and rebottle for use. Keeps indefinitely, though the mint flavor will fade over time.
Joann Spiegel, Miracle 
---
Did you enjoy this recipe? Sign up for our newsletter and get our favorite drink recipes of the moment in your inbox every month.