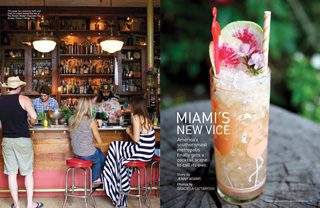 This town has come far and fast in terms of cocktails," says Gabe Orta, passing me a Bramble at his Miami Beach bar, The Broken Shaker. Originally from Colombia, Orta launched The Shaker in collaboration with Elad Zvi as a pop-up inside The Freehand hostel in 2011. Its immediate popularity earned the go-ahead for permanent residency in the winter of 2012, and a James Beard nomination soon followed. On this particular day, there's a light breeze floating in off the patio and a perfectly ripe blackberry is perched in my cocktail glass.
Whatever the time of year, Miami is a town that makes you want to reach for a cocktail—sun, surf, blue sky, a dash of international spice. Yet while the city has always given visitors and locals ample impetus to enjoy a tipple, a well-crafted cocktail in Miami is a surprisingly recent windfall. "The biggest players in Miami's scene during Prohibition would have been the Caribbean and the rumrunners," says Wayne Curtis, author of And a Bottle of Rum: A History of the New World in 10 Cocktails. "During Prohibition there were advertisers for the airlines who would stand on the street and announce, 'You can bathe in Bacardi tonight,' enticing people to fly to Cuba just for a cocktail. The first revival of the Mojito was in Miami in the 1980s, but that's about it."
About five years ago, the cocktail renaissance finally arrived in Miami when a small group of bartenders set out to spread the gospel of craft cocktails through the city. The Florida Room at the Delano hotel and the restaurant Sra. Martinez were at the forefront of that movement. "You can't talk about Miami cocktails without talking about Julio Cabrera and his work at Michelle Bernstein's restaurant, Sra. Martinez, and John Lermayer and his menu at The Florida Room," says Ezra Pattek, who worked at Sra. Martinez with Cabrera and is now an ambassador for Tequila Ocho and acting vice president of the U.S. Bartenders Guild. "These guys were some of the first to have serious cocktail menus."
Sra. Martinez and The Florida Room have since closed—Bernstein decided to focus on her Latin-Southern eatery Michy's and FDR replaced The Florida Room at the Delano in 2011. But Cabrera and Lermayer have teamed up, and you can taste their drinks at two of the city's hottest new cocktail spots: The Regent Cocktail Club and Rec Room—both located inside the newly renovated Gale hotel in South Beach. "The work that was done back in those days really brought Miami into the conversation nationally for the first time," says Lermayer of his years at The Florida Room. "In the early days—around 2008 and 2009—we would host trainings and there would be 40 people in attendance, in addition to our staff. People were really eager to learn about great cocktails."
Today, The Regent and the city's many new destination-worthy bars aim to squelch the notion that every drink in Miami is pink and frothy. The cocktail program at Swine, for instance, is built entirely around rum and rye. "We have the largest rye selection in the state of Florida," says Swine's bar manager Robert Ferrara. "I do make a lot of sours and punches, but it's easy for me to move some of the more austere classics, even in the heat. I think our guests are ready for something serious."
Sunny Delights    
Citrus is still king in Florida, and Miami is ideally situated for a fresh cocktail movement because the city can literally grow a scene. At The Broken Shaker, the patio and pool area are not only where guests congregate—inside there are just a few tables and four stools hugging a tiny bar—but there's also an expansive garden, where the proprietors grow citrus, herbs and other produce for drinks and garnishes. Head bartender Michael Parish puts the garden to good use, experimenting with new shrubs, syrups and bitters. "We have 12 to 15 syrups, usually more than five shrubs and 10 to 15 bottles of bitters going at any given time," he says. "Our growing season is longer here, and we're blessed by that. I love it when we get tourists from Southeast Asia and South America, and they're surprised to find their native fruits and vegetables in our gardens and in our drinks."
Meanwhile, at Blackbird Ordinary, opened in the Brickell neighborhood in January of 2012, owner Dan Binkiewicz hired a company called Urban GreenWorks to install a 35-by-20-foot herb wall at the back of his patio. The result has been fresh sweet basil, strawberries, cilantro and multiple types of mint for tinctures and shrubs. "We have rosemary, kumquats, lemons and limes growing in planters," he says, "and we have a passion fruit vine that should produce in the next two months."
Blackbird Ordinary's harvest is showcased in fresh, seasonal drinks, such as the Red-Footed Booby with strawberries, reposado tequila, Cocchi Americano, egg white, agave nectar and fresh lime juice. Like Binkiewicz and Orta, Christopher MacLeod takes full advantage of the year-round growing season. MacLeod, a managing partner of The Corner, a cocktail den that debuted downtown in 2011, not only maintains a lush herb garden, but he cultivates relationships with local farmers who grow everything from mango and lychees to mamey sapote—a hard-to-find Mexican fruit that tastes a bit like sweet potato and pumpkin. The Corner's Noche Buena features mamey purée with white rum, lemon juice, pecan syrup and a dash of mole bitters.
Pairing Up
As this attention to ingredients suggests, there's a growing connection between the kitchen and bar in Miami. While the roots of this movement might be traced to Michelle Bernstein and Julio Cabrera collaborating at Sra. Martinez, the bond between the bar and the back-of-the-house has only grown stronger in recent years. At The Broken Shaker, what they grow on the patio lands in cocktails and on plates, and there's ample discussion about planting and harvesting between the kitchen and the bar. Recently, fresh figs and rosemary became the topping for a flatbread with ricotta, and found their way onto the bar menu in an unexpected twist on an Old Fashioned.
James Beard Award–winning chef Michael Schwartz opened The Cypress Room in the spring of 2013 with an equal emphasis on food and drinks. "He's very hands-on," says Ryan Goodspeed, beverage director for Schwartz's Genuine Hospitality Group. "The menu is devised and then we build off of the dishes. Our Sippy Cup aperitif, for example—Aperol, lemon, simple syrup, soda and hibiscus bitters—is made to pair with the Royal Red Shrimp dish, which has coconut, cucumber, lime and puffed rice."
Meanwhile, at PB Steak on Purdy Avenue, lunchtime tacos come courtesy of chef Jose Mendín (of Mercadito fame) alongside daytime-friendly cocktails from Ashley Danella, such as a Michelada to which she adds aji panca, a Peruvian pepper that's also found in the tacos and salsas. "At dinner, we do a Murdered Out Manhattan," she says. "I went with High West Campfire whiskey for a hint of smoke, and then I added Cocchi Vermouth di Torino and black walnut liqueur. I created it to pair with our rich meats, like the house-cured bacon."
The 50 Eggs Group—which owns Yardbird Southern Table & Bar, Khong River House and Swine—also emphasizes the link between the kitchen and the bar, but in a hyper-focused way. Each venue concentrates on a single spirit that pairs best with its food. Yardbird's lengthy bourbon list ties in with Southern plates, like sweet tea–brined ribs. And at Swine, the smell of seared pork wafts upstairs, where Rob Ferrara mans a dark and inviting bar. That pervasive, mouthwatering scent does more than inspire thoughts of Mint Juleps and Southern porches—it encourages its beach-going guests to give dark spirits a try.
At Khong River House, the food features the flavors of Southeast Asia—plates include Burmese noodles, Vietnamese-style pork chops and sai ua, a grilled Thai sausage—and complements a gin-heavy cocktail list. "Our bartender Will Rivas and I chose to focus on gin because of the incredible crossover between Thai food ingredients—lemongrass, ginger, angelica root, makrut lime—and the botanicals in gin," says 50 Eggs beverage director Allegra Angelo. Conversations with the restaurant's Thai cooks yield fun twists on classics, like Khong River's Gimlet, with gin, housemade lime-galangal preserves and Thai basil. And Sriracha shows up in both house sauces and cocktail syrups.
Upstairs at Khong River House, the newly opened nightclub Patpong Road offers small-bite Thai street foods bolstered by creative drink presentations, such as cocktails in plastic baggies, Thai-style, and $130 bottle service. "Miami is all about bottle service in clubs," says Angelo. "We wanted to do a fun twist on that and offer it for a reasonable price. Instead of bottled cranberry juice and vodka, you can order a nice bottle of gin or rum and bottles of fresh juice." With its emphasis on bottle service and pared-down mixed drinks, like a lemongrass soda with whiskey, Patpong Road's drink list is shorter and simpler than Khong River's, Angelo says, "but this whole building has really become a stage for experimenting."
Sea Change
Miami itself is emerging as a stage for experimentation, with quality-minded cocktail bars taking root not only in suburban spots like Coral Gables, but also in previously neglected Miami neighborhoods, like Wynwood, where Adam Gersten opened Grampsin December 2012 with the help of Ezra Pattek and Richard Knapp of New York's Mother's Ruin. "Wynwood as Miami's urban arts district has been exploding in the last few years," says Gramps' head bartender, Louis Salgar. "The galleries were first, and now bars are popping up in the area. We have to hire food trucks on the weekends and hot dog carts during the week because there's still no late-night food scene here."
Food may be scarce, but there are plenty of delicious drinks to sip, like Salgar's Nazca Lines cocktail. "It's named after the region in Peru that has these strange symbols carved into the ground," he says. "I use pisco to honor Peru but then add a twist with Pimm's."
To please the clientele in these up-and-coming neighborhoods, and to keep them coming back, Gramps and Blackbird Ordinary both bring in live bands and DJs several nights a week. "Miami is still growing into this," says Blackbird's Binkiewicz. "Like this city as a whole, we're a gateway for the masses. We don't focus solely on drinks, and we need to have a great music program."
Over at The Broken Shaker, Gabe Orta marvels at the change in Miami's cocktail culture. "Most nights, I only make three or four vodka sodas," he says. "When it's five deep at the bar, I wish everyone would order them. But, in truth, this is what we have been working so hard for."