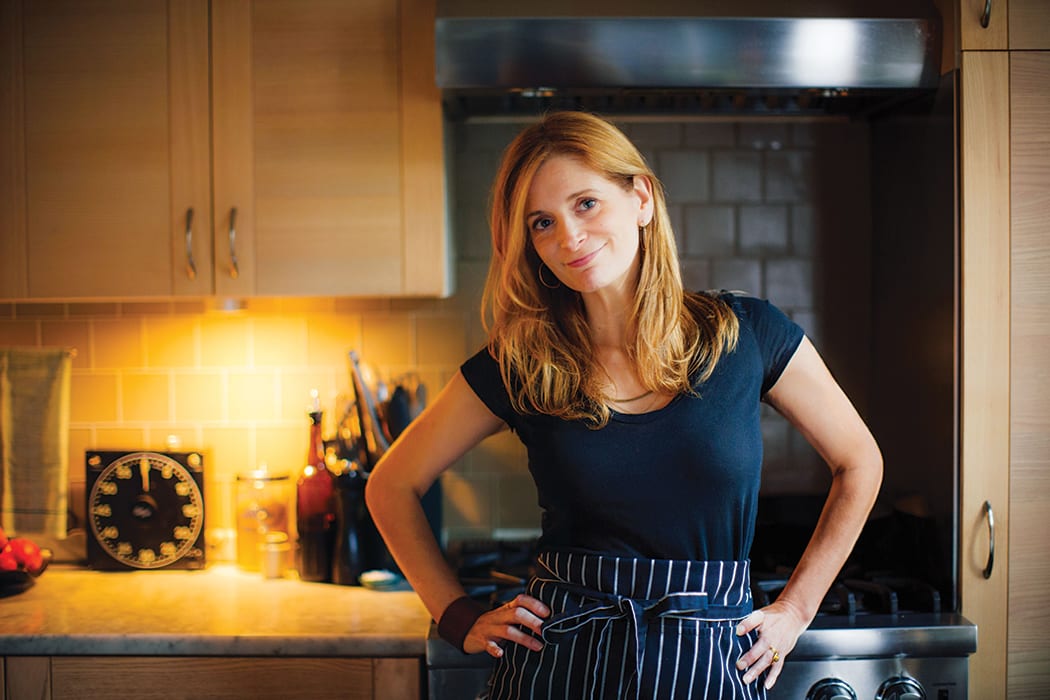 A food reporter for The New York Times for more than a decade, Melissa Clark also writes her regular column, A Good Appetite, which includes weekly videos delivered with an affable nonchalance that makes culinary magic seem possible in your own kitchen. With 38 cookbooks under her belt already, Clark has written a new book that will feature recipes inspired by childhood summers spent eating across France with her family. We chatted with her about food-centric holiday traditions, making flaming cocktails with David Wondrich, and why a good meal can be better than a good story.
Imbibe: Was your new book, First We Get Lost, Then We Have Lunch, inspired by your childhood in France?
Melissa Clark: Yes! My parents were both psychiatrists, and back in the day that meant you had every August off, so we would go to France every year. We'd exchange our house in Brooklyn, and we'd go sight unseen to a little town in the middle of France. There was no internet, there were no pictures; we just wrote each other letters and took a leap of faith. But it was usually pretty great. We would end up in a little town and we'd cook and eat and go to the markets. And this book, the cookbook, it talks about that. The food in it isn't the food I ate as a kid, but those experiences are what I use to inspire my own French cuisine—my wacky, whimsical, fun take on French cooking. It's more of a standard cookbook; the recipes themselves are like stories. Because what's better: listening to a story or actually eating the thing?
So how did growing up in Brooklyn and spending summers in France influence your food traditions?
We're a family who, especially at holidays, really does live to eat, and every meal means gathering around the table—that's how we celebrate it. Most of our food traditions are related to Thanksgiving or Jewish holidays where you celebrate at a table, like Yom Kippur where you break the fast, or Rosh Hashanah where you dip apples in honey—lots of ceremonial foods. But for Hanukkah, except for the latkes, you could do whatever you wanted, so we were pretty all over the place—my mother was just as likely to serve lamb as brisket. But her tradition was to try to sneak other vegetables in, as if we wouldn't notice a zucchini or a sweet potato. My tradition is to not do that. What I'll do is maybe fry the latkes in duck fat, or we'll get crazy with the toppings. Applesauce and sour cream are traditional, but I really like them with smoked salmon and crème fraîche or some salmon roe. We have other family traditions, but food is the most important one.
Your New Essentials of French Cooking series won a James Beard Award this year; what lessons do you think are found in those French classics?
I think people forget about them, and they're delicious! We need to remember that those recipes were new at one point. I think we tend to think of them as old and fusty, but they're not. The really great ones will stand the test of time—they're classics for a reason. And I think the same lessons apply; before you get crazy with a dish, make an old-fashioned coq au vin, or try to make a classic omelet—learn the technique and don't be afraid to make mistakes. I think that makes you more confident to do your own thing.
What's your process when creating a new recipe?
It always starts seasonally for me. And often I'll do micro-seasons; it's really week by week in a way. Then there's the saying, "What grows together, goes together." I find that influences a lot, especially if I'm working outside my comfort zone. I was brought up with American food, Jewish food, and also Mediterranean, Italian and French food. If I'm working in another cuisine and I'm using flavors from, say, India, I try to stick close to things I've had before. Then, after I've made a dish a few times, I'll start to experiment. Like with a peanut chutney, you always use curry leaf, but I think I'm going to use basil this time. But that's only after I've gotten comfortable in the technique for a particular dish.
Do you take the same seasonal approach to drinks?
I was looking at a menu the other day and it had all these seasonal wines on it—they actually called it "seasonal wine," and I like that! I haven't consciously done it myself, but I'm definitely going to start thinking about it that way, especially with wine. I think with warmer weather you naturally gravitate toward lighter, crisper, chilled things, and in the winter you can do heavier, richer things. For cocktails, I definitely want to drink gin and Campari in the summer and brown liquors in the winter—it's all Manhattans and Old Fashioneds.
Any favorite holiday drinks?
I have a tradition with my friends. Every year, we have a big Christmas Eve party—and it's a party, not a sit-down dinner. So we always do a flaming punch bowl—that's what my friend Dave Wondrich always brings. It's just so festive! And we've never had a casualty. Also, for dessert sometimes, I like to make a really thick, rich hot chocolate, and I'll spike it—usually with brandy, sometimes rum. But people can spike it with whatever they want; if you can find it in my liquor cabinet, you can use it.
Speaking of Dave Wondrich, you two often collaborate on drinks; does your culinary perspective help you better understand cocktails?
I understand there are certain rules you follow, like a rule of thumb, just like you would with a food recipe. I don't intuit those rules of thumb for cocktails the way he does, just because I don't have the experience, but I understand that there are those basics. Although, my husband is the resident bartender when Dave's not around, and he does have a few cocktails up his sleeve—he makes a great Negroni, a great Manhattan, and we've been really into classic Daiquiris lately. I'm just happy to have someone else making my cocktail, and I will happily cook them dinner.
---
Did you enjoy this recipe? Sign up for our newsletter and get our favorite drink recipes of the moment in your inbox every month.