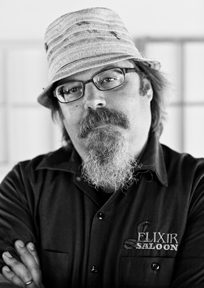 Few people have done more to illuminate the history of our drinking culture than David Wondrich. With numerous books and countless articles under his belt, the cocktail historian and author of Punch: The Delights (and Dangers) of the Flowing Bowl (Perigree, 2010) chats about his book, how his PhD led to a career in cocktails and why he likes to drink punch.
Imbibe: How did your love affair with cocktails and spirits begin?
David Wondrich: [Laughs] Desperation. In my early 20s I was a musician with a terrible case of stage fright. After two or three Martinis, I could stop worrying and just play my bass. I later became less terrified of playing, but I still liked those Martinis. I could really only afford to drink in old-man bars, and I learned to appreciate the dry gin Martini as the most booze you could get in one glass.
Imbibe: So how did that love of dry Martinis evolve into you becoming a classic cocktail historian?
Wondrich: After inexplicably failing to become a rock and roll star, I found myself in grad school. I couldn't think of anything else to do and started my graduate studies because they would pay me to read books, which seemed like a pretty good deal. I got a PhD in comparative literature and realized that I was basically qualified to teach English. I got a professor's job on Staten Island and was absolutely miserable. So I started writing about music on the side and got a gig at The Village Voice. One day I got a phone call from a friend who worked for Hearst saying, "I know you write about music, but can you write about cocktails?" I went, "Okay, I guess." They wanted to do an online version of one of Esquire's cocktail books, so I looked at the material and offered my suggestions. The next thing you know I had a "Drink of the Week" column and was building the Esquire drink database. Before that, I'd had about five or six old cocktail books that I'd come across at used bookstores, but suddenly I had to learn to make drinks more sophisticatedly and build a systematic collection of recipes.
Imbibe: Your fifth book, Punch: The Delights (and Dangers) of the Flowing Punch Bowl is explores the history of punch. In your research, what surprised you most about the topic?
Wondrich: I was surprised to learn that there were no spirits-based mixed drinks before punch. So in that respect it was definitely at the forefront of the concept of a mixed drink. Also, I was shocked to learn that the English were not among the first to drink spirits, but the last. That really blew my mind because I know a lot of English people and boy, do they drink spirits.
Imbibe: Do you think we're on the verge of a full-fledged punch revival?
Wondrich: I think we're already in one to a degree. It's sort of like the cocktail was maybe 15 years ago. There are some wonderful people making punch, but it's still kind of settling in. Right now I see a lot of punches that are a little too fancy and experimental, which makes them hard to drink throughout the night. But I think that will change as people make more of it, and as their tastes pare down.
Imbibe: What do you think is the appeal of punch?
Wondrich: The conviviality—a punch is an instant party. It's so much better than laying out a table full of booze and telling people to mix their own drinks, or for you to have to do it for them. I mean, it's wonderful to play bartender at your own party for about 20 minutes, but when you're making drinks, you don't really get to participate in your own party. With punch, you can be a full-scale host, which is what I like.
Imbibe: What tips can you offer for converting regular cocktail recipes into larger-scale punches?
Wondrich: Go easy on the spice; a punch can easily become overwhelming. Also, don't be afraid of dilution—you want your punch to be delightful, but not super-strong. A good punch should only be as potent as Port, not the strength of a cocktail, that way you can drink them over the course of an afternoon or evening. And because of this dilution, full-flavored spirits, like dark rum, really work well in punches.
Imbibe: Is there anything you won't mix in a punch?
Wondrich: I've discovered that the woodiest spirits aren't good in punch, which is actually pretty convenient since those are among the most rare and expensive. It's great, though because I don't ever have to worry about mixing in my hyper-aged Cognacs or single-malts.
Imbibe: Do you have a favorite punch to make? And is there a punch you'll let others mix for you?
Wondrich: [Laughs] I never let any one mix punch for me, that's one thing. Well, I'm only half kidding—Clover Club makes delicious punch, as do Death + Co. and PDT. At home, the general one I make is a simple brandy-rum punch from the 18th century. I peel the lemons first, pound them with sugar and then let them sit for an hour or two to wick out the oils. Then I add Cognac—a VS or VSOP, whichever I can afford—a good, funky Navy rum and a reasonable amount of water.