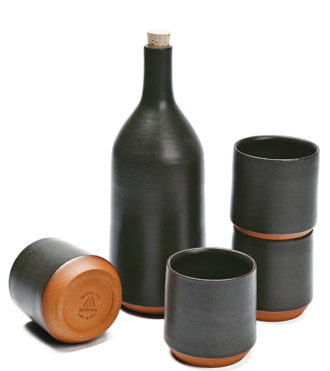 As Meghan Wright gives a tour of the stations that comprise the one-room working studio and warehouse of Mazama Wares, she jokes that they do lots of R&D, i.e. "research drinking." Wright is the co-founder and creative director behind the Portland, Oregon-based ceramics company, and their focus is singular: to make handcrafted drinking vessels as beautiful and beloved as the beverages they're meant to hold. "We felt like there were so many amazing beverages being created in the craft-beverage world, but no vessel that held their equal," says Wright. "Our goal is to create a vessel that enhances your favorite beverage and brings out its best, whatever it may be."
Launched in the fall of 2013 after a successful Kickstarter campaign, Mazama began selling directly online and through select domestic and international stores. Working with a staff that includes three full- time potters (including Meghan's sister, Paige Wright) and one off-site glassblower, Mazama turns out about 200 pieces per week, with 250 being their maximum.
"We're a crack team of insanely busy and passionate makers," says Wright.
Those pieces just barely keep pace with demand for their line of cups, mugs, tumblers and glasses. With clean lines, rich colors and a signature matte satin glaze, each ceramic piece is made to precise specifications, but the handmade character is ever-present. Each new design starts as a sketch before being rendered on the computer and then tested on the wheel. Wright and crew aim to produce designs that are modern but timeless, with a heavy emphasis on creating pieces that feel good in the hands. "We definitely embrace the Japanese ethos of wabi-sabi, embracing the perfectly imperfect nature of things that are handmade," Wright says. "The magic of our aesthetic happens with great hands making something out of a raw material. I hope that the love of what we do shows in each piece we create."
Wright is such a fan of cocktails that she even occasionally concocts her own drink recipes like her Seaside Negroni, a beachy riff on the classic.