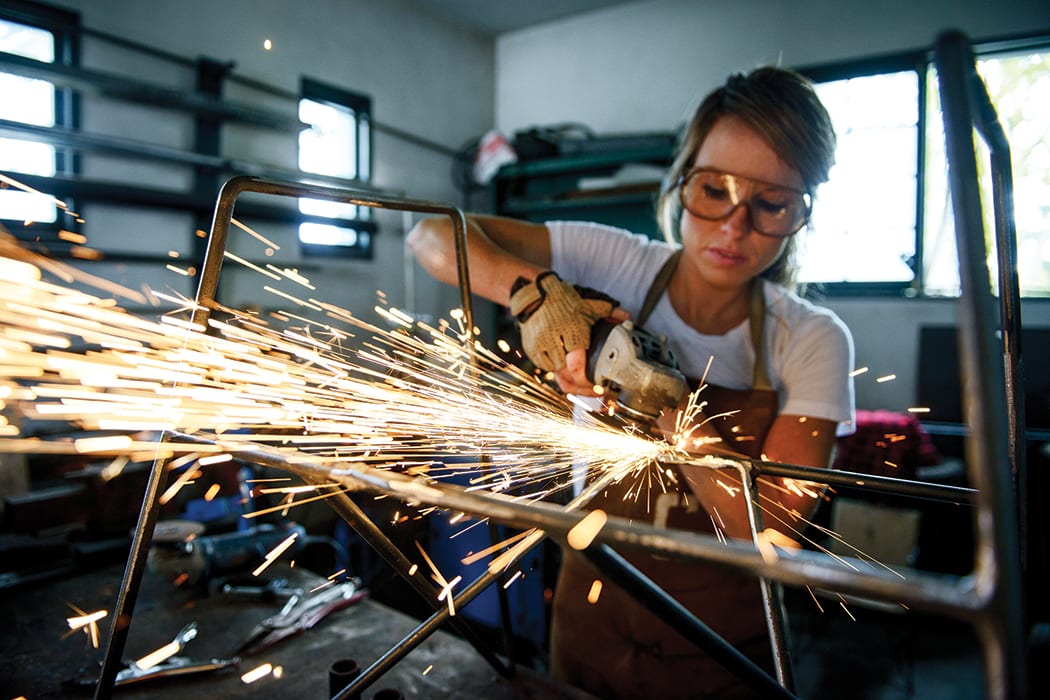 On the north side of Chicago, in a spacious, airy warehouse that housed cows 40 years ago, a carefully controlled chaos seems to permeate the space. On any given day, Greta de Parry can be found welding steel, casting concrete and working with slabs of wood that easily outweigh her tenfold.
Her background in fine art is evident in the crisp lines and interesting angles of her designs, but de Parry's primary focus is on functionality. Her work can be seen in multiple bars across Chicago—she has designed and built bar tops and tables at spots like Solemn Oath Brewery and Dry Hop Brewers—and her barstools have become staples in both restaurants and residences.
An inclination toward art was evident from a young age as de Parry explored everything from drawing to sculpting to helping her dad in his workshop. "My dad is a home builder, so we would always have little projects going on in his shop," she says. "I was always interested in art and explored a lot of kinds of making … I liked the hands-on approach and figuring out how things went together."
A Michigan native, de Parry attended the School of the Art Institute of Chicago where in 2007 she earned her MFA with a focus on sculpture and designed objects. After graduation, she was selected as the sole artist-in-residence to apprentice with master woodworker Mike Jarvi for three years, which expanded both her passion and skill for woodworking. In 2012, wanting to design and create her own pieces, she founded Greta de Parry Design.
The understated elegance of de Parry's designs is exemplified by the piece of furniture that initially won her a wide audience of admirers, as well as a Dwell on Design award in 2015—the Coleman Stool. "I follow an ethos of simplicity—uncluttered, underplayed, definitely less-is-more," de Parry says. "I really enjoy making a chair or a bar cart in the cleanest, most minimal design that will achieve maximum effect."
That effect is seen in the crisp lines of delicately welded steel, the chic simplicity of cast concrete and the warm tones of naturally finished woods. In a custom-designed bar cart commissioned by Basil Hayden's Bourbon, de Parry married a Midcentury style with a modern sensibility indicative of her bent toward the timeless. She even traveled the country to outfit drinking establishments with custom-made bars for the short-lived Discovery Channel show Bar Masters.
De Parry's eye for design has been in demand from restaurants around Chicago and beyond, with a large portion of her business coming from the service industry. At Rose's Fine Food in Detroit, she built tables from reclaimed fence posts, and her barstools make appearances across Chicago. And at Solemn Oath's taproom, she was given creative license to craft everything from the tasting trays and shelving to the bar itself, made from solid slabs of black walnut measuring 13 and 17 feet in length. "I love working with wood, and I still do large wood projects all the time," de Parry says. "But I'm just as interested in other materials; I got really obsessed with concrete when I was working on a garden project, and I love playing around with steel and welding."
Her affinity for naturally derived materials speaks to her larger philosophy of creating a piece that adds value, both to the lives of the people who use it and to those in the supply chain. "I still do all of the prototyping and product design, but as my business has grown, not everything is made by my hands," de Parry says. "I've developed relationships with great fabricators that are either in the area or within about 200 miles of my shop, so keeping it local and keeping the footprint minimal is really important. I want to work with people who share that ethos."
---
Did you enjoy this article? Get more of the best of liquid culture when you sign up for a print or digital subscription to Imbibe Magazine. Click here for special savings!