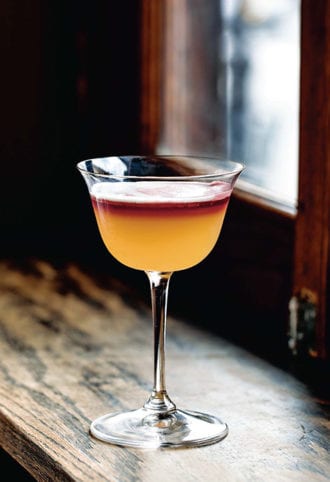 Leyenda co-owner Ivy Mix created this twist on the New York Sour as an homage to cocktail historian David Wondrich, who gave the drink its name. It's one of more than 100 recipes featured in her book, Spirits of Latin America, which explores the culture and history of Latin spirits.
1¼ oz. bourbon
¾ oz. cachaça
¾ oz. simple syrup (1:1)
¼ oz. fresh orange juice
½ oz. Malbec red wine, to top
Tools: shaker, strainer
Glass: coupe
Add all of the ingredients, except the wine, to a cocktail shaker with ice. Shake to chill, then fine-strain into a coupe. Gently pour the wine over a spoon to float a layer on the surface of the drink.
Reprinted with permission from Spirits of Latin America by Ivy Mix, copyright © 2020. Photographs by Shannon Sturgis. Published by Ten Speed Press, a division of Penguin Random House, Inc.
---
Did you enjoy this recipe? Sign up for our newsletter and get weekly recipes and articles in your inbox.