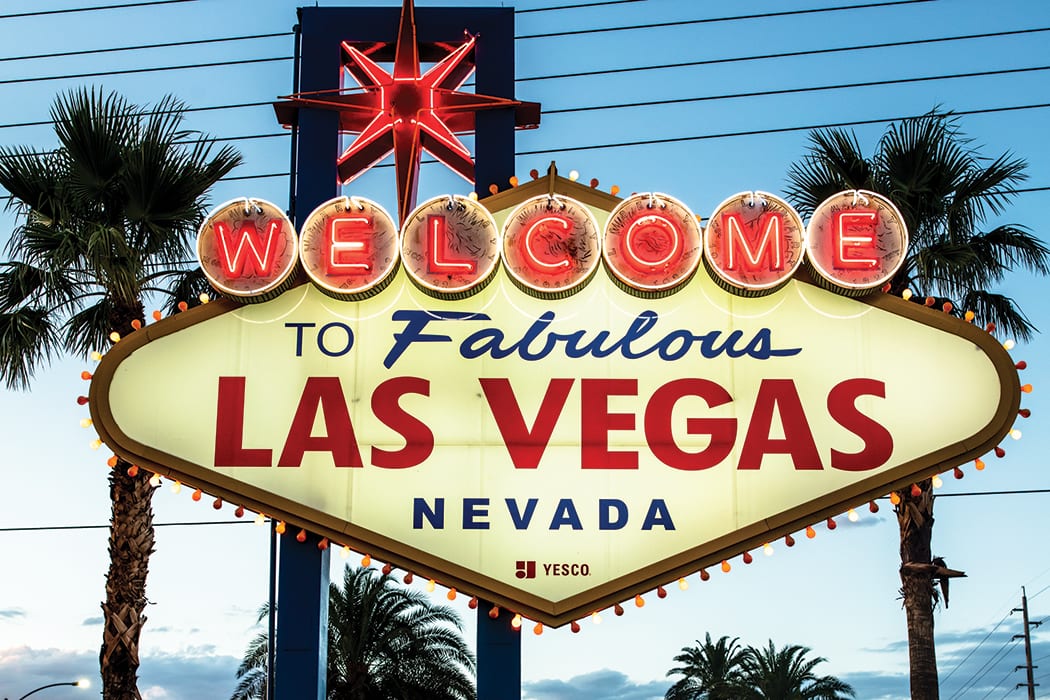 Behind the bar of the new NoMad Las Vegas in the Park MGM, an elegantly understated space appointed in dark wood, red velvet and golden light, bar manager David Bonatesta assembles a torso-sized beverage urn layered with rum, maraschino liqueur, passion fruit and lime, topped with a full bushel of mint, a pint's worth of fresh berries and an inverted float of overproof rum. He affixes not one, but two stuffed parrots to the rim to complete the effect on one of the bar's signature Cocktail Explosions. "If you use a gimmicky vessel but the drink is—for lack of a better word, shitty—you're just going to see the gimmick," says Leo Robitschek, bar director for the NoMad Hotel, which opened its Las Vegas location last fall. "But if it's a really well-crafted cocktail and all the ingredients are top-notch, it becomes playful and fun, rather than gimmicky."
It's a fitting snapshot of the Las Vegas cocktail scene today—decadent, over-the-top, yet meticulously made and delivered with flair. Multimillion-dollar build-outs on the Strip boast just as much substance as style in the hands of veteran bartenders, and in neighborhoods across the city, a similar sense is trickling through cocktail programs at local bars and restaurants. Far from a sense of competition—the Strip versus the rest of the city—it's a shared passion for something better that's driving the scene forward.
For a city built on grandeur and glitz (it is said to be the brightest spot on the earth as seen from space), Las Vegas is evolving beyond reputation to cultivate a cocktail culture that appeals to both locals and its annual visitors, who numbered around 42 million last year. It's a balancing act that Vegas is well-equipped to walk as a city that attracts talent, from Michelin-starred chefs to rising-star bartenders. Combined with a community of equally passionate longtime locals, Las Vegas is poised to utilize its talent pool and staggering resources not just to compete with other global cities, but to create something truly grand all its own.
At 4 p.m. on a Wednesday, it's quiet inside Starboard Tack, with barstools occupied by a handful of industry workers and neighborhood locals like 83-year-old Roberto Chao, a regular for whom the menu's Old Cuban is currently dedicated. In east Las Vegas, a few miles from the Strip, the bar sits squarely in a residential area, its closest neighboring businesses an auto parts store and a Panda Express. "We wanted to create a cool, tucked-away bar that had nods to retro Vegas, but with our own modern twists," says co-owner Lyle Cervenka. "People told us we weren't going to last a year in this location."
That was nearly three years ago, and the bar has become a highlight of the local cocktail scene. A relic by Vegas standards, the original Starboard Tack opened in 1971 and was one of the first bars in the city to operate, with food service, 24 hours a day, when performers like Tom Jones and Shecky Greene would frequent after their sets on the Strip. In 1990 the bar became Gilligan's Hideaway until 2017, when Cervenka and fellow bartender Bryant Jane took ownership. With the blessing of the original owner's son, they rechristened it Starboard Tack.
Cervenka and Jane, a Las Vegas native, have had a hand in cocktail programs across the city, from The Cosmopolitan's Vesper Bar to the iconic Atomic Liquors and Arts District–darling Velveteen Rabbit, before joining forces on a short-lived amari bar called Retroscena. Now, with Starboard Tack, their approach is equal parts preservation and modern sensibility. Still intact are the stained glass windows, the fireplace and the 24/7 hours, but the cocktail menu boasts a decidedly crafty edge. "We try to stick to five lesser-known classics, and we'll dig deep for those, and then five originals, plus our frozen drinks," says Cervenka.
It's an approach that results in creations like the Tokyo Tea, with sencha-infused rum, Midori, Bénédictine and pineapple, and their flagship Starboard Taquiri made with Plantation Stiggins' Fancy Pineapple rum, lime and an absinthe rinse. It's always on the menu, and it's always $8. The lineup is complemented by the largest collection of rum in the state, currently at about 300 labels. The vibe, the price and the program all appeal to locals, particularly bartenders. "The industry really pays us back through word of mouth," says Cervenka. "Nine times out of 10, when someone from out of town walks in here, they were sent here by one of the bartenders from the Strip. It's a great community."
For bars and restaurants located off-Strip, a community-minded approach is crucial, something understood by Nectaly Mendoza perhaps better than anyone. A lifelong Vegas resident, Mendoza got his start polishing glasses at the Bellagio, then spent the next decade working up from bar back to beverage specialist with The Light Group (now owned by Hakkasan) hospitality team before finally opening his own place. Herbs & Rye, located 2 miles west of Las Vegas Boulevard, is now one of the city's most beloved restaurants and awarded cocktail bars. "We opened in December 2009 in the middle of a recession; it was like a slow leak in a tire," says Mendoza. "The first three years were the hardest years of my life. I got down to 35 cents in my account. I sold my car to make payroll. But we did have the love of the community."
A few years in, Herbs & Rye was invited to compete in Bar Fight Club at Tales of the Cocktail—an event in which bars from across the country attempt to re-create their vibe via pop-up space. "When we won, the city of Las Vegas really started writing about us, and then we just started winning things, and then we started winning everything," Mendoza recounts. "We were in every magazine. I think people were motivated by the story. But we weren't gunning to win awards. We were just people who loved to bartend and wanted to have a good time."
Herbs & Rye added two more accolades this year for Best American Bar Team and Best High Volume Bar. From their comprehensive menu of classic cocktails, outlined by era, Mendoza estimates they mix upwards of 1,200 drinks on busy nights. "Because we make classics, we have a very simplified bar program," says Mendoza. "We don't have a ton of bitters, we have seven juices and maybe five syrups. We're efficient at classics, and we're very efficient at making people happy, and that's what makes us high volume."
Mendoza and company opened Cleaver last fall, a 7,000-square-foot steak house by the convention center. "Cleaver is Herbs & Rye built with money. It's years of everything we learned and everyone who created Herbs," says Mendoza. "The best thing I can do now is empower the people around me." But he's quick to point out the trailblazers of the Vegas cocktail scene for making his own success possible, like Tony Abou-Ganim and Francesco Lafranconi, both longtime cocktail specialists creating programs in Vegas, and bars like the Downtown Cocktail Room. "These are people that we can reach out to and say, 'Hey, we need help on this.' "
Stretching just over four miles on Las Vegas Boulevard, the Strip remains the city's most iconic identifier, with an impact that can hardly by overstated. In addition to vacationers, Las Vegas hosts an average of 24,000 meetings, conferences and trade shows every year, and each day last year brought an average of more than 115,000 people into the city. If you're the gambling type, it's a safe bet that nearly all of those visitors will spend at least some time—and money—on the Strip.
The boozy archetypes remain. Overpriced vodka–Red Bulls keeping the floors of mega-clubs perpetually sticky; the sidewalk-level Daiquiri bar featuring a full rainbow of whirling frozen drinks, its sign promising to refill "any cup, any size!" But it was here on the Strip that the first wave of the cocktail renaissance took hold in places like the Bellagio, with Tony Abou-Ganim, and the Wynn, with Patricia Richards. "I arrived in 1998, and it was quite a different scene then," says Abou-Ganim, who came from the Starlight Room in San Francisco. "At that time in Las Vegas, most bartenders were button pushers. When I said we were going to squeeze all of our limes á la minute, people looked at me like I was crazy."
Hired to oversee 29 bars serving up to 25,000 drinks per day, Abou-Ganim had his work cut out for him. "When I was hired as the property mixologist, that position never existed before—someone just for education and development. Now, pretty much every hotel has someone in that role."
Las Vegas native Mariena Mercer Boarini has been filling that role at The Cosmopolitan as "Chef Mixologist," where she's been pushing the boundaries since 2010, now overseeing 21 drinks menus and a full beverage production kitchen for making syrups and in-house ingredients. "Ten years ago, it was an anomaly to get a good drink, especially on the Strip," Boarini says. "It reminds me very much of the dining scene in Las Vegas 20 years ago, when the city was known for buffets. It took a few visionary and fearless chefs and leaders in the industry to want more, and change it for the better."
And just like world-renowned chefs or the lengthy roster of performers-in-residence, from Lady Gaga to Willie Nelson, Vegas is a city that attracts talent behind the bar. New York barman Sam Ross (Attaboy, Diamond Reef) consulted on the opening of a trio of bars in the last three years, dubbed The Cocktail Collective, that are helping define the scene on the Strip today. The Dorsey in The Venetian, and Electra Cocktail Club and Rosina, both in The Palazzo, each have distinctly different styles unified by a collection of impeccably crafted original and classic cocktails. "We use a lot of tropical flavors, which works well with our heavy emphasis on rums and agave spirits," says Evan Hosaka, lead bartender at Electra, the newest of the three, as he pours an Age of Aquarius (mezcal, passion fruit, honey, lime and Campari) amid pulsing beats and an ever-shifting digital backdrop. A few hundred feet across the casino floor, diminutive bar Rosina glitters like a page from The Great Gatsby and puts the emphasis on spirit-forward classics, or interpretations thereof, like the Kentucky River, an Old Fashioned riff with crème de cacao and peach bitters complementing the bourbon. "Vegas is in the hot seat right now," says Hosaka. "We have a lot of great talent, and we're attracting great talent."
At the Park MGM, that means people like Bricia Lopez, mezcal expert and co-owner of the James Beard Award–winning Oaxacan restaurant Guelaguetza in Los Angeles. Lopez is a collaborator on the new agave-focused bar Mama Rabbit, which opened in August. "We have the biggest mezcal and tequila selection in the city, and I'm very proud of that," Lopez says of the bar's current selection of around 500 labels. "We're working with a lot of smaller brands to make sure they're able to get on the shelf. We'll also be introducing a lot of new brands, and working with others to release special productions just for us. I've always thought that Vegas was going to be the place that made it mainstream. When people order mezcal bottle service, that's when you've really created a category above and beyond."
But the city isn't just attracting talent, it's creating it—and Francesco Lafranconi is responsible for much of it. In 2000, Lafranconi relocated to Las Vegas, where he created the Academy of Spirits and Fine Service for Southern Wine & Spirits (now Southern Glazer's). For 18 years, Lafranconi instructed budding bartenders on mixology techniques, tasting skills and the history of spirits, graduating more than 1,000 students, all the while helping his own clients establish bar programs. How many? "Oh, my—hundreds!" LaFranconi says. So it's only fitting that Mr. Coco in the Palms hotel, Lafranconi's first U.S. bar to call his own, is the embodiment of refined hospitality. "This is a collection of 30 years of my experiences," he says. "In a world that has become very casual, I wanted to bring back the savoir faire, the mannerisms, the charm."
It's hard not to feel charmed by Mr. Coco, who is, in fact, Lafranconi's 10-year-old Scottish Westie, his visage in top hat and monocle etched on the doors of the elevator that carries guests to the bar, which opened in January of this year. It's a space that fully embraces the notion of Las Vegas luxury, and it would be equally suited to cities like London or Singapore. From the rippled pattern in the carpet (meant to mirror the pouring of liquid) to the ergonomics of the bar well, no detail went unexamined by Lafranconi, and the drinks reflect this thoughtfulness. The cocktail menu is equal parts classic and playful, from a well-tuned Negroni Bianco to the namesake Mr. Coco with coconut vodka, Plantation XO rum, and coconut and lychee liqueurs. "I created this concept not only to be an incubator for the city but also so other operators can come here and get inspired," he says.
An elevated standard can be seen in all parts of Las Vegas. In downtown, among some of the city's first casinos like the Golden Nugget and El Cortez, a cocktail community has been growing, especially in the Fremont East area. It's there that the Downtown Cocktail Room first started mixing drinks 13 years ago. That same block now includes beloved dive bar The Griffin, hip cocktail joint Commonwealth (with interior speakeasy The Laundry Room), and Carson Kitchen, opened by Vegas' own "rock 'n' roll chef" Kerry Simon in 2014. "It was very exciting for the city and it felt like a positive thing—to have a celebrity chef open something in downtown Las Vegas, a real neighborhood restaurant," says general manager Matthew Harwell. "I don't think Carson Kitchen would have had the same story if we'd opened somewhere on the Strip."
Around the corner in the Downtown Container Park, whiskey-centric cocktail bar Oak & Ivy is outfitted with marble bar tops, red leather stools and a half-dozen barrel-aged cocktails, all housed within a rehabbed shipping container. Two blocks down Fremont, neighborhood bar Atomic Liquors has been a staple of the scene since opening in 1952, when crowds would gather on the rooftop to watch the atomic blasts from the Nevada Test Site. The adjoining space, The Kitchen at Atomic, recently revamped with New York transplant Tonia Guffey-Stamper (Flatiron Lounge, Dram) managing the bar program and her husband, chef Jackson Stamper, in the kitchen. Guffey-Stamper's rotating seasonal cocktails like She Wore Lemon (bourbon, chamomile, lemon, apricot and yuzu) complement the kitchen's offerings like grilled clams with Fresno chilies and a rum-brined pork chop. "We really love the high-brow/low-brow vibe with Atomic Liquors and The Kitchen," says Guffey-Stamper.
A few miles south, the Arts District feels a world away from the glitz of the Strip, with wide, tree-lined streets populated by vintage stores, yoga studios and coffee roasters. But in 2013, when sisters Pamela and Christina Dylag opened their bar Velveteen Rabbit, things were different. "The Arts District was neglected and needed rehabilitation," says Pamela. The recession had hit hard, so the city was offering incentives for local businesses, including a free liquor license. The sisters wanted to open an art-centric bar and events space in the city where they'd grown up, so they took the leap. "People thought we were a little nuts because we would be the first bar on Main Street; we were sort of an island in that respect. But the overall improvement of the neighborhood has been amazing for us, and for everyone else."
Six years later, Velveteen Rabbit is a hub of the thriving neighborhood, popular with locals and tourists for the witchy-Victorian vibe and avant-garde cocktails. The menu of originals, published as a zine and changing four times a year, has featured drinks like the Subrosa (bourbon, strawberry-basil purée and balsamic foam) and a surprisingly effective interpretation of Mexican elote with Fresno chili–infused tequila, sweet corn and coconut syrup, and lime leaf and cilantro cordial, served in a glass rimmed with finely crumbled cotija cheese. "That was one of the weirder ones, but people get pretty adventurous in here," says bar manager Davey Francis. "After six years of doing this, they trust us."
But the Dylag sisters take a holistic view when it comes to their success, pointing to homegrown favorites like Herbs & Rye and the powerhouse pioneers of the Strip like Mariena Mercer Boarini. "We have to be so grateful for the Strip—our economy is built on it. If the Strip is doing well, we're all doing well," says Pamela. "But people are also seeing the other side of Las Vegas. There's so much more this city has to offer, and I think the scene has excelled overall—everyone is trying to up their game."
---
Did you enjoy this article? Get more of the best of liquid culture when you sign up for a print or digital subscription to Imbibe Magazine. Click here for special savings!