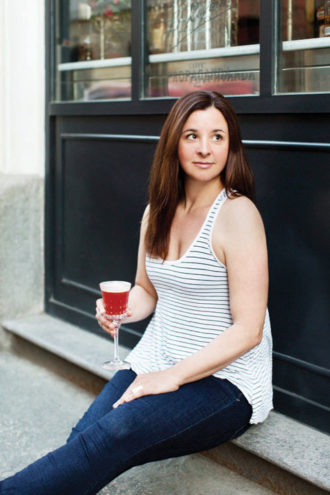 For the July/August 2015 issue, American ex-pat and Roman food-and-drink specialist Katie Parla — also one of our 2015 Imbibe 75 People to Watch — explored Rome's booming drinks scene. Here, the all-around bon vivant walks us through her perfect day in her adopted city. For more of her food and drink recs, head to ParlaFood.com, download her iPhone app, "Katie Parla's Rome", or order her new book (co-authored with Kristina Gill) Tasting Rome.
10:30 a.m.: Coffee and a pastry at La Fiorentina 
Via Andrea Doria 22
"I'm hardly an earlier riser, and from the three-deep crowd at the bar at this hour, it seems like people working around the Mercato Trionfale, a market just north of the Vatican, aren't either. I snag a Danish and a caffe doppio macchiato most days. Sometimes I will have the barsita 'correct' it with Sambuca."
11:00 a.m.: Herbs and produce shopping for cocktail experiments at Mercato Trionfale
"Just across the street from La Fiorentina, Rome's largest public market sells produce (among other things) and has quite a few farm direct stalls, a rarity in Rome these days. I love browsing the farmers' stalls in the southern part of the market for heirloom fruits, roots and herbs. I'm working on a book about contemporary Roman food and beverage culture and these local finds are inspiring all sorts of recipes for the cocktail chapter, from infusions to syrups."
Noon: Panificio Bonci for porky snacks.
It's essential to beat the lunch crowd, which begins to pour into Panificio Bonci, an artisanal bakery, at 12:30. Noon is the perfect time to grab a porchetta sandwich on pizza bianca, the local flatbread. I love the drink selection at Panificio Bonci, which ranges from Cristina Menicocci's biodynamic boxed wine for €2.00 a glass to vintage Champagne. There's no table service so be prepared to eat and drink on the fly.
1:00 p.m.: Sciascia for Rome's best espresso. 
It's time for another coffee. Or rather coffees. I'm not sure when a single shot of espresso ceased to have any effect on me. A doppio every couple of hours barely does the trick, but regardless I love the ritual of visiting Sciascia, one of the most historic coffee shops in town. The decor and atmosphere are supremely old-school, so while I sip my doppio I'll sit and enjoy the relative quiet at one of the banquettes before the post-lunch caffeine rush packs the place out.
1:25 p.m.: Costantini to explore one of Rome's most extensive spirits collections.
Piero Costantini's vast wine and liquor shop always has something interesting. I head right for the ground floor spirits room (I could spend hours in the basement wine cellar and they close at 1:30) to survey if there is a new liquor in stock before they close for lunch.
2:30 p.m.: Roscioli for wine and pasta.
After a leisurely walk through the patrician neighborhood of Prati, I head across the Tiber River and stroll down the pin-straight, one-kilometer long Via Giulia, a 16th century road built by a pope and flanked by palaces, churches, boutiques and galleries. The end of the Via Giulia delivers me to the heart of Rome's renaissance nucleus where Roscioli serves excellent cured meats, cheeses and pastas with good value wines. The Champagne selection is outstanding and I always pair a glass of whatever gem they happen to be pouring by the glass that day to go with a plate of burrata and semi-sundried tomatoes. This is inevitably followed by carbonara, amatriciana or gricia, all Roman pasta classics made with crispy cubes of guanciale (cured pork jowl). All meals at Roscioli must end with something from Samaroli, an Italian spirits company dealing in whisky and rum.
4:00 p.m.: Open Baladin for Italian craft beer and wifi.
Around the corner from Roscioli, Open Baladin is an Italian craft beer bar owned by the Birra del Borgo and Baladin brewing companies. The great draught selection, free wifi and a central location make this an ideal spot for afternoon meetings with colleagues and clients.
6:00 p.m.: Barnum Cafe for aperitivo.
Next up is Barnum Cafe, a short walk through Campo de' Fiori and past its hideous tourist traps and down Via del Pellegrino. Barnum serves excellent classic Italian cocktails and whiskey-based libations. Shockingly, most people that visit this bar around aperitivo hour drink beer or wine instead, missing some of the finest drinks in town.
8:00 p.m.: Cesare al Casaletto for natural wines and cucina romana.
From Barnum, I head to Largo Argentina and take the 8 tram about a dozen stops to the Casaletto stop at the end of the line. Fifty yards away, chef Leonardo Vignoli and his staff serve classic cucina romana, plus a few twists. I never pass up the fried starters, ideally paired with a spumante from northern Italy or France. The wine list is interesting and value-driven and there are some real steals to be had, especially of traditional and natural wines from Vignoli's wine making friends. Whether I follow the fritti (fried starters) with a pasta or meat dish, he always has a fantastic bottle to pair with it.