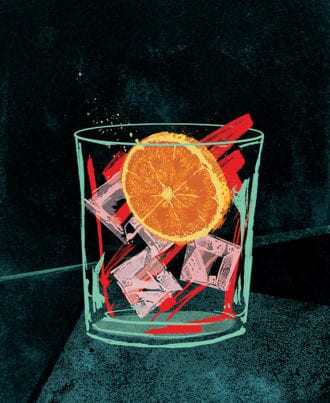 Count Camillo Negroni was looking for something a bit harder than the classic Americano when he placed a history-changing order at Caffè Casoni in Florence exactly a century ago. The Count, whose noble title is the object of debate, was presumably hardened by time spent traveling abroad—including, apparently, time in America working as a rodeo cowboy. An Americano made with Campari, vermouth and soda water just wasn't going to cut it that day. Instead, he instructed Casoni's barman Fosco Scarselli to swap the Americano's soda water for gin, and a classic was born.
The Negroni, then and now, is a drink transcendent in its simplicity. Purists stick to its prescribed equal-parts proportions of dry gin, rosso vermouth and Campari. The resulting cocktail balances gin's botanicals, vermouth's savory spice, and Campari's herbaceous bitter-sweetness. An orange wheel—an accent introduced by Scarselli to differentiate it from the lemon peel–embellished Americano— enhances the drink's flavor.
Not all Negroni incarnations, however, adhere to the equal- parts standard, and in Italy and abroad, proportions are tweaked to accommodate the characteristics of a particular gin or vermouth in the pursuit of balance. The presence of Campari is, more often than not, non-negotiable, and in Italy at least, other brands of red bitter aperitivo liqueur are rarely deployed.
In Milan, Campari's ancestral home, Negronis abound. Their consumption is aided by the popularity in the city of going out for drinks or snacks before a meal. This ritual, the aperitivo, may have
been exported to other parts of Italy and the world, but it's nevertheless a northern Italian tradition at heart, and it's in the north that we find the most beloved historic variations on the classic cocktail.
The Negroni, then and now, is a drink transcendent in its simplicity.
At Bar Basso in Milan, the Negroni Sbagliato was accidentally invented in 1972 when Mirko Stocchetto reached for the wrong bottle and poured sparkling white wine instead of gin. The resulting "mistaken Negroni" was pleasing, not to mention a great deal lower in alcohol than its namesake, making it more adapted to a pre-prandial cocktail. At Bar Basso, the Sbagliato is every bit as popular as the classic Negroni, where both are served in comically large Venetian glass goblets.
As the Sbagliato demonstrates, components of the Negroni are subject to change, and bartenders around the globe have customized the drink, sometimes wandering from the traditional specs in order to compensate or adjust for the characteristics of a gin or vermouth. The gin can even be substituted with another spirit—in Italy, drinks in which gin is replaced with vodka or mezcal are called Negroski and Mezconi, respectively—but the Campari component rarely changes.
Patrick Pistolesi, co-owner of the 8-month-old Drink Kong in Rome, is pushing back on that preconceived notion. "When you order a Negroni, you know what you're going to get: a tumbler with ice, a red liquid and an orange wheel," he says. The very predictability, which attracts Negroni lovers, has pushed Pistolesi in the opposite direction. His Negroni (dubbed "Tentation") is declared "bitter, different and new" on Drink Kong's menu. It's served in a coupe and is completely transparent with a light orange hue. The recipe, which Pistolesi won't reveal aside from the presence of Tanqueray Ten, mimics the flavor of a Negroni without the signature color. "If I told you what's in it, I'd just be serving you another set of preconceived notions, the very thing I'm trying to avoid."
In an ancient place like Italy where time is measured on a totally different scale, modern Negroni-inspired cocktails are a reminder that the classic recipe, even at 100 years old, is still in its adolescence. Happy Birthday, Negroni.
---
Did you enjoy this article? Get more of the best of liquid culture when you sign up for a print or digital subscription to Imbibe Magazine. Click here for special savings!