Henri de Toulouse-Lautrec could be considered Paris' most famous home bartender, if we calculate his considerable renown as a post-Impressionist painter and illustrator together with his reputation as a debauched party host. He was certainly among the city's most enthusiastic drinkers, exclaiming, "Of course one should not drink much, but often!" while brandishing a hollowed-out cane reputedly filled with liquor. His epic dinner parties featured ambitious courses like heron roasted over vine wood and whole sheep, and he kept his guests' glasses filled with his house cocktail, the Earthquake, consisting of half absinthe and half Cognac (the seismic moniker could only have been an understatement). While the 19th-century artist partied and painted, his life embodied the natural intersection of design, art and life that prefigured—albeit in an outlandish way—the way cocktails and cuisine would manifest in Paris more than a century after his death.
Today, as a frequent visitor to Paris from Rome, I find the comparatively frenetic energy that defines the city impossible to ignore. Paris has remained bustling in spite of precarious economic times, dignified in light of simmering political unease, and resilient in the face of terror attacks. Young Parisians and expat continue to drive the city's energy, and their work in art, design and hospitality has sparked development of a growing egalitarian culture—especially on the culinary front—which has led to an engaged, enthusiastic public hungry for creative new flavors.
Paris' first golden age of the cocktail happened around the second quarter of the 20th century, overlapping (and to an extent, driven by) Prohibition in the United States. But over the following decades, Parisian cocktail culture languished, reducing a once-booming industry to a handful of historic institutions. Harry's New York Bar—reputedly where the Bloody Mary and White Lady, among other classics, were invented—is among the few survivors and shows its age. But it's precisely this dated appearance—its décor of dusty American university pendants and an aloof staff—that attracts tourists for a stiff Sidecar or chilled Martini, and American expats are known to pop in for an occasional hot dog.
A short walk away, at Place Vendome, Bar Hemingway at the Ritz Paris is its own kind of time capsule. Its windowless Art Deco interior, renovated just last year, is embellished with hunting trophies and black-and-white photos, and it's not hard to imagine the bar's namesake—a Ritz regular back in his day—stumbling through the hotel's gilded corridors after one too many. Barman Colin Field pours drinks developed during his almost 25 years behind the Ritz's bar for the hotel's fabulously wealthy guests, fashion icons and film actors who are attracted to the place as much for its famous patron as its drinks.
Another Paris institution, Bar Le Forvm, moved to its current location in 2016 and, while Harry's and Bar Hemingway dwell in their own historical universe, Le Forvm has managed to feel part of the thriving cocktail scene, training many bartenders who've gone on to open their own spots. At Forvm, the atmosphere is decidedly old-school—a pair of vintage jukeboxes were imported from the previous location—and the drinks list is filled with twists on the classics: the house Spritz, called the Spritzvm, mixes Lillet Blanc, Bonal Quina, elderflower cordial, soda and cucumber, while the bar's signature Martini twist, created by founding barman Antoine Biolatto in 1929, combines Grand Marnier Cordon Rouge with gin and vermouth.
Even with such institutions, Paris' modern cocktail culture was ruled until recently by '90s-style club cocktails. "Five or six years ago, you would go to an average bar and ask for an Old Fashioned and no one would know what you were talking about," says Dotan Shalev, owner of cocktail destinations Little Red Door, Lulu White and Bonhomie. "Now, there are craft-cocktail bars all over the city, and their approach to quality has trickled down so all around, cocktails have improved."
The 2007 opening of Experimental Cocktail Club in the Montorgeuil district helped set Parisian cocktail culture in motion. Geared toward a local and international crowd, ECC set itself apart with its accessible prices, creative menu, laid-back atmosphere and a curious bar staff eager to move beyond the classics. "There have always been cocktails in Paris, but they were very expensive so a younger crowd was attracted to wine or beer," says Carina Soto Velásquez, an alum of ECC and co-founder of cocktail and hospitality collective Quixotic Projects. "One of the keys for Experimental was the drinks were not expensive, so slowly cocktails started becoming a thing, and with that came this new appreciation for new flavors." In the decade since its debut, ECC has gone global, opening bars across Paris and in London, New York City (now closed) and Ibiza, while also training a generation of bar staff with the technical skills and managerial know-how to strike out on their own.
Velásquez was one such bartender, founding Quixotic Projects in 2011 with Josh Fontaine and Adam Tsou. The trio of expatriates—Velásquez is originally from Colombia, and Fontaine and Tsou moved to Paris from New York—opened their first bar, Candelaria, serving agave-based cocktails in a back room behind a taco bar in the Marais. A year later, Quixotic inaugurated Glass, an American-style dive bar in Pigalle, followed by Le Mary Celeste, an oyster bar and small plates spot serving natural wines and cocktails, and Hero, a Korean-inspired joint. Their earlier bars paved the way for cocktails to enter the Parisian mainstream, attracting patrons as much for their original design and effortlessly cool atmosphere as for their drinks.
Quixotic's newest venue, Les Grands Verres, opened in the Palais de Tokyo contemporary art museum in July. A restaurant and cocktail bar, LGV aims for a zero-waste policy, and part of the drinks program uses ingredients adapted from kitchen scraps that otherwise would be discarded; one cocktail features the liquid from roasted eggplant and chickpea brine mixed with verjus and dark rum. Though LGV is ostensibly the museum's all-day restaurant, cocktails are a primary focus, and the centerpiece is a 40-foot bar that dominates the sprawling minimalist space.
New Neighbors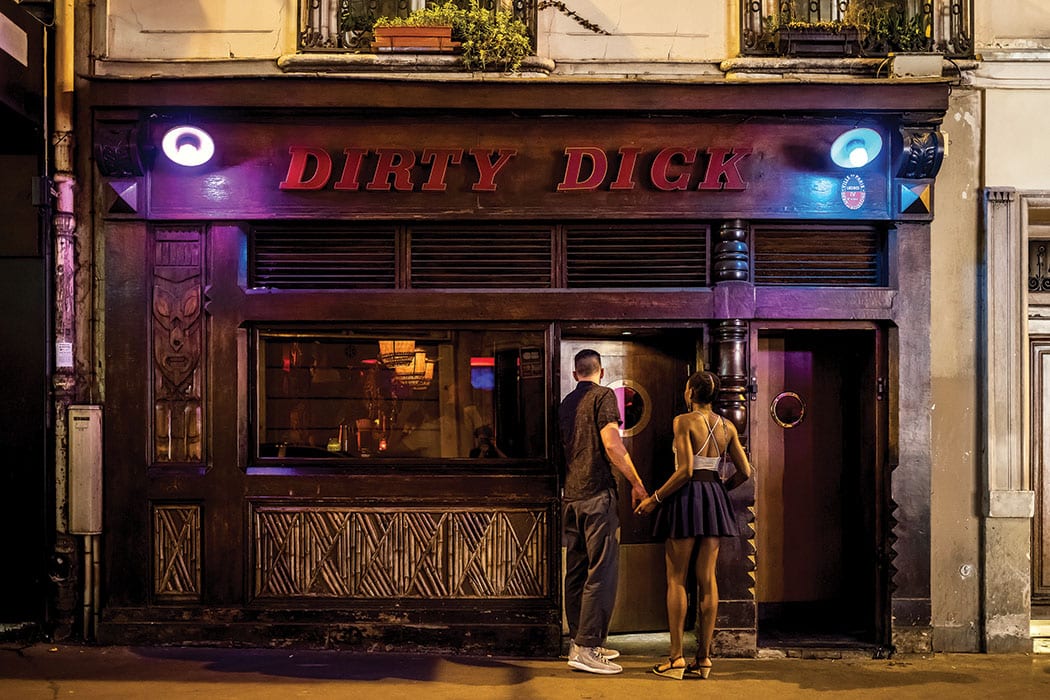 Experimental has grown up, too, opening the 37-room Grand Hotel Pigalle in 2015; the hotel minibar, designed by ECC's head barman Maxime Potfer, features two housemade cocktails as well as a selection of cocktail-oriented products. Not long ago, the hotel's neighborhood would've raised eyebrows; the Pigalle district was long infamous for its brothels, mob dens and sketchy characters, but in just a few years it's become a destination for Parisian cocktail drinkers.
Cocktail bars are at least partially responsible for transforming the neighborhood, and particularly Rue Frochot. Among the first were Quixotic Project's Glass and Dirty Dick, a tiki bar opened by California native Scotty Schuder in 2013. Schuder notes that the space, which was a sex club and Corsican mafia hangout (also called Dirty Dick) before it became a bar, had around a century of seediness in its past when he took over the venue and opened the bar in the transitioning zone. "Opening here was a real crapshoot," Schuder says.
"There were still sex clubs around and the casino on the street had just closed. We weren't sure people would come. But we think Dirty Dick always wanted to be a tropical bar. Look at the façade," he says, referring to the building's wood-and-bamboo exterior. "Everyone around here is tearing off the front of their buildings, but we wanted to keep that history."
During a recent visit, the aroma of pandan syrup in the making wafted up from the basement, while groups of friends sat around communal punch bowls and drinkers at the bar sipped mixes such as the Polynesian Remedy (made with rum, ginger and honey) and Asian Persuasion (with pineapple rum, pandan and black lemon).
Bars are in no hurry to erase Pigalle's unsavory red-light-district past. A short walk from Dirty Dick, Lulu White serves light aperitifs like Roots & Fruits, essentially a peach spritz, as well as absinthe-laced cocktails like the Tropical Cooler made with Blanchette, coconut and coffee, and flights of the wormwood-inflected spirit. True to its namesake, a famous New Orleans madam, the bar conveys the spirit of a Crescent City brothel through dim lighting and mirrored ceilings. But there's a Parisian touch, too, in the form of Belle Époque furnishings and exposed bulb bar lighting that resembles a carousel. The Louisiana theme continues a few blocks away at Baton Rouge, which takes its inspiration from a Bayou dive bar, complete with a floor carpeted in discarded peanut shells. Opened by Julien Escot and Forvm alumnus Joseph Biolatto, the bar specializes in historic cocktails inspired by Stanley Clisby Arthur's 1938 book Famous New Orleans Drinks and How to Mix 'Em, such as the Pomegranate Julep featuring Cuban rum and pomegranate molasses, an homage to the rum-based San Domingo Julep referenced in the tome.
Looking Good
Across the city, such stylized décor and intensely researched concepts have become the standard among Paris' new cocktail bars. At CopperBay, in the Château d'Eau neighborhood, the interior is heavy on nautical themes with sodium lamps that cast a copper hue on the wood-accented, oar-embellished interior. The drinks range from fresh and fruity to briny and savory; the Mermaid Gimlet, for example, is made with gin infused with salicornia (a succulent that grows in salt marshes and on beaches), a successful homage to the sea. True to the declaration stenciled on the window, "Cocktails, Pastis & Food," CopperBay serves France's famous anise-flavored aperitif in various forms, including an orange syrup–spiked slushy called the Frozen Mauresque.
While CopperBay celebrates pastis, the focus on single spirits is a growing trend among Paris bars. At Mabel, the self-described rum empire, there are more than a hundred rums from dozens of countries. Access to the bar is through a grilled-cheese shop, beyond which co-owner Joseph Akhavan serves drinks in a room decorated in coffee-colored tones. Drinks like the Söhei Swizzle—made with overproof rum, sherry, falernum, yuzu, lemon and Chartreuse—are thirst-quenching, while The Italian Job—with rum, Cocchi Americano, Aperol, Byrrh and burnt orange bitters—embraces warm and bitter notes.
At Le Syndicat, the bar casts a wider net, centering their menu around French spirits, old and new. The blink-and-you-missed-it entrance is papered with faded and torn posters; inside, Armagnac, Cognac and Chartreuse are clustered on shelves behind the bar by genre, offering a primer into French distilling. The bar's full name—Le Syndicat: Organisation de Défense des Spiritueux Français (they're categorized on Facebook as "Public and Government Service")—is a declaration of independence from foreign-made spirits, and the owners assert that if French drinkers are to return
to historic spirits, they'll need a guide to navigate the journey. That guide takes a literal form in their new map-inspired menu, called the "Paris Suprême Cocktail City Map," created by Aris Makris and dedicated to the booming Parisian cocktail scene. Each drink on the menu uses French spirits to pay tribute to one of the city's top bars; for example, Newton'sGrape, dedicated to Gravity Bar, mixes Cognac with Noilly Prat Ambre, grape juice, verjus and cider, while the WhiskYourButt, dedicated to Sherry Butt, features French whisky mixed with Cap Corse Mattei (a celebrated Corsican aperitif), makrut lime, Champagne syrup and almond-infused Arbois wine.
Such tributes are well-deserved. Sherry Butt opened in 2012, headed by ECC alum Amaury Guyot and co-owner Cathleen McGarry, and the whisky-centric bar (the name is a nod to the barrels used to age Scotch) soon became an industry favorite. About a dozen featured cocktails are written in chalk behind the bar; recent examples included the Zeeman, made with genever, brown rice–green tea cordial, orange shrub and lime, and Requiem for a Drink, a mix of mezcal, pandan-infused Madeira, vermouth, Byrrh and citrus bitters.
Similarly popular, Little Red Door transcends the single-spirit theme, instead relying on a year-long research process undertaken by head bartender Rémy Savage to create each new menu. The current list is inspired by applied architecture and features drinks created through consultation with scholars and architects. Each is engineered by Savage to channel the impressions of historic architectural forms. Inside the book-like menu—the latest in a series of fanatically developed lists—a quote accompanies each drink description, and one description could easily pass for the unofficial motto of Parisian cocktail bars as they evolve from an influential (but distant) past to a promising and rapidly expanding future: "Don't think about what will be built, think about what can be built."
---
Like what you see? Get more of the best of liquid culture when you sign up for our bi-monthly magazine. Subscribe now and save up to 59%—it's just $21.95 for one year or $32.95 for two years. Click here for details.