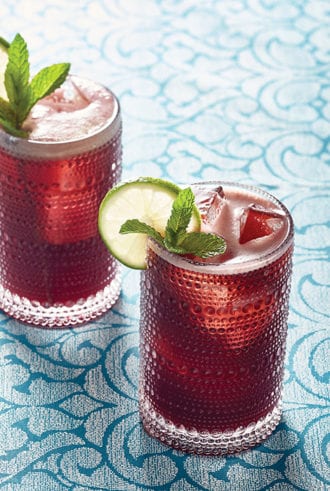 Spain's classic combo of red wine and cola gets a refreshing boost with bright, spicy ginger syrup in this riff from Nashville's Vandyke Bed and Beverage. "I've always had an obsession with the Kalimotxo [aka Calimocho]," says bartender Freddy Schwenk. "I thought one way to add intrigue to the cocktail would be to fuse the flavors with a Moscow Mule. Turns out swapping the vodka for a nice Tempranillo and adding a kick of ginger is actually delightful."
2 oz. red wine (Vandyke uses Tempranillo)
¾ oz. ginger syrup
½ oz. fresh lime juice
Cola (Vandyke uses Coca-Cola)
Tools: shaker, strainer
Glass: highball
Garnish: mint bouquet and a lime wheel
Shake the first 3 ingredients with ice, then strain into an ice-filled glass and top with cola. Garnish.
Ginger Syrup: Combine fresh ginger juice with an equal amount of sugar by weight, stirring until the sugar dissolves. Bottle and refrigerate, using within 2 weeks.
Freddy Schwenk for Vandyke Bed and Beverage, Nashville 
---
Did you enjoy this recipe? Sign up for our newsletter and get weekly recipes and articles in your inbox.