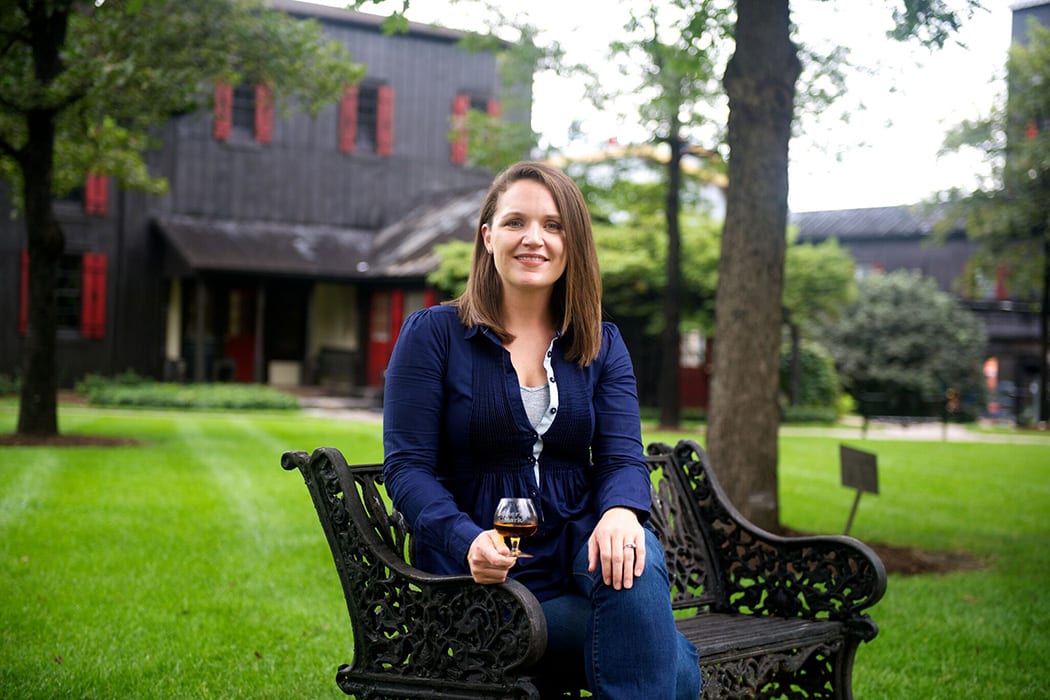 In our May/June 2020 issue, Wayne Curtis explores the ongoing boom in the world of bourbon—how it happened, what it means for bourbon drinkers today, and what bourbon's soaring fortunes suggest for its future. In an effort to explore this topic further, we're having a series of Q&A conversations with people who are deeply entrenched in the bourbon world. Our latest conversation is with Jane Bowie from Maker's Mark Distillery in Loretto, Kentucky. A former global brand ambassador for Maker's Mark, Bowie is now the distillery's director of innovation, overseeing projects including Maker's Mark Private Select and the distillery's series of limited-release bourbons. This interview has been edited for space and clarity.
Imbibe: We've seen so many changes in bourbon since Prohibition—a boom-and-bust cycle through the rest of the 20th century, culminating in our current huge surge in demand for bourbon. What's driving the current boom, and how long have you been seeing it?
Jane Bowie: From my perspective, we really knew something was happening about a decade ago. I was based in Europe for [Maker's Mark], and I remember the boom was happening back home—I got the message, "You need to come home, and support what's happening here." That was around 2011, 2012.
It's not just bourbon—I think about how I eat, how I drink coffee, I think about everything from a consumer perspective, and I think it's been a quest for flavor. Bourbon has so much flavor, and so much depth. To me, what's been happening really came along because of flavor, and people wanted more and more. People also want transparency. We're obsessed with labels, and knowing where things were farmed, and where it came from, we want to know everything about what we're consuming. As an industry, traditionally, we've been really transparent about our processes, and how we make it.
So it's those two things—the flavor journey, and this industry that's been beating you over the head with information for more than 100 years. That's the third piece—we've always worked together as a tight-knit industry in Kentucky, and promoting and going together and talking about this as an agricultural product. The stars kind of aligned, where consumers cared about all of these things.
There've been so many changes in bourbon culture lately—the development of clubs devoted to bourbon, and Facebook groups filled with collectors, as well as restaurants and bars that have impressive bourbon collections. What has that meant for your approach to bourbon?
When you go back over the past 10 years and think about the bars, and bartenders being the experts, and people going to them to learn—that created a different scenario than before. Suddenly you have these bars popping up with hundreds of different American whiskies, and that's created this craft movement across the landscape of American spirits. It's not just whiskey—you're seeing this in everything. I live down the road from Copper & Kings in Louisville, and they're doing brandy and absinthe and all these interesting things. That's changed this whole landscape about how we think about ingredients and processes.
That's opened the door for us to do the same. We always kind of did these things, but we didn't really talk about it. For example, our wheat comes from a single farming family down the road. Our corn is from a single source of supply, they actually started as our corn farmers in the beginning, and our wheat farmer started as our slop haulers. We've always had these sources, and we didn't know people would care about it, so we didn't talk about it. Suddenly you've got to a point where people do care.
We decided to innovate with flavor at the forefront. Makers 46 wasn't something where we thought, "Let's take a different type of oak and a complicated process and make it hard to understand"—that wasn't what we wanted it all. It was, "We want to create an expression of Maker's that tastes like X—and it's for more flavor, and to amplify the key things we love, so how do we get there?" It goes back to that flavor journey, and I think with all the craft movement and all the discerning consumer trends and bar trends, it's really pushed us, and given us an opportunity to explore flavor more. Because people care—you go with what people are asking for.
Bourbon has been shifting somewhat in recent years, with distilleries that always had a core number of brands expanding that reach and diversity. At Maker's Mark, for around 50 years you only did one thing, only had one brand—how has that approach evolved during these boom times, and how can you open up to innovation while remaining true to your core identity?
We did one thing really well for 50 years, and our whole approach has been: The founders laid out a clear vision of what our bourbon should taste like, and how it should be made—everyone's goal is to not screw it up. How do you innovate from that?
People aren't shy about asking for what they want. With Maker's 46, we're celebrating 10 years this July. And for a decade, people had been asking us to do a single-barrel program. But we can't do it like everyone else, because that goes against everything that we do as a brand. We try to make our barrels taste the same, so to suddenly say, "Here's a different barrel—pick one," it didn't make sense for us.
But these were the folks who kept our lights on—they love our brand, and we owe it to them to be a little more thoughtful, maybe. So our barrel program came out of people knocking on the door, calling, asking for this. We couldn't do it like everyone else, but how can we do it in a way that would work for us, and innovate in a way that made sense, while still being true to our founders' vision, and who we are as a distillery?
That's where our barrel program came from. We put more thought into it, and said, "Okay, let's have people come in and create their own expression of Maker's, just like we did with 46. Let's give them that access to our distillery, let's let them understand where our flavor comes from, and then customize and build a single barrel of Maker's in our distillery, on site, and do something really different in a way that makes sense for us." That demand space, and those discerning retailers and consumers—that's led our innovation. And having that foundation of 50 years of doing one thing and knowing who you are has kept us grounded.
So how do bourbon's fortunes continue to flow? Where does it go from here?
With whiskey, we'd all love a market crystal ball of what people are going to care about in 20 years. That's where so much of the innovation is sometimes inward facing—yes, it's figuring out what the trends are going to be, but that's hard to predict. And you take a current climate like now—we have no idea what the world is going to look like in six months or a year, or how people will be consuming.
For us, our innovation has been led by exploring where flavor comes from, and understanding our own processes and the choices our founders made in the 1950s. We're an agricultural product—with 46 and Private Select, it opened our eyes, "Holy cow, you have these 90-year-old American oak trees, and these 200-year-old French white oak trees, and there's all this flavor in there that we've never tapped into, and we've never thought about." For us, exploring where flavor comes from drives so much of our innovation, and I don't know where we're going to go and how we're going to put new liquids into a bottle.
We're in a time where we eat and drink things because we like the way they taste, and I don't know that's ever going to change. Hopefully if we keep it flavor focused, there'll always be an opportunity to make bourbons that are relevant for people.
---
Did you enjoy this article? Get more of the best of liquid culture when you sign up for a print or digital subscription to Imbibe Magazine. Click here for special savings!