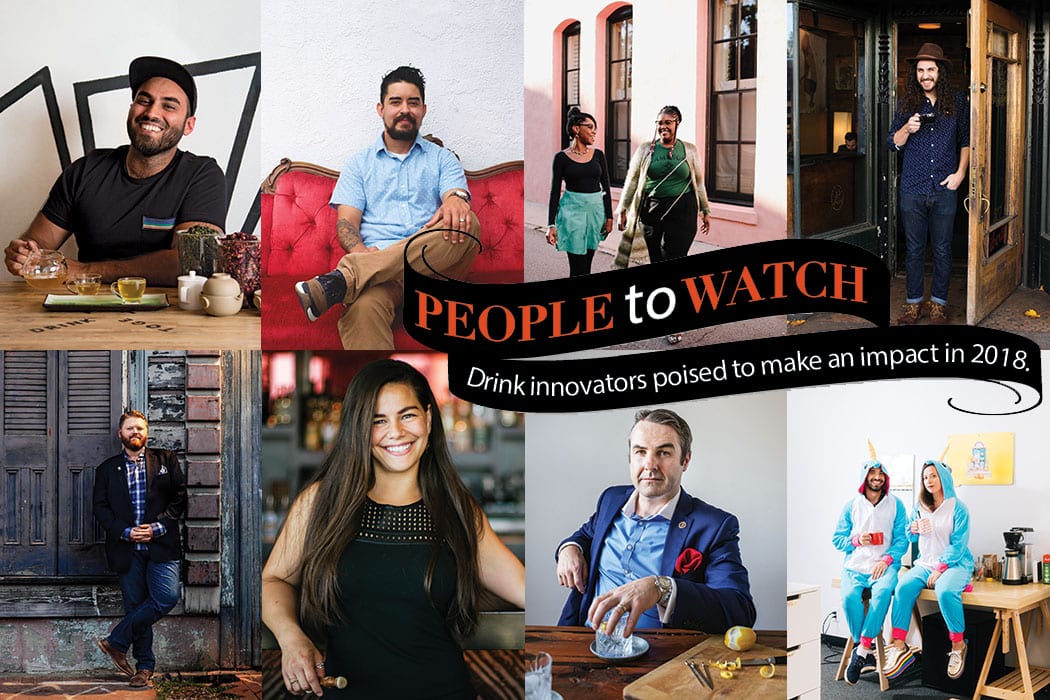 Every year for our Imbibe 75 Issue, we like to take stock of the amazing drinkscape and shine a light on some of the people we think will help shape our world in compelling ways. This year's list of game changers is more fascinating than ever, featuring brewers, bartenders, winemakers, beer ambassadors, coffee innovators and more. Included in this list are a few people doing work we think is especially noteworthy. Below are our People of the Year in coffee, beer, wine and cocktails, and for the full list of our People to Watch for 2018, pick up a copy of the print edition in our online shop.
BEER PEOPLE OF THE YEAR: Beny Ashburn & Teo Hunter
Modern breweries like to color outside the lines, brewing white IPAs, black stouts and Berliner weisses glowing red with raspberries. Arguably, there's greater diversity in the beer aisle than at any point in history. The industry and its fans? Not really. It's a whitewashed reality that Teo Hunter and Beny Ashburn are altering through Dope & Dank. "There are no color lines when it comes to having a beer," Ashburn says. "We're broadening the space, the face and the spirit of craft beer culture."
The Los Angeles duo make craft beer more approachable to people of color by curating events that culturally bridge different worlds, dope culture married to dank brews. They'll host beer tastings in barbershops, serve double IPAs and hip-hop DJs, and showcase street-wear lines and local breweries. "It's like, 'Just come hang out. You're going to hear great music and enjoy yourself. And while you're here, taste this really amazing beer,' " Ashburn says.
Hunter was an Army paratrooper, working in creative and print production between deployments. He discovered beer's variety after drinking Rogue Dead Guy Ale. "I just cracked open this weird-labeled beer that looked like something a warlock made. It blew my mind," he says. Down the rabbit hole he went, discovering Belgian beer, IPAs and hard truths: "I realized very quickly that I was the only brother in almost every craft beer setting," Hunter says.
 "There are no color lines when it comes to having a beer," Ashburn says. "We're broadening the space, the face and the spirit of craft beer culture."
Hunter dated Ashburn, a brand producer who worked for Beats by Dr. Dre. On a trip to Santa Barbara, Hunter scored a ticket to a beachside beer festival. She encouraged him to chat with attendees and video his adventures. "When we looked at the footage later, I was like, 'You're a natural,' " she says. "This is what you were literally born to do."
Though the romantic relationship fizzled, Dope & Dank started sizzling. Hunter became the gregarious face while Ashburn focused on marketing, strategy and visuals. They wore T-shirts announcing "Black People Love Beer" and started educating people about beer's communal nature. "In communities of color, those lessons in beer aren't emphasized," Hunter says. "The emphasis is on being alone and drinking one huge, horrible drink. There's a reason they don't make six-packs of Olde English 800."
Dope & Dank events usually feature a pilsner-type "gateway" beer, as well as a hazy, fruity IPA from a local brewery. "That's really the big shock and difference of craft beer versus big beer. People are like, 'There's beer that tastes like this? This is so different,' " Ashburn says.
While making a difference in their home market is vital, the twosome plans to expand Dope & Dank's reach with festivals and collaboration beers, popping up nationwide. "When we have our parties, you've got black, white, Mexican, men, women, straight and gay, all sitting there playing dominoes or Jenga," Hunter says. "Brewers can watch a collective of people they've never seen enjoy their beer. It's brand new and it's healthy." —Joshua M. Bernstein
COFFEE PERSON OF THE YEAR: Jeff Duggan
Coffee roasting was just a hobby for Jeff Duggan, something to tinker with in the kitchen when he wasn't working his day job in tech for the government. "I'd been geeking out over it for a long time," Duggan says. "My background is in chemistry and that transitioned into technology. But coffee is very science-based in terms of the process and the complexity of the compounds."
When his first son was born with a heart defect that required multiple surgeries and constant care, Duggan and his wife, Christa, found their lives turned upside down. Duggan started the coffee business that would eventually free him from his tech job's long hours, and Christa left her career to care for their son and help the business grow. With a small commercial roaster, Duggan found a bakery that let him set up shop, and in 2009 he opened Portola Coffee Roasters. Two years later, his passion for coffee—paired with his frustration at having anything less than complete control over the final brewed cup—led to the opening of the flagship café, Portola Coffee Lab, in Costa Mesa. "We were aiming for something scientific, modern and energetic," says Duggan. "We're very process-based. Everything we do is for a reason, and we're never fully satisfied because we know there is always more to discover."
This quest led Duggan to think more critically about the standard coffee model, from sourcing to drink creation. In 2014, he collaborated with Bird Rock and Klatch to form Roasters United, an incentive-driven campaign to improve coffee at origin with an eye toward long-term sustainability. Meanwhile, he opened five more Portola locations across Orange County over the next three years, as well as Theorem, an experimental coffee bar inside the original café, bringing cocktail methodology to coffee (think barrel-aged cold brew and alcohol-free coffee distillate). "I think it was ahead of its time," says Duggan of the now-defunct project. "But it made us realize how similar coffee is to spirits in many ways. So we decided to elevate the Theorem concept but with a broader reach—we're going to pull it into a distillery pub."
The new distillery will specialize in single malt whiskey and brandy, with some coffee-infused spirits and liqueurs (all under the Stone Groove Stillhouse brand), and Duggan hopes to see it open by early summer. But it's not the only project on his plate for 2018, as Portola plans a new roasting facility with an on-site cupping lab, café and classes open to the public. Ever on his quest for a better cup, Duggan sees the biggest gain in Portola's expansion to be the ability to create change on the farm level. "To me, the fourth wave is coffee-roasting companies and importers taking a more proactive role to effect change as the coffee is grown and processed," he says. "That's where the biggest impact on quality and sustainability is going to be." —Penelope Bass
WINE PERSON OF THE YEAR: Deirdre Heekin
In 2007, when Deirdre Heekin decided to dive headlong into making wine from 100 hybrid grapevines that she and husband Caleb Barber planted at their home in Barnard, Vermont, the project was the vinous equivalent of planting a vineyard in Whoville. But Heekin isn't afraid to shout the virtues of grapes like Frontenac, St. Croix, La Crescent and Marquette from the mountaintops of the Green Mountain State. And the head-turning clarity and beauty of her bottlings are making more than a few somms say hello to hybrids.
Hybridization—the crossing of European and native American grape varieties—has taken place for centuries, and in the mid-1900s hybrids were developed for making wine in cold-climate regions. Hybrids garnered favor in the late 19th century for saving Europe's phylloxera-ravaged wine-growing regions when hearty, pest-resistant hybrid rootstock was grafted to that of the noble vines. Outside of that, hybrids have largely remained the Rodney Dangerfield of the wine world: no respect. But instead of trying to prove their worth by attempting to make them in the style of, say, a Riesling or Cabernet Franc, Heekin lets her land, the grapes and the resulting "alpine wines," as she calls them, tell her what they are. "I'm excited by all the possibility of hybrids and what they're capable of," Heekin says. "There are no standards. What is La Crescent? What is St. Croix? I'm really excited by the flexibility of standards!"
The experience of drinking Heekin's wines on her land is nothing less than vibrantly visceral. All around are the wild plants of the region that Heekin and Barber encourage—you smell them in the air and taste them in the wines. Her pet-nat style Brianna, "Ci Confonde," is rife with notes of dandelion root, chamomile, lovage and the wildflowers that grow between the rows of vines.
The demand for Heekin's 650 cases a year (2017's harvest may yield around 800 cases) reaches far beyond the 11 acres she currently farms. "She's inspiring for many of us—the way she thinks and the way she works the land," says Alessandro Stefani, sommelier and assistant manager at Terroirs Wine Bar in London's Trafalger Square, where Heekin's pet-nat, skin-macerated La Crescent "Vinu Jancu" and "Stolen Roses" cider (they grow apples, too) are charming the British wine cognoscenti. "She puts great passion into what she does, and you can see that reflected in her wines. The purity, the depth and that amazing concentration of fruit make her wines incredibly real."
And that's exactly what Heekin wants to be. "We should be moving beyond the negative connotations that hybrids can carry and acknowledge that they are legitimate varieties in terms of what's happening with agriculture, with climate change—and the possibilities of wine expressions where people are growing them," she says. "We're excited to delve into that conversation and keep things moving forward." —Amy Zavatto
BARTENDER OF THE YEAR: Alex Negranza
Regardless of the challenge, Alex Negranza steps up. Make the move at age 18 from his hometown of Modesto, California, to coffee-centric Seattle with $300 in his pocket and aims of being a professional barista? Spend his first-ever bartending shift shaking drinks in an unfamiliar cocktail bar for an event crowd of 350? Relocate to Houston to take a job at that same bar, Anvil, which was garnering a reputation as one of the world's best? And leave that dream job to step into another unfamiliar role—that of bar manager at Better Luck Tomorrow, which opened last May? Done, done, done and done.
Not that any of it was easy. "It was terrifying," Negranza says—and this latest leap was possibly the scariest change of all. "I moved cross-country to work at Anvil—I took a big risk there, and I wanted to be a part of this legendary thing," he says. So when Anvil co-founder Bobby Heugel asked if he'd helm the latest bar in Anvil's growing constellation, it was a tough call. "I was super-scared of doing it, and I had to take some time for self-reflection," he says, soon determining that the move was the next logical step in the challenges and growth Anvil offered him. "Anvil is such a special place, and now I had an opportunity to create a place that's just as special. Maybe five years from now, someone will want to move across the country to work at Better Luck Tomorrow."
There were no plans to create an Anvil replica. Similarities exist—in addition to Negranza and Heugel, general manager Terry Williams and chef Justin Yu also joined in—but BLT fills a new role in Houston's bar landscape. Seasonal produce is channeled into syrups and preserves, then deployed into deceptively simple cocktails. ("We put so much effort into making the cocktails seem effortless," Negranza says.) "People feel a need to add a qualifier. 'Is it a cocktail bar? A restaurant bar?' But that kind of pigeonholes it," he says. "It's just a bar. And there's something about that melancholy name, like things will be better tomorrow. You're hungry? Come eat. You're thirsty? Come drink. We got you."
Negranza's also not shy about stepping up to other challenges, such as organizing charity events. So when Hurricane Harvey hit Houston in August, he pitched in alongside countless others in the city's bar and restaurant community. "Like a lot of people in hospitality, I want to please people. I always put myself out there, and I try to be the person who steps up," he says. In addition to other efforts, Negranza volunteered at the emergency shelter at the George R. Brown Convention Center. "One of the crazy things was running into regulars there—I'd seen them at the bar drinking, or walking by—and now seeing them as victims of the hurricane, or seeing them working 16-hour days volunteering at the shelter," he says. "That was one of the amazing things to see. The whole city rallied around, stepping up and pitching in." —Paul Clarke
---
Like what you see? Get more of the best of liquid culture when you sign up for our bi-monthly magazine. Subscribe now and save up to 59%—it's just $21.95 for one year or $32.95 for two years. Click here for details.