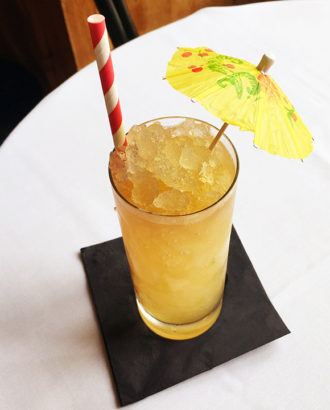 Even the pickiest of tiki gods would be pleased with this simple swizzle recipe. The name is an homage to the notion of terroir, as bartender Christopher James took careful steps to pull out the indigenous flavors of the tropical countries where the rum (he uses Banks #7, an unusual blend from several sources) is crafted.
1½ oz. aged rum
¾ oz. falernum
¼ oz. Demerara syrup
¾ oz. fresh lime juice
4-5 dashes Dale DeGroff's Pimento Bitters (or Angostura bitters)
Tools: shaker, strainer, swizzle stick
Glass: Collins
Briefly shake all ingredients in a shaker and strain into a Collins glass ¾ full of crushed ice. Briefly swizzle to mix the ingredients. Top with 4 dashes of Dale DeGroff Pimento Bitters. Top with more crushed ice. Serve with an umbrella and straw.
Christopher James, Jockey Hollow Bar & Kitchen, Morristown, New Jersey