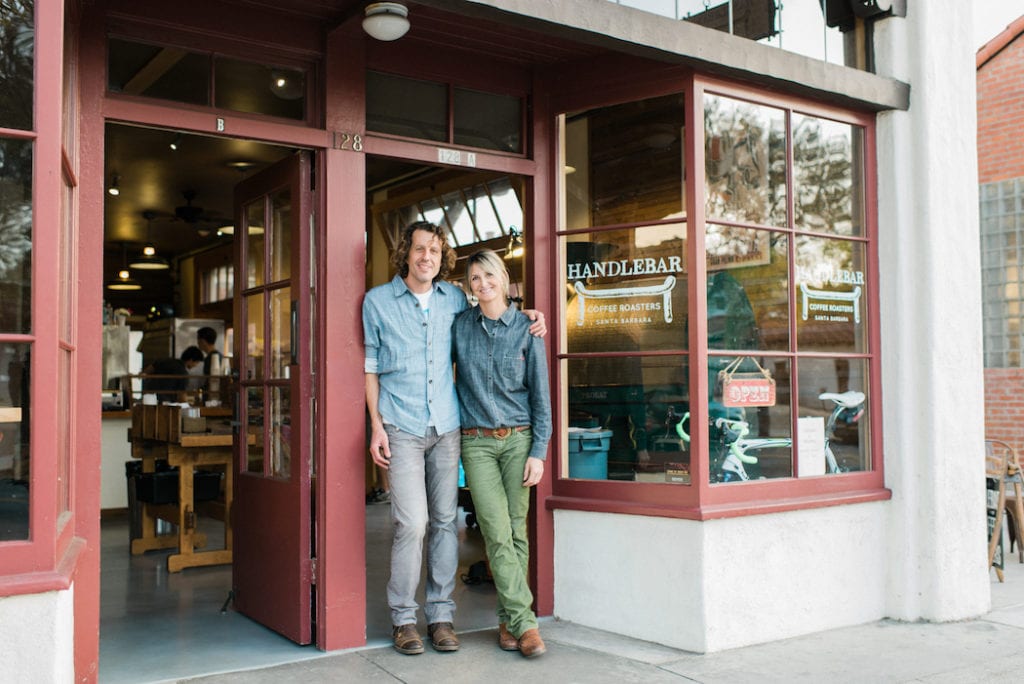 From bike shops with cafés to actual bicycle coffee kiosks, cycling and coffee cultures often intersect. "There's a strong connection between cycling and cafés; it's just part of the culture," says Kim Anderson, co-owner of Handlebar Coffee Roasters, which is featured in our March/April 2016 Issue. "You either meet at cafés before a ride, stop by during a ride or end at one. It's part of the daily routine—almost as important as the training."
Before opening Handlebar in 2011, Anderson and partner Aaron Olsen were professional road bike racers for more than 10 years, touring and competing around the world (Anderson even won the 2009 women's Route de France). It was during their time spent cycling through Europe that Anderson and Olsen became enamored with café culture. "Aaron and I love the European cafés where everyone meets up; it's where stories are told, friends are made and laughter is everywhere," says Anderson. "We dreamed to one day have our own place where people could come and feel that same way."
Anderson retired at the end of the 2010 racing season, and she and Olsen set to work on opening their first café. Initially intending to stock beans from multiple roasters, a delay in acquiring their café space offered the downtime (and energy) to purchase a used Probat roaster and begin experimenting in a friend's garage. By the time they officially opened their downtown space in 2011, Olsen was roasting all of Handlebar's coffee.
Their new location, slated to open by early summer, will now house the roastery along with café space serving espresso drinks and coffee and a small kitchen with a beer and wine license. "It's a 100-year-old building; it's all brick and it has a bow truss ceiling, so the space has an awesome, warm feeling to it," says Anderson. "Kind of like that European-café style where you can go after work, too, and have a glass of wine or a beer."
Though they're afforded little free time these days—doing everything from training baristas to traveling to coffee farms in Colombia—Anderson and Olsen still try to bike when they can, knowing that they'll have the perfect spot to meet up with friends after the ride. "We both love coffee," says Anderson, "but I think we were more drawn to creating that special place for people."
---
Give the gift of Imbibe and get a free gift! When you give a gift, we'll give you a free drinks download. Gift subscriptions are just $19.95 each after your first $21.95 gift subscription purchase! Click here for details.