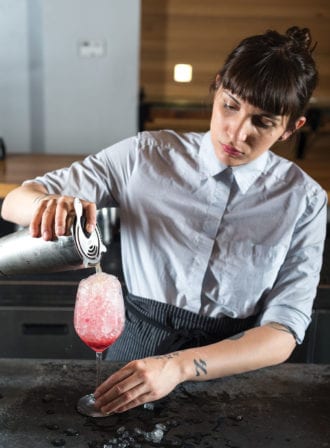 Running a successful bar can be equal parts science and psychology—a mix that Ezra Star found very appealing. As general manager for Boston bar Drink, Star leads a program regularly lauded as among the world's best, and she's involved in educational and leadership events for the cocktail and spirits industry. She also frequently travels to bars around the world for research, collaborates on ready-to-drink beverages, and has plans to launch a new bar (or two) within the year. On the phone from Paris, where she travels every year for her birthday, Star chatted with us about what it's like to mix 500 drinks a night, the most interesting cocktail menu she's ever seen, and the importance of learning to listen.
Imbibe: How did you first get into bartending?
Ezra Star: I was studying biochemistry and public health, and I was a bartender off and on to pay for school and rent. Then the bar I was working at closed and I had a little break from school and needed to do something completely different, so I went to wash dishes at Drink a few months after they opened. I just kind of worked my way up. I read every book I could find on how to make drinks and take care of people. I would travel back and forth from New York on whatever days I had free, using all my money to go down there and work a couple days a week just to see what they were doing. I basically worked as an unpaid bar back one or two days a week for anyone who would let me. A lot of those places are closed now, but I met a lot of the young and future bartenders who are big in New York now.
What clicked for you about working behind the bar?
At school, I was very good at lab work. In one of my advanced bio-chem classes, I was finishing my lab work so quickly every time that my professor thought I was cheating. He looked at my book and I'd already written out all the directions and created this lab notebook that was perfect for the year, so I could just go in, execute the work and then leave. He was so impressed he offered me a job. And bartending is kind of the same way; if you're organized and structured, you're able to execute really well and quickly. So I enjoyed that element very much. But what I hated about working in a lab was that you don't really get to talk to anybody, so that was a whole new aspect that I got to enjoy. Then along the way I started to really enjoy running a team.
You've stayed with Drink since you started there nearly a decade ago. How do you think working at that type of bar, where everything is tailor-made, has shaped you as a bartender?
It's made me have to be a very good bartender! We make about 500 to 700 cocktails a night, without a menu. We always have to be prepared and able to listen to what someone is saying to us, and I think that's what's shaped me the most—being able to understand what the person on the other side of the bar wants and what language they're using to get there. Then we have to have a strong enough base knowledge to translate what they're saying into a drink they're going to love.
You're frequently involved in conferences and educational forums. What topics are you focusing on this year?
I want to bring people who don't necessarily speak English as a first language from behind a bar and have them talk about what they go through in order to understand people as guests, as well as people from the other side of the bar who also speak foreign languages. At Drink, we have a wonderful deaf community that regularly comes to the bar, and I know sign language, so it's been a cool partnership with them because my staff learns how to communicate without necessarily using spoken language. Exploring that could be a fun way of talking about how we connect with guests. I think communication is the most important element. I'm also passionate about developing tools to create future leaders. We so often overlook that in the cocktail world that people aren't getting a holistic sense of what it is we do, and why we do it that way. Leadership is founded on the idea of giving people as much information as possible, along with the bigger picture so they can contextualize it.
And you've also been collaborating on a couple of ready-to-drink products?
Yes! With two companies out of London—one is producing non-alcoholic, prebottled cocktails called Mocktails, which have been doing really well. They're available in stores all over and even in some restaurants like The French Laundry. And then there will be a bottled cocktail line coming soon called Jerry Thomas Craft Cocktails, and those will be out later this year. One is a Gin & Tonic, and it's pretty awesome. We built the recipe how we would at Drink and figured out how to put that into a bottle. It's a lot harder than you'd expect.
You're also working on a new bar, opening toward the end of the year. Is this an extension of Drink?
It's an idea we're still sketching out. We're looking to maybe make a new location for Drink, or it might be a new bar entirely. So it's still in the beginning stages, but we've had this in mind for six or seven years. We're working on a concept for Boston, as well as one outside of Boston. I want to bring together everything I've seen while traveling around the world and make something that's a hybrid. The industry [keeps] replicating the same bars over and over, and it gets kind of boring. I think about the ways that we made Drink different; I want to make a cocktail bar that stands out with a different story. I saw an amazing menu in Japan at a bar called Orchard, where you walk in and they've got a pile of fruit, and you pick your fruit and they make your drink for you. It was one of the most interesting approaches I've seen! I also really love taverns—that connection part of interacting with a guest. I'd love to bring in elements of that.
That's a lot for just one year! What does your long-term vision look like?
I really like building bars. I'd like to eventually have my own small bar and work a couple days a week there, and consult on fun projects with friends and just make something nice. But that's maybe 20 or 30 years down the line. I'd like to create a hotel bar at some point, or even an entire hotel! I've always wanted to own a hotel because you get to take care of someone's experience from start to finish. In the meantime, I'm just trying to learn as much as I can from everyone I meet, and hopefully create some good leaders along the way.
---
Did you enjoy this article? Get more of the best of liquid culture when you sign up for a print or digital subscription to Imbibe Magazine. Click here for special savings!